North Korean leader Kim Jong-un arrives on train in Beijing under heavy guard, report says
North Korean leader due to see South Korean president in April and Donald Trump in May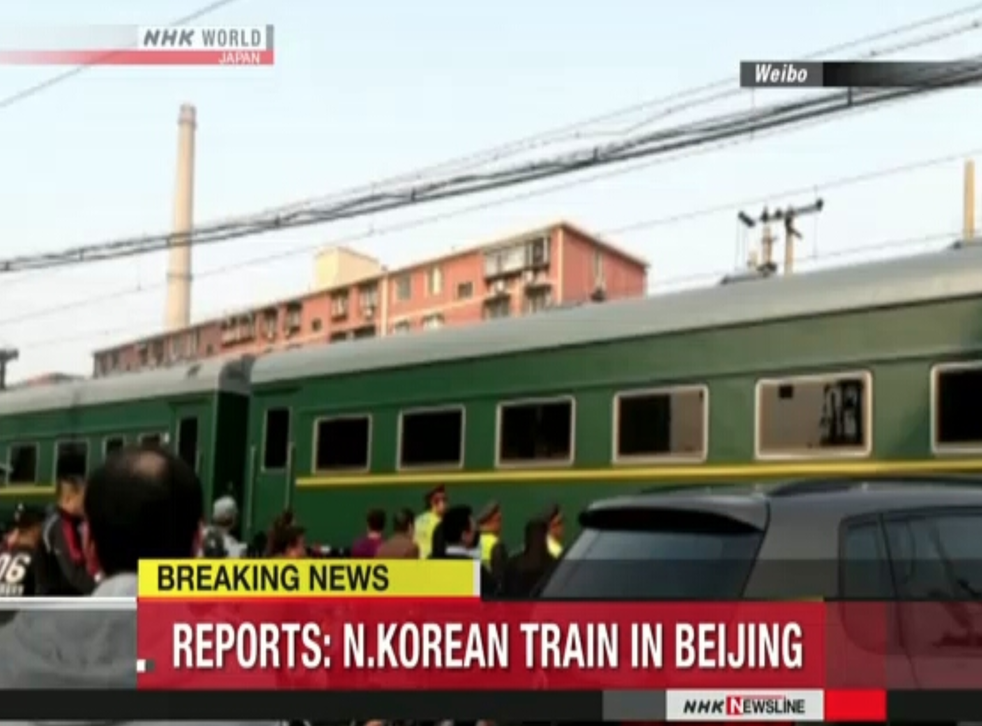 There is speculation North Korean leader Kim Jong-Un has made a secret trip to China, after reports said a special North Korean train arrived in Beijing under unusually heavy security.
Japanese media said the level of security accompanying the train suggested a senior official was onboard and that this had sparked speculation the North Korean had made what would have been his first visit outside of his country since becoming its leader in 2011. Bloomberg News it had confirmed the 36-year-old leader was the visitor.
A spokeswoman for the Chinese Foreign Ministry said she was not aware of the situation and had no further comment. North Korea's state-run media had no reports of a delegation travelling to China, the Associated Press said.
Japanese broadcaster NHK posted an image of the train it said had appeared on Chinese social media site. It quoted diplomatic sources saying a train, apparently from North Korea, arrived in the Chinese capital on Monday.
The AP said it sparked speculation that Mr Kim may have been making a visit to China, which has traditionally had the closest regional relationship with Pyongyang.
Following what appeared to be a diplomatic breakthrough that came against the backdrop of the recent Winter Olympics in South Korea, the North Korean leader has agreed to a summit meeting with South Korean President Moon Jae-in in late April.
Donald Trump 'agrees to meet Kim Jong-un by May' to discuss denuclearisation
He has also requested a meeting with Donald Trump, who has said he will take part if North Korea gives certain guarantees ahead of any meeting.
Heavy security was reported at the Friendship Bridge before the train passed from North Korea to China, and there were reports of it passing through several stations on the way from North Korea to Beijing, the AP added. The NTV network said the green and yellow train appeared very similar to the one that former North Korean leader Kim Jong Il, Kim Jong Un's late father, took to Beijing in 2011 and has 21 cars.
A video that aired on NTV also showed a motorcade of black limousines waiting at the train station and rows of Chinese soldiers marching on what appeared to be a train platform. The video did not show anyone getting off the train.
Japan's Kyodo news service said the visit of the official - whoever it was - was intended to improve ties between Beijing and Pyongyang that have been frayed by North Korea's pursuit of nuclear weapons and China's backing of tough sanctions against North Korea at the United Nations Security Council.
Reuters said Chinese police tightened security along Beijing's main east-west thoroughfare, Changan Avenue, on mid-afternoon Monday, closing off the entrances to some of the buildings which face the road. It said they also cleared out all tourists from Tiananmen Square, which normally only happens when important meetings are happening in the Great Hall of the People, where top Chinese leaders often meet visiting heads of state.
World news in pictures

Show all 50
On Monday evening, the Beijing railway bureau warned on its blog, without giving a reason, of multiple train delays of up to two hours in the Beijing region. A source with ties to the Chinese military told the news agency it was "not possible to rule out the possibility" Mr Kim was visiting Beijing, but cautioned this was not confirmed.
Visits to China by Mr Kim's late father, Kim Jong Il, were only confirmed by both China and North Korea once he had left the country. Kim Jong Il travelled by private train during his rare visits to China or Russia under tight security. Diplomats and other sources have said Kim Jong Il avoided flying for overseas trips due to security concerns.
Register for free to continue reading
Registration is a free and easy way to support our truly independent journalism
By registering, you will also enjoy limited access to Premium articles, exclusive newsletters, commenting, and virtual events with our leading journalists
Already have an account? sign in
Register for free to continue reading
Registration is a free and easy way to support our truly independent journalism
By registering, you will also enjoy limited access to Premium articles, exclusive newsletters, commenting, and virtual events with our leading journalists
Already have an account? sign in
Join our new commenting forum
Join thought-provoking conversations, follow other Independent readers and see their replies