North Korea state media attacks 'double-faced' South over UN human rights resolution
'In front of us South Korea talks of trust and harmony, while it follows the foreign forces' ploy behind our back'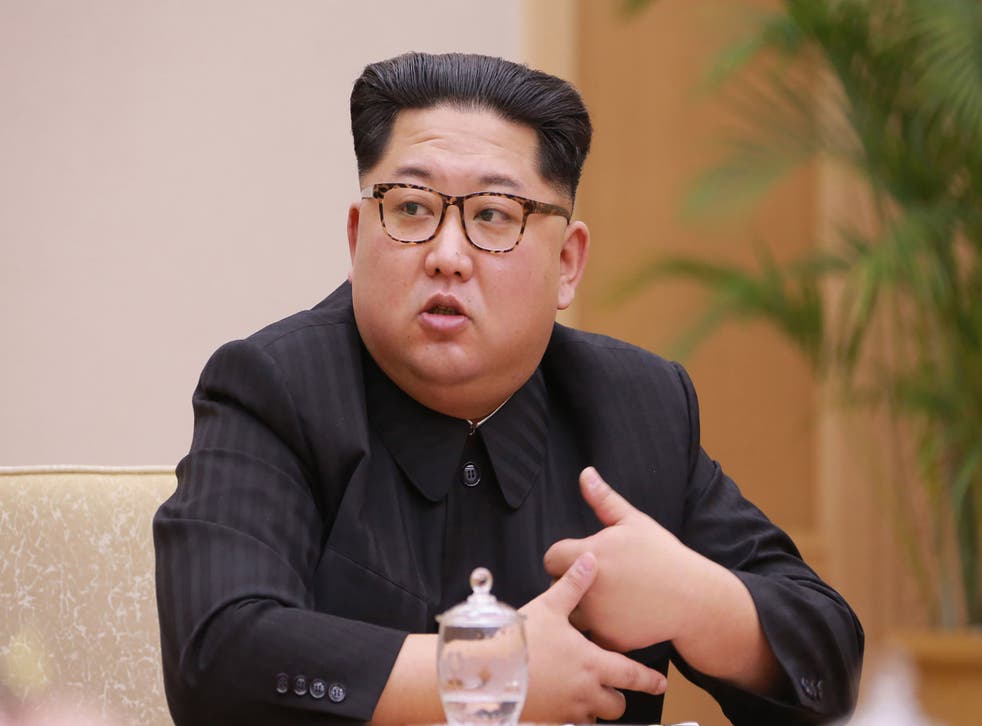 North Korean media has launched an attack on South Korea for what it described as its neighbour's "double-faced" participation in a United Nations resolution condemning the country's violations of human rights.
The UN passed a resolution this week at the General Assembly which criticised the "longstanding and ongoing systematic, widespread and gross violations of human rights" by the North Korean government, according to Yonhap News Agency.
The General Assembly cited abuses which could "amount to crimes against humanity" including torture, rape, public executions and the use of the death penalty for political and religious reasons.
It marked the 14th consecutive year the UN has passed such a document.
A North Korean propaganda outlet, Uriminzokkiri, described South Korea's participation as "double-faced".
The website said: "The South Korean authorities expressed support for the US's anti-Pyongyang ploy to condemn the human rights situation."
"In front [of us], they [South Korea] talks of trust and harmony, while it follows the foreign forces' ploy behind our back."
Another propaganda website, Maeari, criticised the countries that participated in the resolution and warned "followers ... Will pay dearly for their provocative and malign acts", according to First Post.
In its resolution, the UN further condemned the "continuing impunity" for human rights violations and encouraged the UN Security Council to "take appropriate action to ensure accountability", such as by referral of the situation to the International Criminal Court.
World news in pictures
1/50

22 December 2018 

Protesters wearing a yellow vest (gilet jaune) stand next to a burning barricade as they demonstrate against rising costs of living they blame on high taxes at the A9 highway toll of Le Boulou, southern France. The "Yellow Vests" (Gilets Jaunes) movement in France originally started as a protest about planned fuel hikes but has morphed into a mass protest against President's policies and top-down style of governing

AFP/Getty

2/50

21 December 2018 

A Palestinian man wearing a Santa Claus outfit hands a flower to man in a wheelchair during a demonstration near the border between Israel and Khan Yunis in the southern Gaza Strip

AFP/Getty

3/50

20 December 2018 

Moroccan authorities investigate the scene of the grisly murder of two Scandinavian women at the foothills of the Atlas Mountains. The suspects in the killings have pledged alleigance to ISIS

AP

4/50

19 December 2018 

Supporters of Democratic Republic of Congo opposition leader Martin Fayulu gesture number four (the candidate number on the electoral list) as they protest in Kinshasa after campaigning was called off by the authorities on security grounds

Getty

5/50

17 December 2018 

Pyongyang residents prepare to lay flowers at the statues of late North Korean leaders Kim Il Sung and Kim Jong Il during National Memorial Day on Mansu Hill. North Korea is marking the seventh anniversary of the death of Kim Jong II

AFP/Getty

6/50

16 December 2018 

Firefighters work on site where a large explosion occurred at a restaurant in Sapporo. According to local media reports, an explosion that triggered a fire occurred at a restaurant in Sapporo in the evening of 16 December. At least 20 people have been reported injured and taken to hospitals.

EPA

7/50

15 December 2018 

A supporter wears a cast on her broken wrist with 'I (heart) Obamacare' written on it . A federal judge in Texas ruled that the US health care law known as Obamacare is unconstitutional -- a ruling that opposition Democrats vowed to appeal. US District Judge Reed O'Connor's ruling came in a lawsuit filed by several Republican state attorneys general and a governor opposed to the federal government health plan, known officially as the Affordable Care Act

EPA

8/50

14 December 2018 

A Palestinian carries a flaming tyre amid clashes with Israeli forces. Israel carried out raids in the West Bank today in search of a Palestinian who shot dead two soldiers yesterday

AFP/Getty

9/50

13 December 2018 

Yemen's foreign minister Khaled al-Yamani (L) and the head rebel negotiator Mohammed Abdelsalam shake hands during peace talks in Sweden that are being overseen by the UN

AFP

10/50

12 December 2018 

Baby monkeys play on a wall of India's parliament in New Delhi. Macaque monkeys have swarmed the parliament, destroying important documents, attacking government officials and generally menacing the state

Reuters

11/50

11 December 2018 

German Chancellor Angela Merkel welcomes British Prime Minister Theresa May at the chancellery in Berlin. May postponed the Brexit deal Meaningful Vote, on 11 December due to risk of rejection from Members of Parliament. She is currently on a whistle stop tour of Europe calling on the leaders of the Netherlands, Germany and EU in Brussels looking for new guide lines for her Northern Ireland backstop

EPA

12/50

10 December 2018 

Police investigate after an empty school bus crashed in the North Point district of Hong Kong. Two people were killed when a school bus mounted a pavement in a crowded Hong Kong neighbourhood, trapping passers-by underneath and injuring 13, police said

AFP/Getty

13/50

9 December 2018 

A Boca Juniors' fan cheers at a viewing in Buenos Aires for the Copa Libertadores final against rivals River Plate. The match is being held in Madrid, a neutral ground, after it was twice delayed due to violence

AP

14/50

8 December 2018 

Protestors wearing "yellow vests" (gilets jaunes) clash with riot police near the Champs Elysees avenue in Paris during a protest against rising costs of living they blame on high taxes. – Paris was on high alert with major security measures in place ahead of fresh "yellow vest" protests which authorities fear could turn violent for a second weekend in a row.

AFP/Getty

15/50

7 December 2018 

Annegret Kramp-Karrenbauer reacts after being elected to leader of the Christian Democratic Union, succeeding the 18 year reign of Angela Merkel

Getty

16/50

6 December 2018 

Police use tear gas against protesters during a demonstration in Athens to commemorate the 10th anniversary of a fatal shooting of a teenager which sparked major riots in Greece in 2008

AFP/Getty

17/50

5 December 2018 

The flag-draped casket of former US President George HW Bush is carried by military pallbearers past US President Donald Trump, first lady Melania Trump, former President Barack Obama, former first lady Michelle Obama, former President Bill Clinton, former first lady Hillary Clinton, former President Jimmy Carter and former first lady Rosalynn Carter as it arrives at his state funeral at Washington National Cathedral

Reuters

18/50

4 December 2018 

High school students burn a barricade in front of their high school during a demonstration against French government Education reforms

AFP/Getty

19/50

3 December 2018 

Sully, the service dog of former US President George HW Bush in his final months, lays in front of Bush's casket at the George H Lewis & Sons funeral home in Houston, Texas

Courtesy Office of George HW Bush/Reuters

20/50

2 December 2018 

Demonstrators march in Brussels to 'claim the climate' as world leaders meet in Poland to discuss the Paris climate agreement targets

AP

21/50

1 December 2018 

A protester moves to lob a tear gas canister during a protest in Paris today against rising fuel prices

Reuters

22/50

30 November 2018 

US President Donald Trump, Britain's Prime Minister Theresa May, French President Emmanuel Macron and Japanese Prime Minister Shinzo Abe wave hands in front of other leaders during a family photo at the G20 leaders summit in Buenos Aires, Argentina

Reuters

23/50

29 November 2018 

Firefighters battle a blaze on Fingerfield road at the Deepwater National Park area of Queensland. Thousands of people have been evacuated from their homes in northeastern Australia as bushfires raged across the state amid a scorching heatwave

AFP/Getty

24/50

28 November 2018 

A child waits to receive free bread by a local charity bakery amid a severe shortage of food in Sana'a, Yemen. According to reports, nearly 22 million people of Yemen's 26-million population are in need of humanitarian assistance as a result of increased food insecurity. The impoverished Arab country is experiencing a humanitarian crisis due to an ongoing brutal conflict that has lasted more than three years that has driven millions to the brink of famine

EPA

25/50

27 November 2018 

A petrol bomb was thrown towards the Ajax fans during their Champions League away match against AEK Athens in the Greek capital. Home supporters threw flares into the stands also

Reuters

26/50

26 November 2018 

Ukrainian activists burn flares during their rally in front of the Russian Consulate in Kharkiv, Ukraine. The President of Ukraine, Petro Poroshenko, at a meeting of the National Security and Defense Council, on 25 November, announced the decision to introduce martial law in Ukraine for a period of 60 days. Russia seized three Ukrainian vessels amid their leaving the Kerch Strait. The two small-sized 'Berdiansk' and 'Nikopol' armored artillery boats had come under enemy fire and are now dead in the water. The 'Yany Kapu' tugboat was forcibly stopped and captured by special forces of the Russian Federation

EPA

27/50

25 November 2018 

Women's rights activists gather to march through Taksim Square to protest against gender violence in Istanbul on the International Day for the elimination of violence against women

AFP/Getty

28/50

24 November 2018 

River Plate's fans clash with riot police after the second leg of the Copa Libertadores final match against rivals Boc Juniors was postponed

Reuters

29/50

23 November 2018 

Elias Lopez, a three-year-old Honduran migrant, plays in between the shields of a line of Mexican riot police, when the group he was part of tried to cross the Chaparral border crossing in Tijuana, Mexico. Elias Lopez is part of a group of Central American migrants that marched peacefully to the border crossing to demand better conditions and push to enter the US

AP

30/50

22 November 2018 

Lebanese army soldiers march during a parade to mark the 75th anniversary of Lebanon's Independence Day, in Beirut, commemorating the liberation from the French Mandate on 22 November 1943

EPA

31/50

21 November 2018 

Indian Muslim devotees wave flags as they parade atop vehicles along a street during Eid-Milad-Un-Nabi celebrations in Varanasi in the Indian state of Uttar Pradesh

AFP/Getty

32/50

20 November 2018 

At least 50 people were killed and dozens more injured when a suicide bomber targeted a group of Muslim religious scholars in Kabul, officials in Afghanistan say. Hundreds of clerics had gathered to mark the birthday of the Prophet Mohammed at a large wedding hall in the capital before the blast happened, interior ministry spokesman Najib Danish said. Wahi Majroh, of Afghanistan's public health ministry, said a further 83 people had been wounded by the bomber. "The victims of the attack unfortunately are all religious scholars who gathered to commemorate the birthday of Prophet Muhammad," said Basir Mujahid, spokesman for the Kabul police chief

Reuters

33/50

19 November 2018 

A view of the Fuego volcano eruption at sunrise, seen from El Rodeo, Escuintla, Guatemala. More than 2,000 people were evacuated from several villages due to the strong eruption, located 50 kilometers west of the Guatemalan capital

EPA

34/50

18 November 2018 

French President Emmanuel Macron is applauded after speaking before the Bundestag (lower house of parliament) as the German parliament commemorates victims of wars and dictatorships in Berlin. The leaders of France and Germany jointly remember the victims of European wars, presenting also a united front in countering global turmoil stoked by US President Donald Trump

AFP/Getty

35/50

17 November 2018 

People wearing yellow vests, a symbol of a French drivers' nationwide protest against higher fuel prices, block the Paris-Brussels motorway in Haulchin, France

Reuters

36/50

16 November 2018 

People hold banners of Jamal Khashoggi during a symbolic funeral prayer for the Saudi journalist, killed and dismembered in the Saudi consulate in Istanbul in October, at the courtyard of Fatih mosque in Istanbul. Turkey has more evidence contradicting the Saudi version of the murder of journalist Jamal Khashoggi including a second audio recording, revealing that the murder had been premeditated, a Turkish newspaper reported on November 16, a contradiction to the statement of the Saudi prosecutor who said that five Saudi officials faced the death penalty on charges of killing Khashoggi but exonerated the country's powerful Crown Prince of involvement in the murder

AFP/Getty

37/50

15 November 2018 

Alexei Navalny leaves the European Court of Human Rights today. The court has ruled that Russia's repeated arrests of Navalny were politically motivated

AP

38/50

14 November 2018 

A crew member escorts a migrant child out of a plane transporting a group of 51 migrants from Niger, entitled to international protection, after its landing at the Mario De Bernardi military airport in Pratica di Mare, south of Rome

AFP/Getty

39/50

13 November 2018 

Palestinians gather in front of damaged buildings in Gaza City following Israeli air strikes targeting the area overnight. Israel's aircraft struck Gaza on November 12, killing three Palestinians and wounding nine after a barrage of rocket fire into its territory from the enclave. The flare-up came after a deadly Israeli special forces operation in the Gaza Strip, at the weekend, that left Hamas vowing revenge

AFP/Getty

40/50

12 November 2018 

Floral tributes outside Melbourne's Pellegrini's Cafe for Sisto Malaspina, after he was stabbed to death last Friday in an attack police have called an act of terrorism, in Australia

Reuters

41/50

11 November 2018 

Heads of states and world leaders attend ceremonies at the Arc de Triomphe in Paris. Over 60 heads of state and government were taking part in a solemn ceremony at the Tomb of the Unknown Soldier, the mute and powerful symbol of sacrifice to the millions who died from 1914-18

AP

42/50

10 November 2018 

Firefighters push down a wall while battling against a burning apartment complex in Paradise, north of Sacramento, California. A rapidly spreading, late-season wildfire in northern California has burned 20,000 acres of land and prompted authorities to issue evacuation orders for thousands of people. As many as 1000 homes, a hospital, a Safeway store and scores of other structures have burned in the area as the Camp fire tore through the region

AFP/Getty

43/50

9 November 2018 

A Fly Jamaica plane en route to Toronto crash lands at an airport in Guyana following a technical problem. At least six passengers were injured

Cheddi Jagan International Airport

44/50

8 November 2018 

An FBI agent talks to a potential witness as they stand near the scene Thursday in Thousand Oaks, California. where a gunman opened fire Wednesday inside a country dance bar crowded with hundreds of people on "college night," wounding 11 people including a deputy who rushed to the scene. Ventura County sheriff's spokesman says gunman is dead inside the bar.

AP

45/50

7 November 2018 

Democratic congressional candidate Ilhan Omar is celebrates with her husband's mother after she won a congress place during the US midterm elections. In doing do she became the first-joint Muslim woman to be elected into congress alongside Rashida Tlaib

Reuters

46/50

6 November 2018 

Voters cast their ballots at the Tuttle Park Recreation Center polling location in Columbus, Ohio. Across the US, voters headed to the polls in one of the most high-profile midterm elections in years

AP

47/50

5 November 2018 

Members of the group Your Vote Matters encourage people to vote before an event hosted by US Senator Claire McCaskill as she campaigns for the US Senate in Saint Louis, Missour. McCaskill, a Democrat, faces a challenge from Republican Missouri Attorney General Josh Hawley in the November general election

EPA

48/50

4 November 2018 

Police officers and rescuers work at the site of where a truck ploughed into cars at a toll booth in Lanzhou in China's northwestern Gansu province. The out-of-control truck crashed into a 31-car lineup and killed 15 people, with 44 injured

AFP/Getty

49/50

3 November 2018 

Simone Biles on the podium with her gold medal from the floor exercise at the gymnastics world championships. She became the most decorated female gymnast in world's history, as well as, becoming the first American to win a medal in every event at the competition

AFP/Getty

50/50

2 November 2018 

A Salvadorean migrant with a girl walks next to Guatemalan policemen as they approach the Guatemala-Mexico international border bridge in Ciudad Tecun Uman. Accoring to the Salvadorean General Migration Directorate, over 1,700 Salvadoreans left the country in two caravans and entered Guatemala Wednesday, in an attempt to reach the US

AFP/Getty
The organisation also called on the council to consider individual sanctions to "target effectively those who appear to be the most responsible for human rights violations".
North Korea's UN ambassador, Kim Song, denied the allegations, calling them "most despicable false words", fabricated by a "handful of defectors who escaped the country after having committed crimes".
South Korea's foreign ministry has defended its decision to support the resolution, citing a need for "substantive improvement" in the human rights of North Korean citizens.
It added that it hoped these efforts would lead to the establishment of "long-lasting peace and stability" in the Korean peninsula.
Register for free to continue reading
Registration is a free and easy way to support our truly independent journalism
By registering, you will also enjoy limited access to Premium articles, exclusive newsletters, commenting, and virtual events with our leading journalists
Already have an account? sign in
Register for free to continue reading
Registration is a free and easy way to support our truly independent journalism
By registering, you will also enjoy limited access to Premium articles, exclusive newsletters, commenting, and virtual events with our leading journalists
Already have an account? sign in
Join our new commenting forum
Join thought-provoking conversations, follow other Independent readers and see their replies