North Korea accuses US of imposing 'economic blockade' through sanctions as war of words continues
UN ambassador Ja Song-nam calls trade prohibitions against Pyongyang 'illegal and unjustifiable'
Edith M. Lederer
Wednesday 04 October 2017 14:29 Comments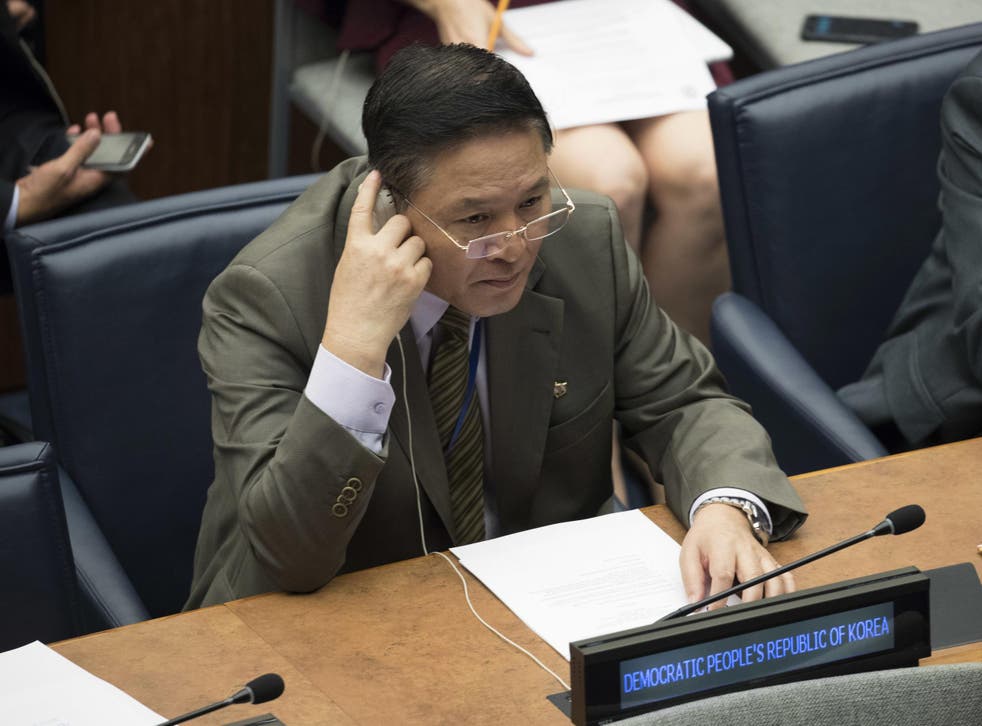 North Korea's UN ambassador has accused the United States of imposing "an economic blockade" on his country and deploying nuclear assets on the Korean peninsula aimed at toppling leader Kim Jong-un.
Ja Song-nam said the US push for countries to implement what he called "illegal and unjustifiable" UN sanctions on North Korea is part of America's "frantic attempt to completely block our peaceful economy for people's everyday lives and humanitarian cooperation."
"The US is clinging to unprecedented nuclear threats and blackmail, economic sanctions and blockade to deny our rights to existence and development, but they only result in our sharper vigilance and greater courage," he told the General Assembly committee that deals with economic and financial issues.
The UN Security Council has imposed its toughest sanctions ever on North Korea in response to its continuing nuclear weapons and ballistic missile tests, with the aim of pressuring Kim's government into returning to negotiations on denuclearising the Korean peninsula.
The measures include a ban on countries importing North Korean coal, iron ore and textiles and new limits on its crucial oil and petroleum product imports. But the economic pressure has had no visible impact on Kim's government, which appears to be accelerating toward what it says is its goal — putting the entire United States within range of its nuclear weapons.
A week ago, North Korean Foreign Minister Ri Yong-ho told reporters that US President Donald Trump had "declared the war on our country" by tweeting that North Korea's leadership "won't be around much longer." Hours later, the White House pushed back, saying: "We have not declared war on North Korea."
The Trump administration, referring to the tweet, stressed that the US is not seeking to overthrow North Korea's government. US Cabinet officials, particularly Secretary of State Rex Tillerson, have insisted that the US-led campaign of diplomatic and economic pressure on North Korea is focused on eliminating its nuclear weapons programme, not its totalitarian government.
North Korea's ambassador told the assembly committee that "our people will continue to uphold the line of simultaneous development of the state nuclear force and the economy."
Ja said the country is committed to implementing UN goals to end poverty and preserve the environment by 2030 and said Trump's announced intention to withdraw the US from the 2015 Paris climate change agreement "illustrates the negative stand of the US towards the sustainable development goals."
Kim Jong-un inspects weapon North Korea says is powerful hydrogen bomb

Show all 6
To achieve these goals, Ja said, "we should immediately obliterate the high-handed measures of the US, including the sanctions imposed on the developing countries."
And clearly aiming at the United States and other economic powers, he said the "monopolistic position" of countries that control the monetary and trade system should be destroyed at the same time.
AP
Register for free to continue reading
Registration is a free and easy way to support our truly independent journalism
By registering, you will also enjoy limited access to Premium articles, exclusive newsletters, commenting, and virtual events with our leading journalists
Already have an account? sign in
Join our new commenting forum
Join thought-provoking conversations, follow other Independent readers and see their replies