North Korean diplomats storm out of human rights meeting at UN after interrupting defectors
A diplomat from Pyongyang accused the US of being the 'true kingpin of human rights violations'  and dismissed 'ungrounded allegations' of atrocities
Lizzie Dearden Comments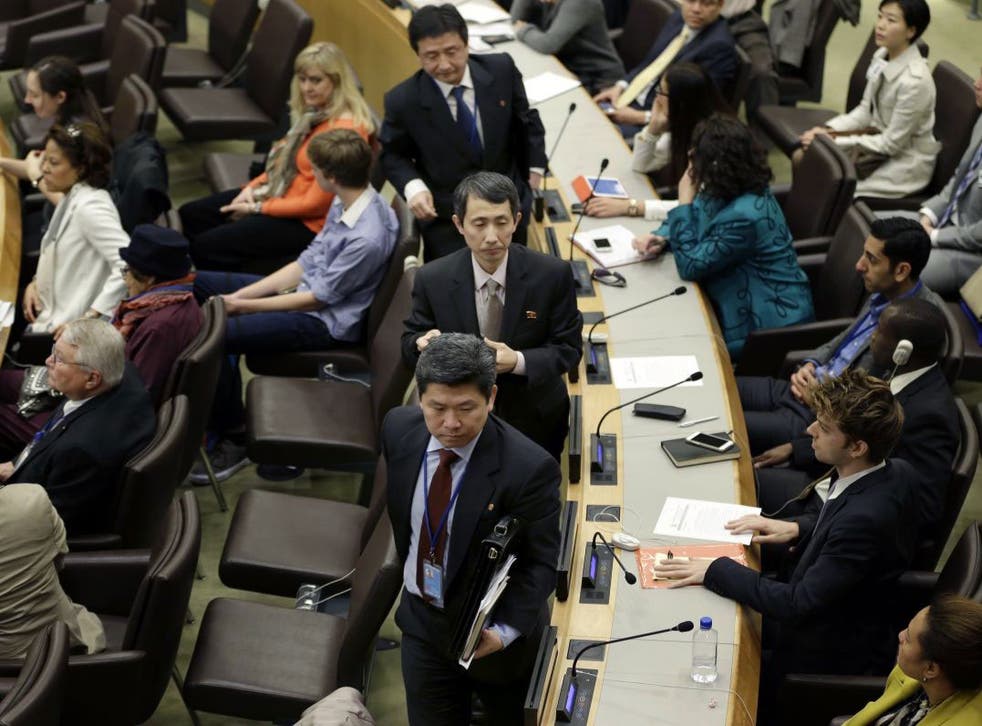 North Korean diplomats have stormed out of a meeting addressing the country's human rights record after trying to "drown out" defectors as they gave harrowing testimonies.
A man had been speaking about watching his father die of starvation and enduring a childhood of poverty and hunger when a diplomat from the secretive state interrupted.
Ri Song Chol started reading a six-minute statement condemning the event, which was organised by the US on Thursday, causing defectors to rise from their seats and shout in protest.
More than 20 and women who had fled North Korea reportedly shouted "shut up", "free North Korea", "down with Kim Jong Un" and "even animals know to wait their turn" as he spoke.
The statement was expected but Samantha Power, the US Ambassador to the United Nations, said the delegation was told to speak after three defectors and had "chosen instead to try to drown out the testimony".
She asked for microphones to be switched off as Ri accused the US of "murdering innocent black people" and claimed police killings in Baltimore and Ferguson were proof that the US "is the true kingpin of human rights violations."
He said Kim Jong-un's government was the subject of "ungrounded allegations" and "hostile policy".
Ms Power warned that UN security would be called but the three-strong North Korean delegation left the UN conference room after concluding their statement, claiming they had been denied the right to speak.
"It must be chilling for those of you have been subjected to the terror of the regime to be confronted with bullying and disruption and the kind of behaviour that we saw today," Ms Power said afterwards.
"Such statements are totally self-discrediting."
She called on countries in the region, particularly China, to stop sending North Koreans seeking asylum back to the country.
North Korea: In pictures

Show all 14
A UN Commission of Inquiry report last year detailed abuses in North Korea that it said were comparable to Nazi-era atrocities and the Security Council overrode Russia and China to put the issue on its agenda in December.
It was urged by the General Assembly to refer the "Democratic People's Republic of Korea" (DPRK) to the International Criminal Court but that move is likely to be resisted by its allies.
The government has repeatedly referred to defectors who co-operated in the inquiry "human scum".
Minutes before the chaos began, the UN Assistant Secretary-General for Human Rights, Ivan Simonovic, told the audience that North Korea had shown "new signs of engagement" on human rights issues in recent months.
Oh Joon, the South Korean ambassador, later told the audience that a "glimmer of hope" had been crushed by the incident, saying his country was "disappointed".
Defector Joseph Kim had spoken about seeing his father die of starvation at the age of 12, then losing his mother when she was sent to a prison labour camp for travelling to China.
He fled as a teenager and arrived in the US eight years ago as a refugee.
Kim appealed to delegates to "continue lending an ear to the story of the North Korean people" so that "we can bring light to the darkest corners of the world's most isolated country".
Another defector, who spoke as the North Korean diplomats left, escaped at the age of 10 with her mother.
Jay Jo, 28, said her grandmother starved while digging for grass and her father died in a prison camp, where he had been sent for scavenging for food.
"It makes my heart enraged whenever I think about the North Korean regime," she added.
North Korea is under sanctions for repeated nuclear and ballistic missile tests since 2006.
On the day of the meeting at the United Nations headquarters, in New York, North Korea's state news agency KCNA released a barrage of anti-US stories.
One accused Washington of "increasing the danger of conflict among powers in north-east Asia" by offering South Korea a missile defence system and another lambasted military co-operation with Japan.
An editorial in the ruling party's official newspaper, Rodong Sinmun, said that if war breaks out "due to arrogance and misjudgment of the White House", North Korea will not "miss the chance but lead it to a great war for the country's reunification and put a definite end to the US history of aggression".
Additional reporting by AP and Reuters
Register for free to continue reading
Registration is a free and easy way to support our truly independent journalism
By registering, you will also enjoy limited access to Premium articles, exclusive newsletters, commenting, and virtual events with our leading journalists
Already have an account? sign in
Join our new commenting forum
Join thought-provoking conversations, follow other Independent readers and see their replies