North Korean government issues uncharacteristic apology after building collapse leaves hundreds dead
Leader Kim Jong-un was reportedly deeply affected by the tragedy in the country's capital Pyongyang
Jack Simpson Comments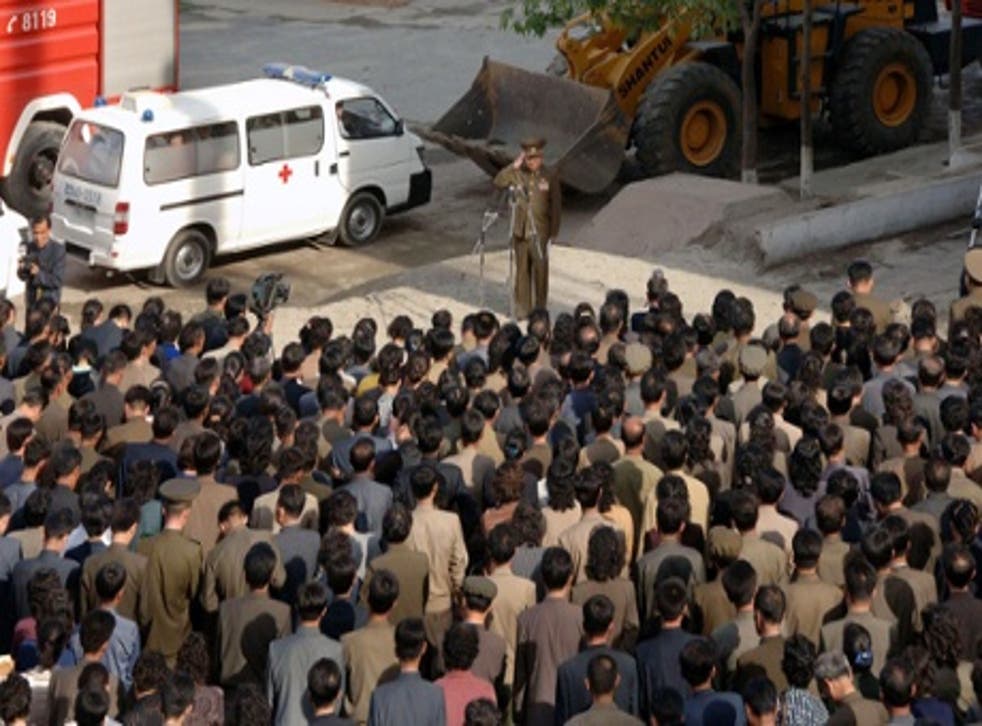 In an uncharacteristic step by the North Korean government, officials have made a public apology after a building collapse in Pyongyang reportedly led to the death of hundreds of people.
Officials including the country's Minister of People's Security offered "profound consolation and apology" to the family members of those that died in the 24-storey building collapse on Tuesday.
Reports also say that the leader of the secretive Communist state, Kim Jong-un, had been deeply affected by the accident and that he had "sat up all night, feeling painful" when he had heard about the accident.
North Korean authorities rarely give coverage to incidents that might lead to negative public perceptions, however in this case, not only did KCNA, North Korea's state news channel, show images of the collapse, they also showed footage of the rescue effort and statements of apology from government officials.
It is unknown exactly how many people died as a result of the tragedy, but it is thought around one hundred families had lived in the building many of whom had moved in before construction had been properly completed.
In a statement released by KCNA, the government said: "The construction of an apartment house was not done properly and officials supervised and controlled it in an irresponsible manner."
In the aftermath of the accident, the Minister of People's Security, Choe Pu-il, came forward to accept some of the responsibility for the tragedy.
He said that his poor supervision had led to the "unimaginable accident" and that he had "repented" after the accident.
He added that "he failed to find out factors that can put at risk the lives and properties of the people and to take thorough-going measures."
The "intensive" rescue effort began on Tuesday and images of medics and rescue workers helping the hurt and injured were broadcast on Sunday morning.
In one image it shows a government official making a public apology to a large group of people near the debris.
Pyongyang is home to nearly 2.5 million people with many of them living in apartment blocks similar to the one that collapsed on Tuesday.
Compared with the rest of the country residents are reportedly better served when it comes to housing, electricity and other services.
Despite this, the ever expanding population means it is not uncommon to have people moving into high rise buildings before they have been properly constructed and safety checks have taken place.
Register for free to continue reading
Registration is a free and easy way to support our truly independent journalism
By registering, you will also enjoy limited access to Premium articles, exclusive newsletters, commenting, and virtual events with our leading journalists
Already have an account? sign in
Join our new commenting forum
Join thought-provoking conversations, follow other Independent readers and see their replies