North Korea: Kim Jong Un 'sacks powerful uncle and has his aides executed'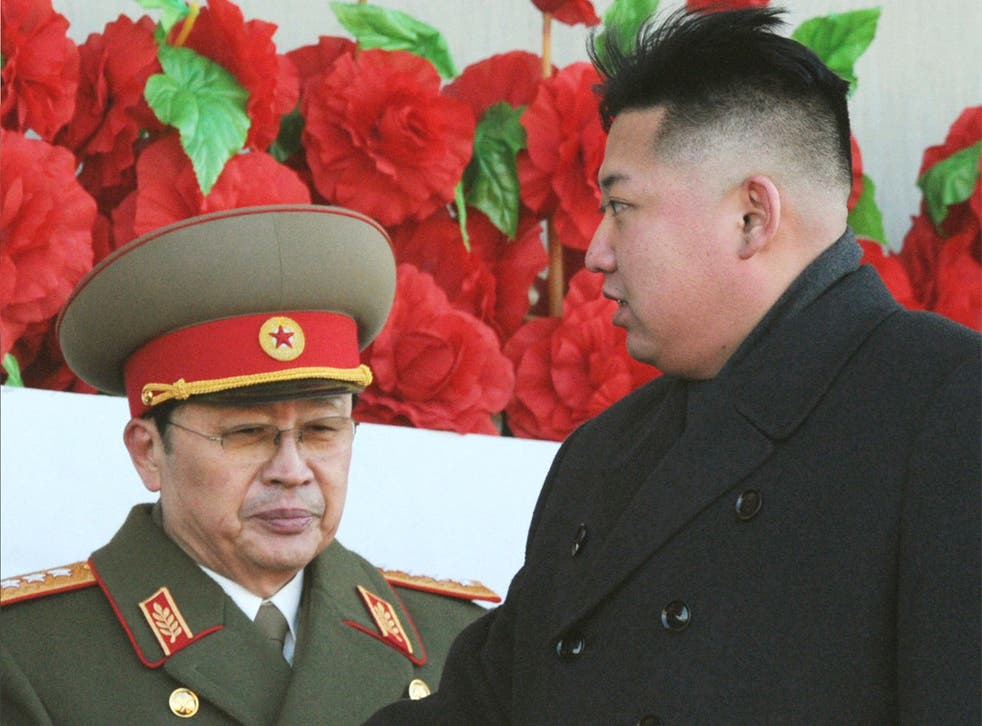 The North Korean leader Kim Jong-un is believed to have dismissed an uncle, a man key to his rise to power, South Korean politicians said, in a move that could help consolidate his power base with a group of younger aides.
Jang Song-thaek was probably sacked as vice-chairman of the National Defence Commission and as a department head of the ruling Workers' Party, an MP Jung Cheong-rae said, citing a senior South Korean official in its National Intelligence Service (NIS).
Analysts who watch the North's power structure say Mr Jang's removal would not have been possible without the approval of the third Kim to rule in the family dynasty.
The move is likely to tip the balance in favour of the top political operative for the army, Choe Ryong-hae, which could mean a symbolic victory for the 1.2 million-strong military. Mr Choe, director of the General Political Bureau of the Korean People's Army, has been the most prominent figure to accompany Mr Kim at public events and is a reminder of the state's political roots in military power.
There was no mention of Mr Jang's fate on North Korea's KCNA news agency, the primary source of information for outsiders, which regularly carries editorials threatening the South and the United States.
Two members of the South Korean parliament's Intelligence Committee told separate news briefings that the NIS had confirmed the public execution of two close aides to Mr Jang on grounds of corruption. "The briefing by an NIS senior official was that they believe Jang Song-thaek has lost his posts," said Mr Jung, who is the ranking opposition member of the intelligence committee. A ruling party member of the committee held a separate news briefing and delivered a similar report.
The removal of Mr Jang, a key figure in the power transition following the death of Mr Kim's father, Kim Jong-il, in 2011, could tip the balance in the fiercely competitive group of confidants surrounding the current leader but was unlikely to impact on Kim Jong-un's hold on power, experts said.
"Jang Song-thaek is a person who at one point Kim Jong-un had to cut out as he solidifies his own power structure," said Koh Yu-hwan of Dongguk University in Seoul, a leading expert on the North's leadership.
"I think the young elite had Kim get rid of Jang, meaning that he will rule without  a guardian."
Accordion-playing Mr Jang, 67, is married to Kim Jong-un's aunt, Kyong Hui. She is a daughter of the North's founding leader and " eternal President" Kim Il-sung, who died in 1994. Mr Jang was widely seen as an advocate of economic reform and a key question is what his downfall will mean for the shattered economy.
"There is a risk involved with removing someone that close to the [economic reform] programme," said Dr John Swenson-Wright, a senior fellow at Chatham House, a think-tank.
While Mr Jang's dismissal could symbolically tip the balance of power in favour of Mr Choe, analysts say it is unlikely to signal a return to the military grandstanding of Mr Kim's father.
Reuters
Register for free to continue reading
Registration is a free and easy way to support our truly independent journalism
By registering, you will also enjoy limited access to Premium articles, exclusive newsletters, commenting, and virtual events with our leading journalists
Already have an account? sign in
Register for free to continue reading
Registration is a free and easy way to support our truly independent journalism
By registering, you will also enjoy limited access to Premium articles, exclusive newsletters, commenting, and virtual events with our leading journalists
Already have an account? sign in
Join our new commenting forum
Join thought-provoking conversations, follow other Independent readers and see their replies