Osaka Mayor Toru Hashimoto who caused controversy for Japan sex slaves comments apologises for saying US military should visit brothels
Hashimoto adds to long list of controversial comments
James Legge
Saturday 25 May 2013 13:56 Comments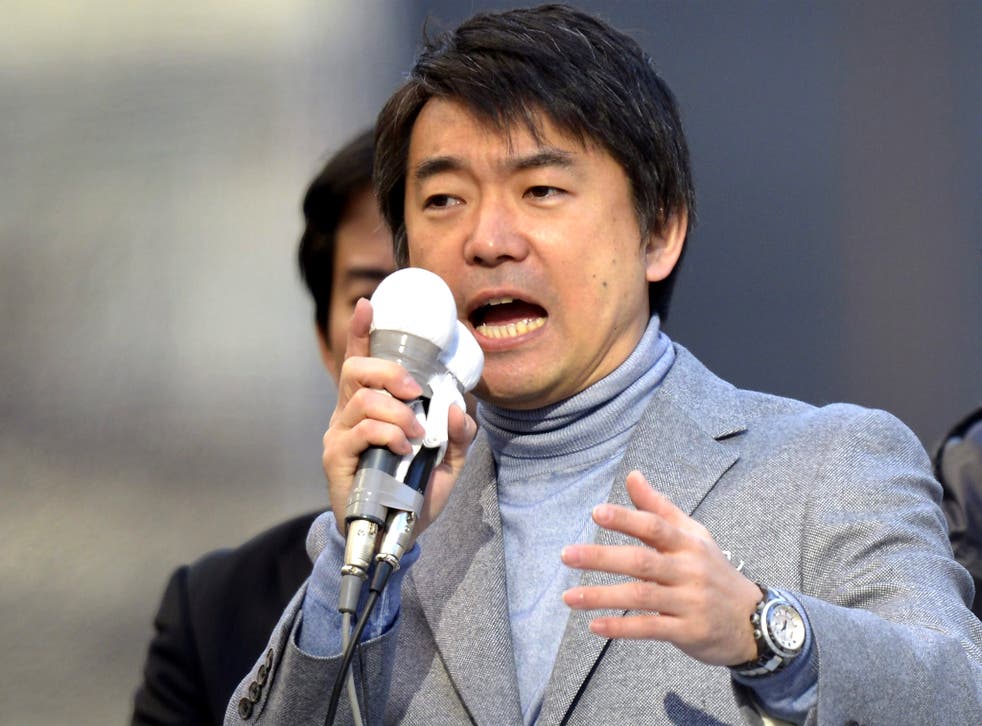 One of Japan's leading politicans has apoligised for suggesting US servicemen should visit brothels in his prefecture - but stopped short of apologising for saying that wartime sex slaves were a necessary evil.
Osaka Mayor Toru Hashimoto claimed American soldiers should go to legal "sex businesses" in the southern prefecture - home to three quarters of America's Japanese military bases - to channel their sex drive and prevent sex assaults against local women.
He told the US military commander in Okinawa: "Soldiers are put in extreme situations in which they can lose their lives.
"They are overflowing with energy. We have to think about the way they can let it out somewhere."
The 43-year-old later told Japanese reporters that when he made the suggestion earlier this month, the commander "appeared frozen, smiled wryly and said it is banned".
A Pentagon spokesman later called the suggestion "ridiculous".
Hashimoto later told the YTV station: "The word 'sex businesses' was inappropriate.
"I must apologise to the US military and American people and retract my comment."
But he refused to retract the other comments about sex slaves. It is believed up to 200,000 women, mainly from Korea and China, were forced to become prostitutes for Japanese soldiers in military brothels.
Mr Hashimoto originally said: "To maintain discipline in the military, it must have been necessary at that time.
"For soldiers who risked their lives in circumstances where bullets are flying around like rain and wind, if you want them to get some rest, a comfort women system was necessary. That's clear to anyone."
Two former sex slaves - now both in their 80s - called publicly for Hashimoto to resign.
Mr Hashimoto is tipped as a future prime minister, despite a string of controversial comments, including 2011's suggestion that Japan needed a dictatorship.
Register for free to continue reading
Registration is a free and easy way to support our truly independent journalism
By registering, you will also enjoy limited access to Premium articles, exclusive newsletters, commenting, and virtual events with our leading journalists
Already have an account? sign in
Join our new commenting forum
Join thought-provoking conversations, follow other Independent readers and see their replies