Overloaded school bus crash kills 11 in China
Video: Eight toddlers were killed along with two teachers and a driver when the minivan veered off the road
Rose Troup Buchanan
Friday 11 July 2014 10:50 Comments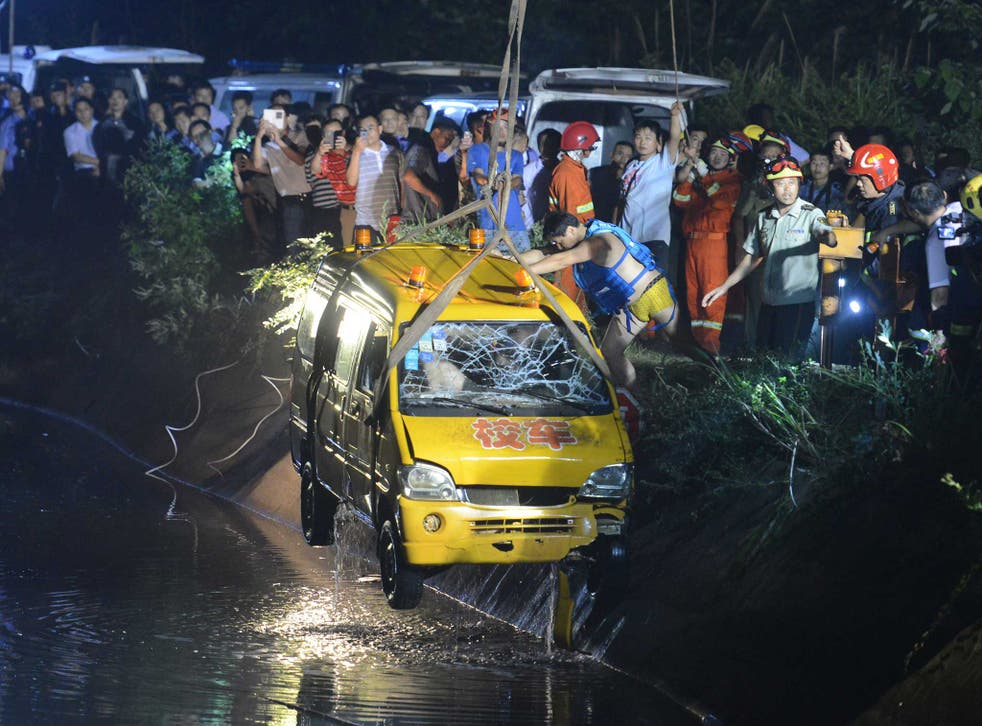 A packed primary school bus plummeted into a remote reservoir in China yesterday, killing all eight pupils and three adults on board.
Originally designed for only seven people, 11 individuals, including the driver and two teachers, were in the overloaded bus when the fatal accident occurred, according to local media reports.
Scroll down for the video
Rescue efforts were considerably delayed owing to the remote location of the crash – and the fact the school bus was entirely submerged by the time rescuers arrived.
The minivan was returning the pupils home along a narrow dirt road in Xiangtan with no guardrail in China's mountainous Hunan province, near the area's capital Changsha.
All of the bodies have now been recovered.
Local authorities have launched an investigation into the incident, the latest in a string of accidents across China that are fuelling parents' anger over lax transport safety precautions.
Children from rural areas are often forced to travel miles in overcrowded buses, after education cuts across the country closed many local schools.
In April a school outing ended in tragedy after eight children died when their bus crashed in China's south island province of Hainan.
A national outcry erupted in 2011 after 18 nursery school children died when a truck collided with their school bus in northwestern China. Despite having only nine seats, the bus was carrying 64 people at the time of the crash.
Then-premier Wen Jiabao promised more government funds to improve school bus services. However, as this latest incident shows, there is still some way to go.
Register for free to continue reading
Registration is a free and easy way to support our truly independent journalism
By registering, you will also enjoy limited access to Premium articles, exclusive newsletters, commenting, and virtual events with our leading journalists
Already have an account? sign in
Join our new commenting forum
Join thought-provoking conversations, follow other Independent readers and see their replies