Ousted Pakistan Prime Minister Nawaz Sharif arrested after flying home to face jail
Mr Sharif has repeatedly criticised Pakistan's powerful military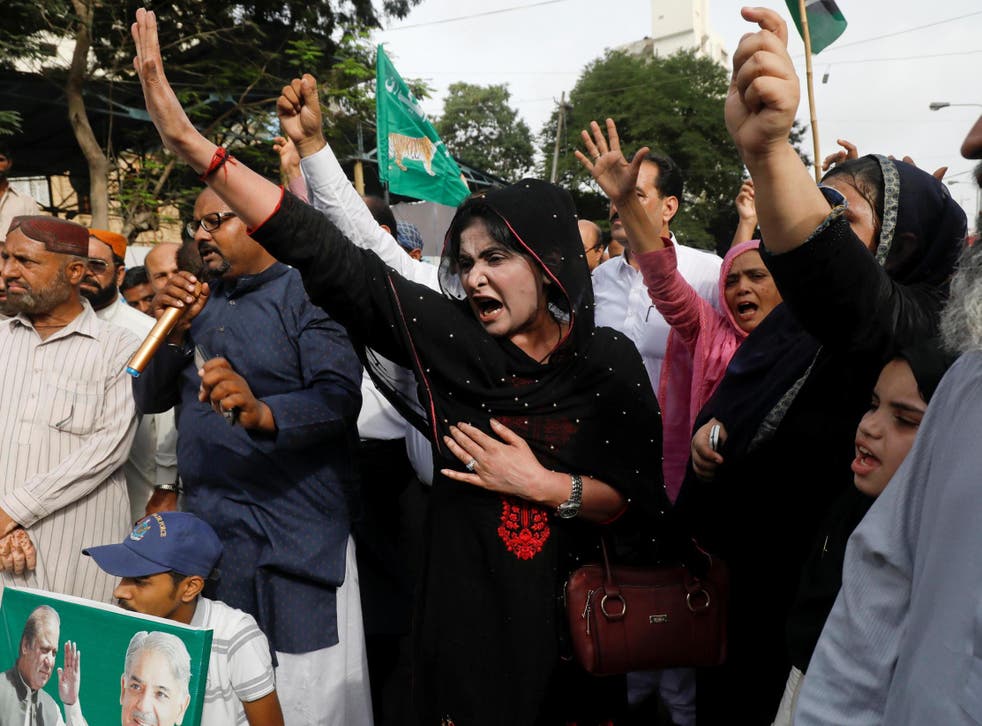 OustedPrime Minister Nawaz Sharif and his daughter Maryam were arrested after flying back to Pakistan to face lengthy prison sentences, in a high-stakes gamble to galvanise their beleaguered party ahead of elections on 25 July.
Uniformed men escorted the Sharifs, who were sentenced in absentia on corruption charges last week, from their plane after it touched down in the central city of Lahore. A spokesman for Sharif's Pakistan Muslim League-Nawaz (PML-N) party confirmed they were arrested soon afterwards.
In a televised appeal to supporters from London earlier this week, Mr Sharif said he was not afraid of prison and asked people to vote for his party. He also used the opportunity to again criticise Pakistan's powerful military, which has ruled the country directly or indirectly for most of its 71-year history, saying Pakistan now has a "state above the state."
Sharif and his daughter Mariam were arrested after flying back to the country to face lengthy prison sentences handed down
Uniformed men escorted the Sharifs after they landed in Lahore. Mr Sharif was sentenced to 10 years in jail by an anti-corruption court last week and his daughter to seven years.
Mt Sharif's son-in-law is already serving a one-year prison sentence on the same charge.
World news in pictures

Show all 50
Thousands of police officers had been deployed and shipping containers were used on some main roads in to block supporters from reaching the airport.
Mr Sharif is expected to appeal against his conviction.
Meanwhile, at least 130 people have been killed in bomb explosions. Bombers targeted two separate election rallies. The first, in the northwestern town of Bannu, left five people dead and more than 37 others injured, police said.
The second explosion ripped through crowds in the town of Mastung near Quetta in south-west Pakistan, killing at least 128 people, including Siraj Raisani, a nationalist leader. At least 200 people were wounded.
An emergency was declared in Quetta hospitals, with additional medical staff summoned.
A string of attacks have been carried out as tensions mount ahead of nationwide elections in under two weeks' time, on 25 July.
Voters will elect candidates for the 342-seat Pakistan National Assembly. Observers say there has been a crackdown on political activists, journalists and critics of the powerful military.
Associated Press contributed to this report
Join our new commenting forum
Join thought-provoking conversations, follow other Independent readers and see their replies