On the Aids frontline in Pakistan as one town tries to stem the growing number of deaths
One father who took his young daughter to several hospitals claims she died after lack of treatment
Amar Guriro
In Sindh
Tuesday 01 December 2020 20:45 Comments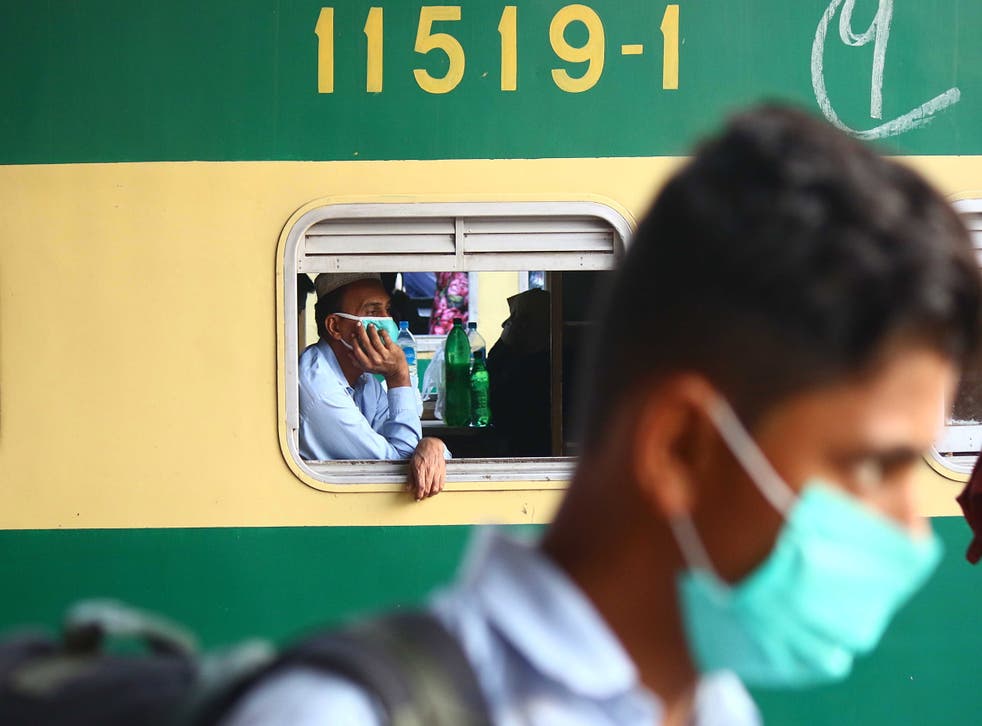 This article first appeared on our partner site, Independent Urdu
According to the Joint United Nations Programme on HIV and AIDS (UNAIDS), 38 million people were infected with HIV worldwide by the end of 2019.
In a report last year, UNAIDS revealed that the number of HIV patients had increased by 13 per cent in Pakistan, the highest rate of increase in the world. The National AIDS Control Program in Pakistan estimates that the number of HIV patients in Pakistan could reach 180,000 this year.
The latest UN figures record a 357 per cent increase in the number of AIDS-related deaths since 2010 in Pakistan, from 1,400 deaths to 6,400 deaths.
Among those to perish was the four year old daughter of M Lolai, a resident of Ratodero in Sindh, south eastern Pakistan, who said he spent five days desperately trying to get treatment for his daughter after her diagnosis.
The mourning father told Independent Urdu: "My four-year-old daughter had been ill for several days. When we consulted the doctor, she prescribed a HIV test. We got the test done and the result came on the 24th of November, which said she was HIV positive. We went to government hospitals seeking treatment for five days but she died due to lack of treatment."
The Medical Superintendent of Tehsil Hospital Ratodero, Dr Tufail Celro, denied reports that the death was due to lack of treatment, rather he said that the child's treatment had started after she was brought to the centre. He said: "The child was brought to our centre after testing positive for HIV, and was being treated, but a delayed diagnosis resulting in further complications, was the reason of her passing away."
Dr Celro added that there are three government centres for treating HIV-infected patients in Ratodero alone: one for women who are pregnant, one for children and one for adults.
In April 2019, a large number of HIV cases were reported in the city. According to official records at Ratodero Tehsil Headquarters Hospital, of the nearly 16,000 people who were tested from 24 April to 17 May, there were almost 600 positive cases. The majority of these patients were women and children.
Dr Imran Arbani who has been running a private clinic in the city, claimed last year that he was the first to detect the spread of HIV in the area. He has alleged that 1,352 cases had been registered in the government hospital by early June but that the figures were now being withheld.
He claimed that at his clinic alone 1,972 patients were screened for HIV in the last five months. Of those screened, 219 tested positive, he said.
"This is the number from patients coming to my clinic. However, there are dozens of other private clinics and government hospitals. The number of HIV positive patients is likely higher, but the official figures are being withheld", said Arbani.
He further added: "Despite hundreds of HIV cases being reported in Ratodero last year, hardly 50,000 people were officially screened. According to the 2017 census, the total population of Ratodero is 331,000 and if we assume the population has grown by another 60,000 in the last three years, that's only 12.5 percent of the population that has been screened."
Dr Celro confirmed that 50,000 people had been screened, and said: "We do not force people to undergo screening. If someone comes to our centre, they are screened free of charge."
He added: "We have screened 50,000 people officially of whom 1,200 were HIV-infected patients, including women and children."
Dr Arbani blamed used syringes for a surge in the number of HIV cases in the area, among other reasons. However, despite government announcements and legislation, patients are still being administered with used syringes at local hospitals and private clinics.
Translated by Taimur Rehman, Edited and proofread by Tooba Ali & Celine Assaf
Register for free to continue reading
Registration is a free and easy way to support our truly independent journalism
By registering, you will also enjoy limited access to Premium articles, exclusive newsletters, commenting, and virtual events with our leading journalists
Already have an account? sign in
Join our new commenting forum
Join thought-provoking conversations, follow other Independent readers and see their replies