Pakistan television show dubbed 'the Islamic Price is Right' gives away orphaned babies in battle to win Ramadan ratings
Aamir Liaquat Hussain, the host of talk show 'Amaan Ramazan', has given away two abandoned babies so far during the holy month
Rob Williams
Thursday 25 July 2013 16:00 Comments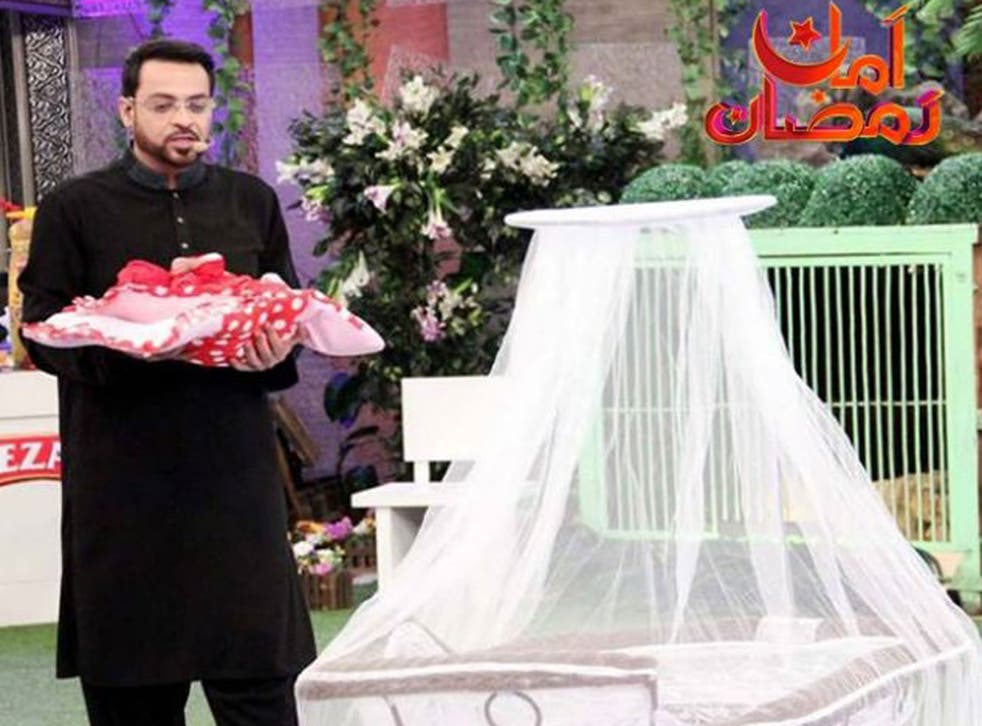 A prime-time Pakistan television show has given away two orphaned babies to childless couples in a bid to take the top slot in the Ramadan ratings war.
Aamir Liaquat Hussain, the host of talk show "Amaan Ramazan", has given away two abandoned babies so far during the holy month.
"This is a beautiful girl who was thrown on pile of garbage by somebody," the controversial presenter says as he shows one of the babies to the camera before adding: "See how beautiful and innocent she is?"
According to The Telegraph, a head of the Chhipa Welfare Association, a Pakistan based NGO, then handed one of the baby to the couple.
Riaz-ud-din and his wife were one of the couples who received a baby.
Riaz-ud-din said: "These 14 years were full of hardships, people asked to go for second marriage but I remained patient and also asked my wife to be patient." According to 'The News' the couple named the child Fatima.
According to The Telegraph, Muhammad Ramzan Chhipa, the man who handed the babies over, said: "Often we just find the bodies so our message that we make is to tell people to bring their babies to us, don't just leave them."
"Amaan Ramazan", which is produced by Geo News, is one of the most popular television programmes in Pakistan - despite the show often being accused of promoting extremist causes.
The show, which has adopted a lighter tone for Ramadan, boasts of 'soul-stirring experiences' and has been dubbed 'the Islamic Price is Right'.
Register for free to continue reading
Registration is a free and easy way to support our truly independent journalism
By registering, you will also enjoy limited access to Premium articles, exclusive newsletters, commenting, and virtual events with our leading journalists
Already have an account? sign in
Join our new commenting forum
Join thought-provoking conversations, follow other Independent readers and see their replies