Women-only 'pink taxis' to hit streets of Pakistan
App-based service allows female passengers to travel around Karachi without fear of harassment from male drivers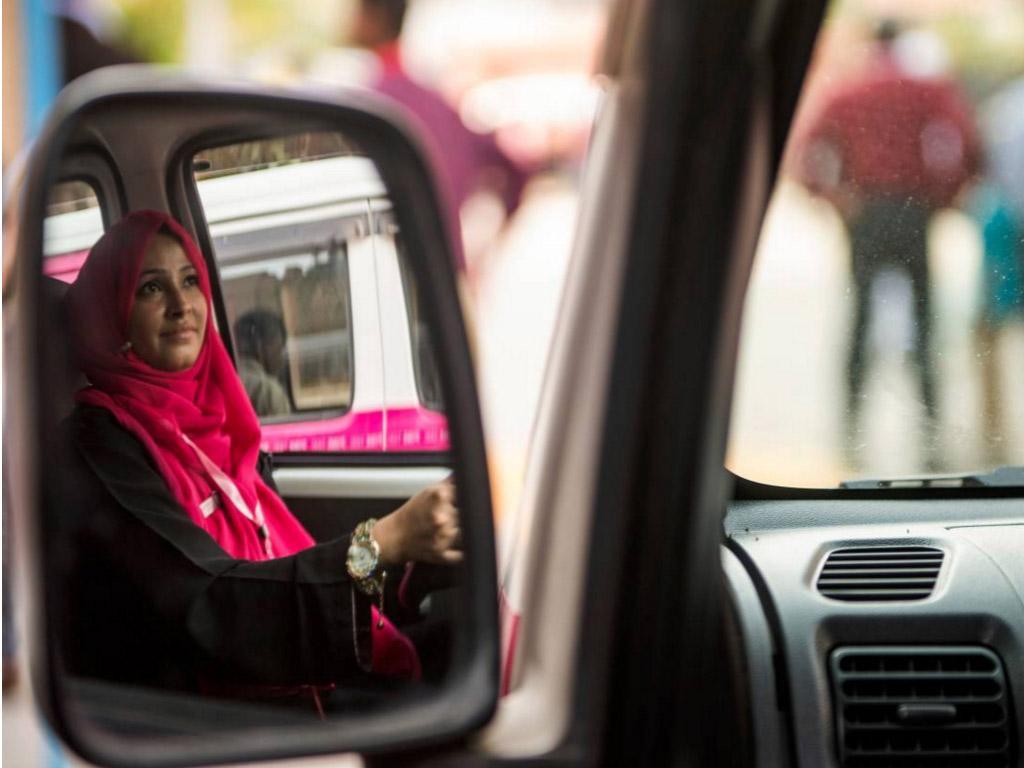 Women in Pakistan's commercial hub Karachi are set to ride taxis driven by women in an initiative to protect female customers from the sexual harassment they commonly face when travelling around the teeming city.
From Thursday, women will be able to call the cab service - called Pink Taxi - by phone, a mobile app, SMS or simply by hailing one on the street, said Ambreen Sheikh, who is launching the service with her husband Zahid Sheikh.
"Our pilots (drivers) wear a pink scarf and black coat as their uniform. They include housewives, young women and students," Sheikh told the Thomson Reuters Foundation by phone after the soft launch of the service.
Commuting in the sweltering city of 20 million is often an ordeal for women. A report by Karachi's Urban Resource Center found most female commuters experience some form of sexual harassment while using public transport.
​Noor Jehan, a newly recruited Pink Taxi driver, first worked as a maid and then as a driver for her female employer. She said there was a need for such a service as most women "think thrice" before getting in a vehicle driven by a man.
The majority of women in conservative Pakistan do not participate in the workforce, with a lack of safe transportation one of the main obstacles, according to a study by the International Labour Organisation.
Syed Nasir Hussain Shah, minister for transport in Sindh province where Karachi is located, acknowledged that women faced hostility and harassment when using public transport.
"Having a mode of public transport catering to them alone can solve many of their transport issues," he said on Pakistani television.
But Zebunnisa Burki, a Karachi-based journalist, said many women in the city cannot afford to take taxis.
"Women-focused transport initiatives are important in that they serve a growing demographic of mobile women," she said by email.
"I do feel, though, that such ventures will still not cater to a large number of working women who go out to work daily... since such women will not be able to afford relatively pricey fares in these private cabs."
Sheikh said the Pink Taxi service would be extended to the cities of Lahore and Islamabad in the next three to four months, followed by other parts of the country.
Women at work around the world
Show all 25
That would be welcomed by Kainat Chaudhry, a content writer with an IT firm in Lahore who uses auto rickshaws or taxis to get to work.
"A woman cannot sit in a taxi driven by a male driver and start a casual conversation without the fear of it being mistaken for some sort of inclination towards him," she said.
"The taxi driver reserves the right to set the rear-view mirror to scan whatever you are wearing - the stress makes one cringe and hide in the corners of the taxis away from his gaze."
Reuters
Join our commenting forum
Join thought-provoking conversations, follow other Independent readers and see their replies