Pakistani academic accused of blasphemy shot dead in Karachi
Dr Muhammad Shakil Auj was known for promoting liberal views on Islam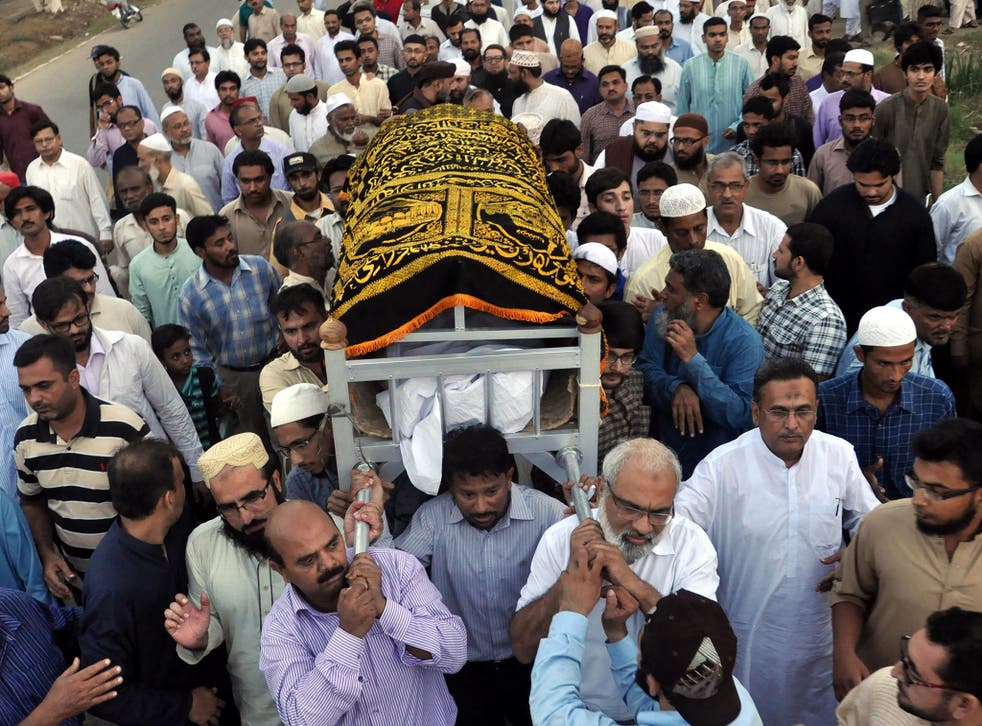 A Pakistani academic known for promoting liberal views on Islam has been shot dead by gunmen – two years after being accused of committing blasphemy in a speech he made in the US.
Dr Muhammad Shakil Auj, Dean of the faculty of Islamic Studies at the University of Karachi, was attacked by two gunmen on a motorbike as he was making his way in his car to a function at the city's Iranian cultural centre. A junior teaching colleague was also hit and suffered an injury to her arm.
"A bullet pierced through his head, proving fatal," senior police officer Pir Mohammad Shah told the Associated Press. "We are investigating the killing. It would be premature to state the motive at the moment."
The 54-year academic was known as someone who had spoken out on many issues in Islam and written several articles. One of the articles had suggested Muslim women should be allowed to marry non-Muslim men. He had also said Muslim women did not need to remove lipstick or make-up before going to prayer.
In 2012, Mr Auj, 54, had complained to police that four colleagues from the university had threatened him and sent him text messages accusing him of blasphemy. They had claimed a speech he had made that year in the US amounted to blasphemy.
One of the academics he complained about had previously held his position within the department. The four men face charges but are currently out on bail, according to reports.
Pakistan's blasphemy laws, introduced under British rule and then tightened during the years of military dictator Muhammad Zia-ul-Haq, have become increasingly controversial and ever more deadly. Campaigners say that the laws, which carry the death penalty, are routinely used to settle personal scores and grudges that have nothing to do with Islam.
While no-one has ever been executed for blasphemy, many accused have been attacked and killed and lawyers and judges have been threatened. A recent report by a US government advisory panel said there were 14 people on death row in Pakistan and 19 others serving life sentences for insulting Islam.
Among those on death row is a 70-year-old British citizen, Muhammad Asghar, from Edinburgh, who was sentenced in January after being convicted of claiming he was a prophet. His lawyers and family said he has been suffering from mental health issues for several years.
Efforts to reform the laws by Pakistan's previous government were scrapped in the aftermath of the murder in January 2011 of Salmaan Taseer, the governor of Punjab province, where Multan is located, who had spoken about the misuse of the laws and the need to reform them. A second politician, the then-minorities minister, Shahbaz Bhatti, who also supported reforming the laws, was murdered two months later.
In May this year, the lawyer for another academic who had been accused of blasphemy was shot dead in the city of Multan. Rashid Rehman had agreed to represent Junaid Hafeez, a lecturer at Multan's Bahauddin Zakariya University, who had been accused of defaming the prophet Mohammed on social media last year.
Reports said the accusations were levelled by hardline university students who had pushed for him to be charged. Mr Rehman took on the case after no other lawyer would represent the lecturer.
In Karachi, students held a demonstration in protest over Thursday morning's killing of their teacher. They demanded the authorities do more to protect teaching staff. One placard being carried by students, read: "The murder of a teacher is a murder of the whole society."
Join our new commenting forum
Join thought-provoking conversations, follow other Independent readers and see their replies