Pakistani man sentenced to death for blasphemy over 'Prophet Mohamed insult'
Campaigners claim the accusation of blasphemy is used to settle personal grievances and squabbles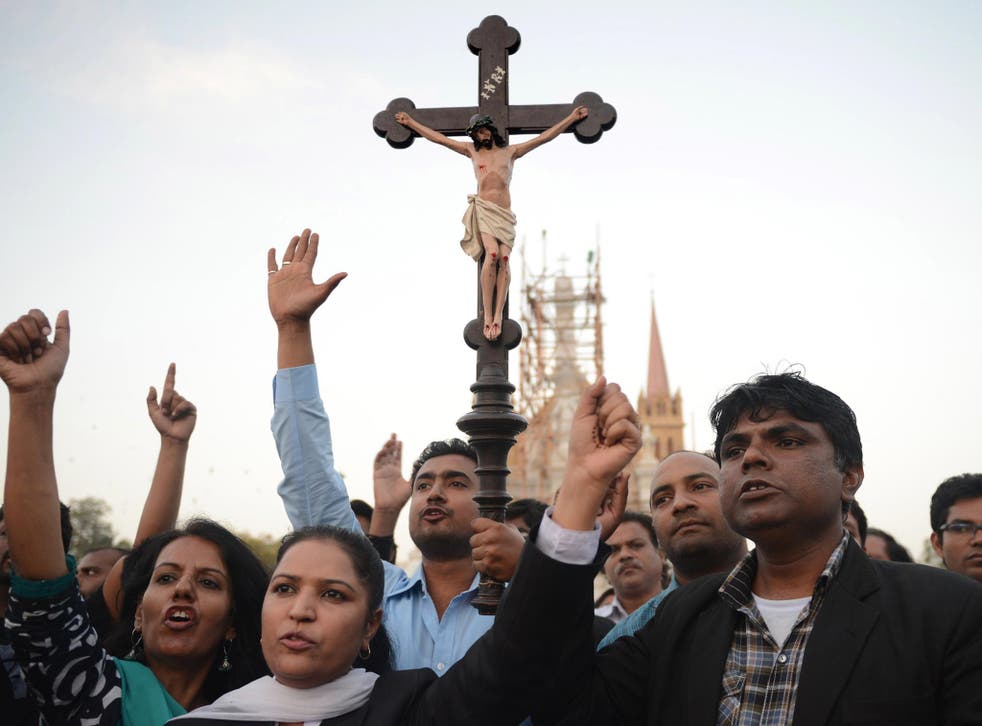 Activists have condemned a decision by a Pakistani court to sentence to death a Christian man convicted of blasphemy. The case last year led to a mob ransacking a Lahore neighbourhood and forcing dozens of families to flee.
Sawan Masih, a government sanitation worker, was given the death penalty after the court listened to testimony about how he had allegedly insulted the Prophet Mohamed. The 35-year-old Mr Masih, who has two children, had pleaded not guilty and will appeal to a higher court.
The case relates to an incident in March 2013 when Mr Masih and a Muslim friend had reportedly been drinking locally-produced liquor together in Lahore's Joseph colony, home to many Christian families. An altercation between the two men broke out and Mr Masih was accused of blasphemy by his drinking partner.
The police arrested the government worker but a couple of days later, as word of what had happened spread, a mob descended on Joseph Colony and set fire to scores of homes and two churches. Among those in the mob were workers from a local steel factory. "Sever the head of the blasphemer," the crowd is said to have chanted.
The case is just the latest in a series of incident of people being accused of blasphemy, often based on patchy evidence, and then sentenced to death. Campaigners say very often the accusation of blasphemy is used to settle personal grievances and squabbles. Once an accusation is made, it is almost impossible for the authorities to ignore it.
Although there is no evidence that Pakistan has executed anyone accused of blasphemy, such accusations routinely lead to vigilantism, People have been shot and threatened, including members of the judiciary handling the cases.
"Pakistan's blasphemy laws are used indiscriminately against both Muslims and non-Muslims, and violate the basic human rights of freedom of religion and thought," Amnesty international said earlier this year.
In January, a British citizen with a history of severe mental illness was sentenced to death after he was similarly found guilty of breaching the country's draconian law. Muhammad Asghar, 69, from Edinburgh, who suffers from paranoid schizophrenia, was convicted at the end of a trial in Rawalpindi.
Pakistan's blasphemy laws were introduced during British rule and then tightened by military dictator Gen Mohammed Zia-ul-Haq who tried to enforce a process of Islamisation of the country. Efforts to reform the laws have been limited as politicians who have tried to do so have been threatened and worse.
In 2011, Salmaan Taseer, the then governor of Punjab, was shot dead by one of his police bodyguards after he spoke out against the blasphemy laws which had been used to convict a Christian woman, Aasia Noreen, also known as Aasia Bibi. When Mr Taseer's killer, Mumtaz Qadri, was brought before the court, lawyers threw petals on him.
Mr Masih's lawyer, Naeem Shakir, could not be contacted. But he told the Associated Press he would be appealing his client's case in the Lahore high court.
Meanwhile, campaigners said it was essential that a total of 83 people arrested over the torching of the Christian colony, be prosecuted. All of them are currently out on bail. "Failure to do so will effectively send the message that anyone can commit outrageous abuses and excuse them as defence of religious sentiments," said David Griffiths, of Amnesty International.
Register for free to continue reading
Registration is a free and easy way to support our truly independent journalism
By registering, you will also enjoy limited access to Premium articles, exclusive newsletters, commenting, and virtual events with our leading journalists
Already have an account? sign in
Register for free to continue reading
Registration is a free and easy way to support our truly independent journalism
By registering, you will also enjoy limited access to Premium articles, exclusive newsletters, commenting, and virtual events with our leading journalists
Already have an account? sign in