Pakistani students are covering university walls with sanitary towels in protest over period taboo
'Women face a lot of stigmatisation and ridicule for menstruation, something they have no control over,' says student Mavera Rahim
Matt Payton
Monday 18 April 2016 09:36 Comments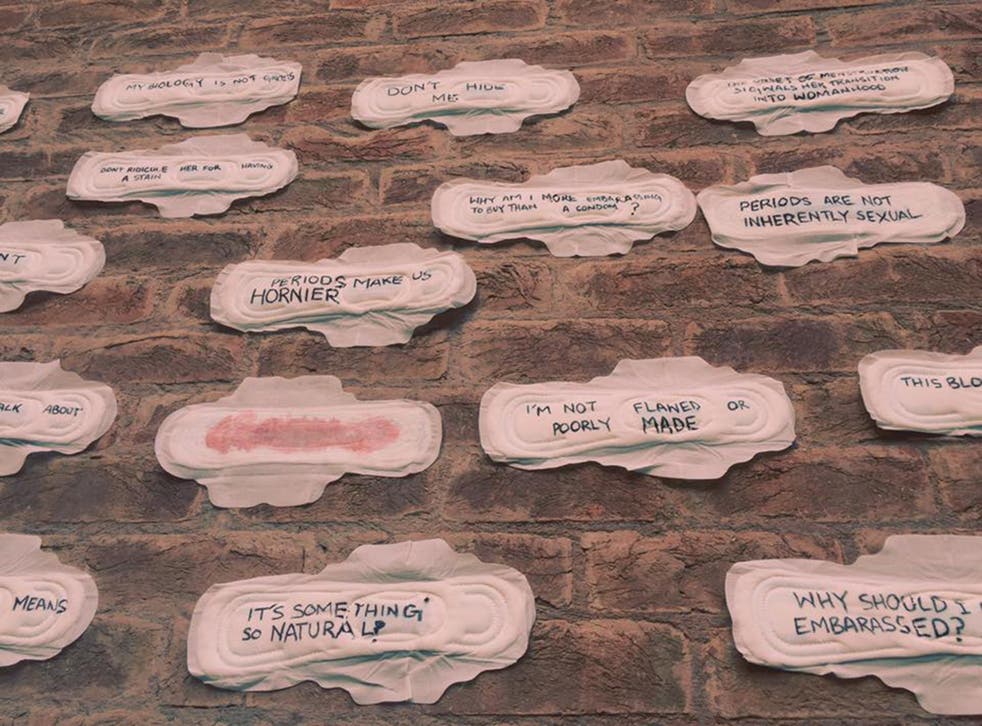 A group of students has been pasting sanitary towels on the walls of a Pakistani university in protest against the taboo over discussing menstruation in the country.
The six women and men, who study at Beaconhouse National University (BNU) in Lahore, wrote slogans on the towels such as "it's something so natural" and "I'm not flawed or poorly made".
In addition, they painted stains on their white kameezes (traditional dress shirt) and stood next to the hygiene products where they talked with male students explaining "nothing is gross,weird, or wrong".
One of the students, Mavera Rahim, posted a picture of towels on Facebook. She explained: "The protest was against the stigma attached to menstruation and the sharmindagi [shame] with which we discuss it.
"We are made to put pads in brown paper bags when we buy them, we are made to talk about periods in hushed voices as if it's a dirty secret, and all-in-all made to act as if it is something we should hide more so than other bodily functions, when it's really a natural part of our biology.
"Our idea was to break this taboo around the subject in our society."
The group said part of the inspiration for the protest was that Pakistani women contract diseases because "they are not fully informed of hygienic practices".
In pictures: Pakistan university attack

Show all 10
Ms Rahim told the Express Tribune newspaper that her brother and sisters are "very supportive".
"This is not a campaign; this was merely an aesthetically based protest as a class project ... Women face a lot of stigmatisation and ridicule for menstruation, something they have no control over," she said.
"No, I'm not some shameless libertine, but I don't think I should feel shame for this, even though I do feel very embarrassed and self-conscious about this whole experience."
This work echoes a demonstration by students at Dehli's Jamia Millia Islamia University in India who last year covered the establishment with sanitary towels to protest discrimination and sexual violence against women.
Register for free to continue reading
Registration is a free and easy way to support our truly independent journalism
By registering, you will also enjoy limited access to Premium articles, exclusive newsletters, commenting, and virtual events with our leading journalists
Already have an account? sign in
Join our new commenting forum
Join thought-provoking conversations, follow other Independent readers and see their replies