Peshawar school attack: Burnt out office and the scene of the final gun battle – images emerge of the aftermath of Taliban massacre
GRAPHIC CONTENT WARNING: Pictures have emerged which show the full extent of the horror left behind in the wake of the Taliban attack
James Rush
Wednesday 17 December 2014 10:26 Comments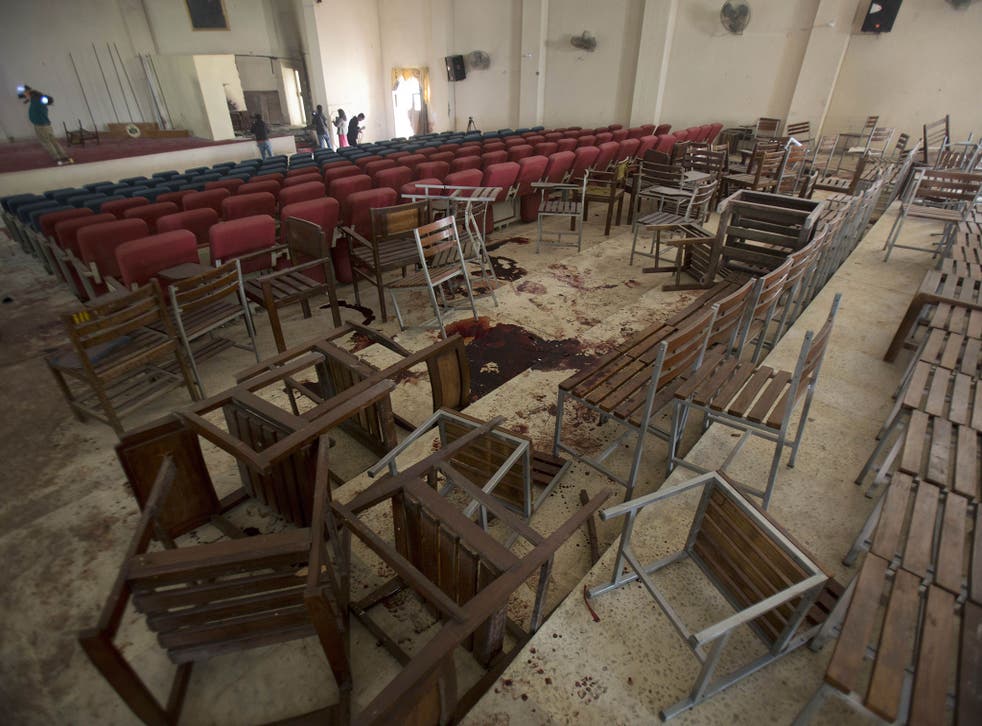 Walls riddled with bullet holes, an auditorium floor covered in blood and a burnt out office where a suicide bomber blew himself up – the first shocking images of the aftermath of the attack at a school in Pakistan have started to emerge today.
Journalists have been allowed into the building to record the destruction and full horror of the eight hour siege after seven Taliban gunmen bent on revenge stormed the military-run school in the north-western city.
The result was a series of images which show the full scale of the fighting and violence witnessed as the militants killed 148 people, including 132 innocent children.
Funerals for the victims were being held today as the nation started to mourn at the beginning of the official three day mourning period.
The attack at the Army Public School and College was the deadliest slaughter of innocents the country has witnessed.
In pictures: Aftermath of Taliban massacre in Peshawar

Show all 12
Prayer vigils were being held across Pakistan and in other schools, where students spoke of their shock at the brutal attack.
Taliban gunman broke into the school before opening fire and killing 132 children, wounding another 121 along with three staff.
The school's head Tahira Qazi was found among the debris overnight.
Military spokesman Major General Asim Bajwa said the school principal was inside her office when the attackers made their way into the administration building.
He said she locked herself into the bathroom but was killed after a grenade was thrown through a vent and into the room.
Army commandos fought the Taliban throughout the day until the school was cleared and all the attackers were reported to have been killed, eight hours after the siege had started.
The Pakistani Taliban, which is fighting to topple the government and set up an Islamic state, immediately claimed responsibility for the attack.
"We selected the army's school for the attack because the government is targeting our families and females," said Taliban spokesman Muhammad Umar Khorasani. "We want them to feel the pain."
Images which show the inside of the building following the eight hour siege have also been posted online by BBC News presenter Mishal Husain.
Register for free to continue reading
Registration is a free and easy way to support our truly independent journalism
By registering, you will also enjoy limited access to Premium articles, exclusive newsletters, commenting, and virtual events with our leading journalists
Already have an account? sign in
Join our new commenting forum
Join thought-provoking conversations, follow other Independent readers and see their replies