Peshawar school attack aftermath: Pakistan hangs 'terrorists' as executions resume
Human rights groups oppose the death penalty moratorium being lifted
Lizzie Dearden
Saturday 20 December 2014 11:50 Comments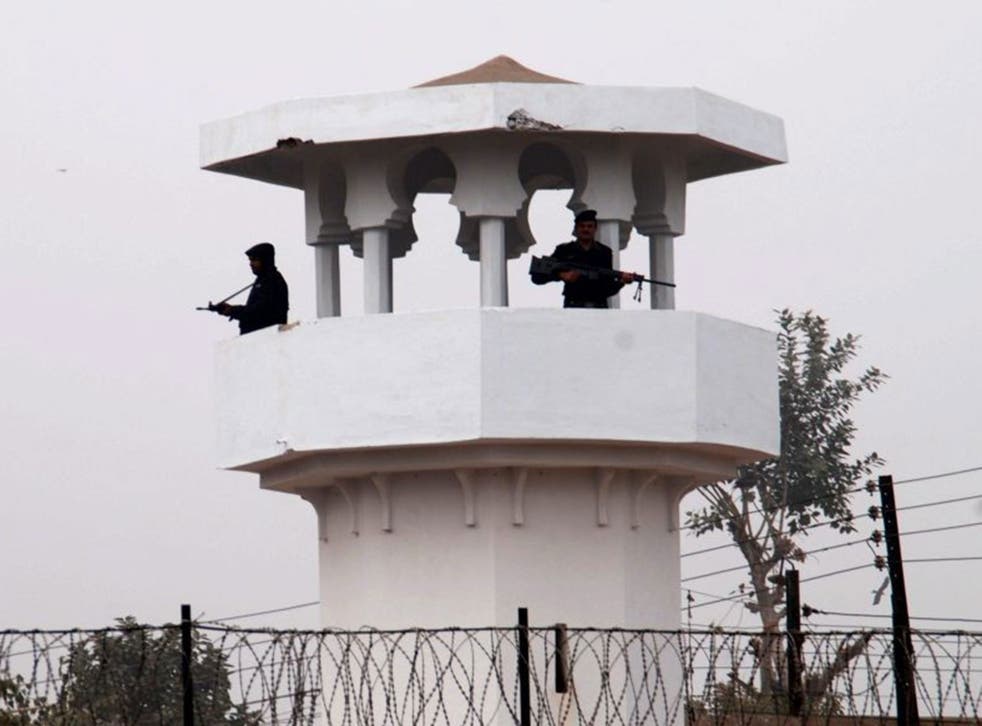 Pakistan hanged two convicted "terrorists" last night after lifting a moratorium on the death penalty in the wake of the deadly Taliban attack on a school.
More than 130 children were killed by gunmen wearing suicide vests at the Army Public School in Peshawar, sparking international outrage and demands in Pakistan for a tougher response to the Taliban.
Prime Minister Nawaz Sharif lifted the moratorium on executions in terror cases the day after the attack.
The home minister for Punjab, where the executions were carried out, said it would "boost the morale of the nation" but the United Nations and human rights organisations had urged the government not to reinstate the death penalty.
Mohammed Aqeel, known as Dr Usman, and Arshad Mahmood, who were hung prison in the city of Faisalabad, were the first civilians to be executed since capital punishment was suspended in 2008.
Pakistani media reported that Aqeel was convicted in relation to a deadly 2009 attack on the Rawalpindi army headquarters, and Mahmood for his role in a plot to kill former President Pervez Musharraf in 2003.
Shuja Khanzada, Punjab's home minister, told The Associated Press: "We have started these executions by hanging two terrorists. The executions of terrorists will boost the morale of the nation, and we are planning to hang more terrorists next week."
But human rights organisations including Amnesty International have raised concerns about the death penalty after years of allegations of poor police investigations and the use of torture to obtain confessions. There are an estimated 8,000 people on death row.
David Griffiths, Amnesty International's Deputy Asia Pacific Director, said he was disappointed that the Pakistani government had "given into fear and anger".
"As horrific as the attack on the Peshawar school was, more killings - this time by the government - is never the answer to combating terrorism and crime," he added.
The UN human rights office had made an appeal to refrain from resuming executions, saying it would not stop terrorism and could feed a "cycle of revenge".
"We urge the government not to succumb to widespread calls for revenge, not least because those at most risk of execution in the coming days are people convicted of different crimes, and can have had nothing to do with Wednesday's premeditated slaughter," spokesperson Rupert Colville said.
Reprieve, a UK-based human rights charity, claimed many prisoners likely to be hung were "simply not terrorists".
The charity gave the example of one man convicted at the age of 15 on the basis of a confession he says was extracted after nine days of torture.
Maya Foa, a death penalty specialist at Reprieve, said: "The swift execution of large numbers of people, convicted in trials falling well short of basic standards, is not justice.
"The tragic events in Peshawar this week require a measured and reasoned response, not a knee-jerk reaction that could see thousands of lives wantonly put at risk."
The Pakistani Taliban claimed Tuesday's attack was in response to the army's operations against its militants near the border with Afghanistan and vowed that it was "just the trailer" to future terrorism if the crackdown continues.
But the government has upped its military action against militants in the country's north-west, with international support, launching air and drone strikes, as well as ground offensives.
In pictures: Aftermath of Taliban massacre in Peshawar

Show all 12
The military said 119 insurgents were killed in three different offensives in the Khyber region Thursday and Friday — 62 in ground action and 57 in air strikes. There was no immediate claim of civilian casualties.
Pakistan has long been accused of playing a double game when it comes to dealing with militancy - fostering some militant groups that operate in Afghanistan and India as a way of maintaining influence there, while pursuing other militants who target the Pakistani state.
Additional reporting by AP
Register for free to continue reading
Registration is a free and easy way to support our truly independent journalism
By registering, you will also enjoy limited access to Premium articles, exclusive newsletters, commenting, and virtual events with our leading journalists
Already have an account? sign in
Join our new commenting forum
Join thought-provoking conversations, follow other Independent readers and see their replies