Peshawar school massacre: Five arrested in Afghanistan over murder of 150 in Pakistan as pupils pay tribute to fallen classmates
Seven Taliban gunmen carried out the 16 December attack
Adam Withnall
Wednesday 14 January 2015 13:28 Comments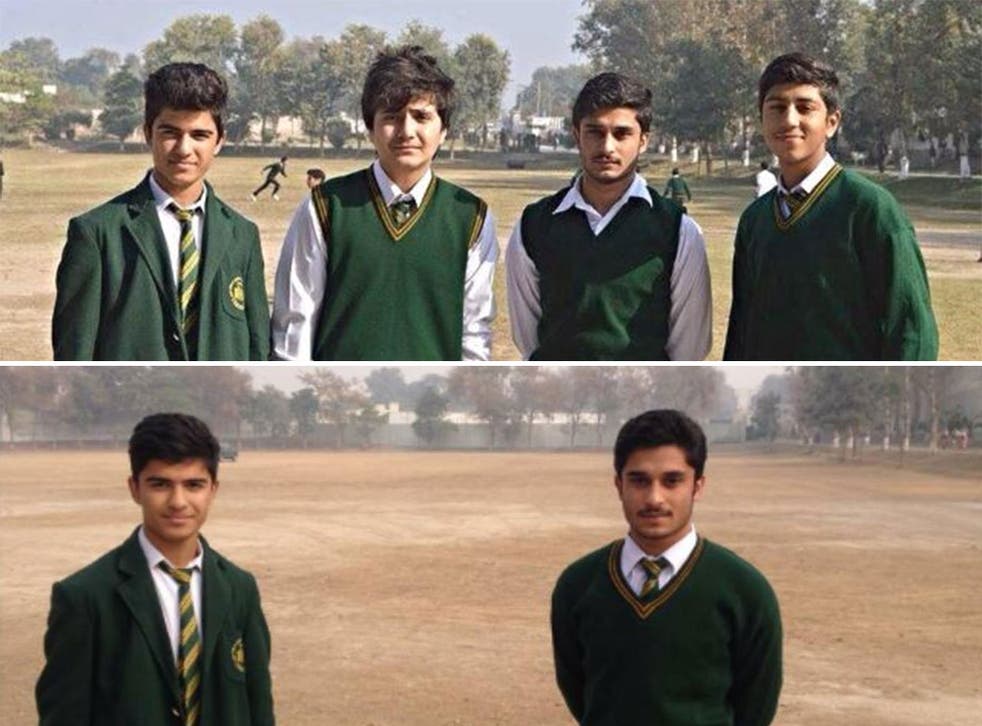 Five men have reportedly been arrested in Afghanistan on suspicion of involvement in last month's Peshawar massacre, as pupils returned for the first time to the school that was targeted by Taliban gunmen.
The incident saw at least 148 children and adults killed at the Army Public School in northern Pakistan.
Among the most moving tributes paid to those killed when the school reopened this week has been the restaging of a picture showing four friends stood in their uniforms in the grounds.
Teenager Talha Munir Paracha posted the before-and-after pictures to his Facebook page. According to a Buzzfeed News report, he (left) and his friend Hassan Javed Khan (second from the right) survived the attack, when terrorists when from classroom to classroom shooting pupils in the head.
They leave gaps in the new picture where their killed friends, Rafiq Bangash (second from the left in the original) and Mohammad Yassen (right), should have stood.
All seven gunmen who carried out the attack were killed. According to local media reports, the five suspects detained in Afghanistan all originate from Pakistan.
Geo News cited military sources saying the men were believed to be senior commanders "from a proscribed outfit", and that they were "indirectly" involved in the attack.
Peshawar attack: Pakistani school reopens after Taliban massacre

Show all 10
The reports suggested the arrests were linked to a recent visit to Kabul by Pakistan's intelligence agency chief Rizwan Akhtar. They represent something of a thawing of relations between the authorities in eastern Afghanistan and Pakistan's northern provinces, BBC News reported.
Speaking to the broadcaster as the school reopened, surviving teacher Munawar Hussain said: "Today I was very emotional." Of the pupils who will not return, he said; "They are missing. I felt their absence."
Register for free to continue reading
Registration is a free and easy way to support our truly independent journalism
By registering, you will also enjoy limited access to Premium articles, exclusive newsletters, commenting, and virtual events with our leading journalists
Already have an account? sign in
Join our new commenting forum
Join thought-provoking conversations, follow other Independent readers and see their replies