'Pet lover' turns out to be prolific cat killer who destroyed 100 animals a day
Suspicions raised when Chinese man joins chat group for animal lovers and urges members to bring him strays 'to adopt'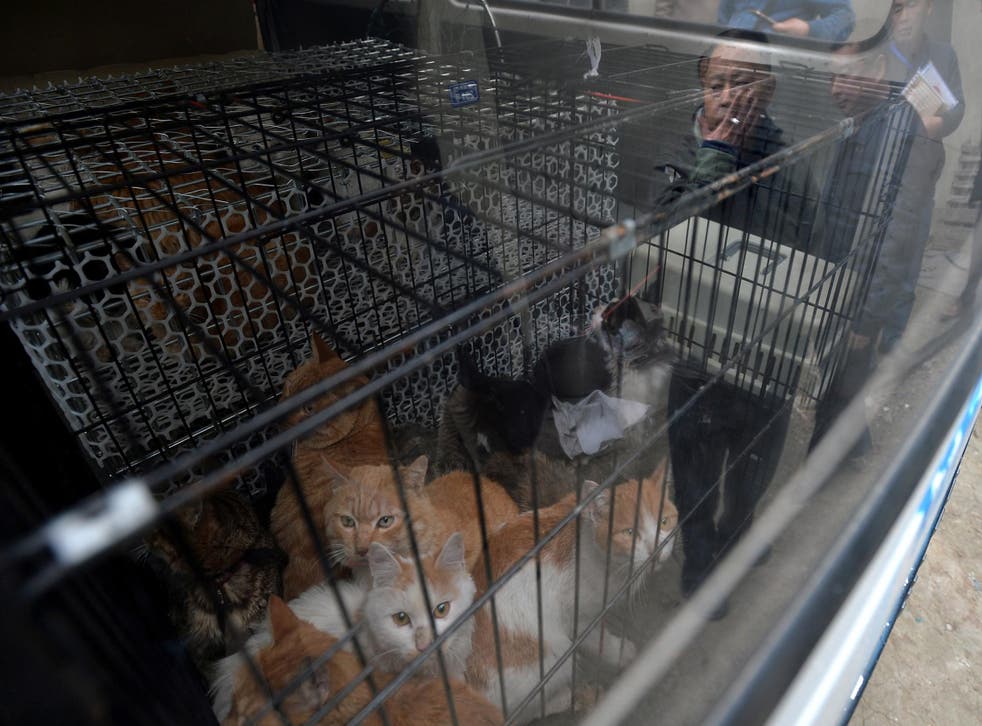 A Chinese "pet lover" routinely killed 100 cats a night at a slaughterhouse 12 miles from his home, to sell on to food traders as "rabbit meat".
Neighbours believed Huang Pingfu was a model animal lover who lavished his more than 20 luxury-breed cats and kept them cool with air-conditioning during hot summers, however his double life as a prolific cat trader was revealed when police received a tip-off from animal rights campaigners.
The Chengdu Aizhijia Animal Rescue Centre became suspicious when Mr Huang joined an online chat group for animal lovers, and urged members to bring him stray cats "to adopt".
The trader from south-west Chengdu city, who said he enjoyed eating cat either hot or cold, dressed in sauce, or stir-fried with hot sauce, spring onions and preserved vegetables, made over £50,000 a year selling cat meat to restaurants by pretending it was rabbit.
Animal protection activists strongly condemned the man's actions and called for greater efforts by Chinese authorities to protect domestic animals.
"No animal should face the cruelty and terrible conditions of being crammed into small cages or be brutally killed for meat, as these allegations show," a spokesperson for World Animal Protection told The Independent.
"The authorities must respond to prevent this situation happening. There is a growing global outrage about the eating of dog meat. Cats and dogs are domestic animals and they need to be protected from such inhumane acts."
Gruesome images of the raid were shared by local media, with only 49 cats found alive in metal cages.
Mounds of cat carcasses were also recovered by police and some cats were found floating dead in the pools used to drown them.
Others were still inside a spinning machine used to strip them of their fur.
"This is not illegal, what's wrong with me buying and selling cats?" Mr Huang told Chengdu Business Daily.
While Mr Huang did mislead vendors and restaurants into buying cat meat, he is unlikely to face criminal charges for his treatment of the cats due to China's lax animal cruelty laws.
"After you chop off their heads and cut them into parts, nobody can tell" if the meat is cat or rabbit, he reportedly said.
On Tuesday, a Hong Kong magistrate fined a mainland Chinese couple after they cooked a cat to feed to their dog.
"This is perhaps the difference between Hong Kong and the mainland," said Kelly Shui.
"We still respect our cats and dogs. Animals in Hong Kong are protected. They are friends of humans," she said.
Join our new commenting forum
Join thought-provoking conversations, follow other Independent readers and see their replies