Coronavirus: Philippine president says lockdown violators should be 'shot dead'
'My orders to the police and military ... if there is trouble and there's an occasion that they fight back and your lives are in danger, shoot them dead'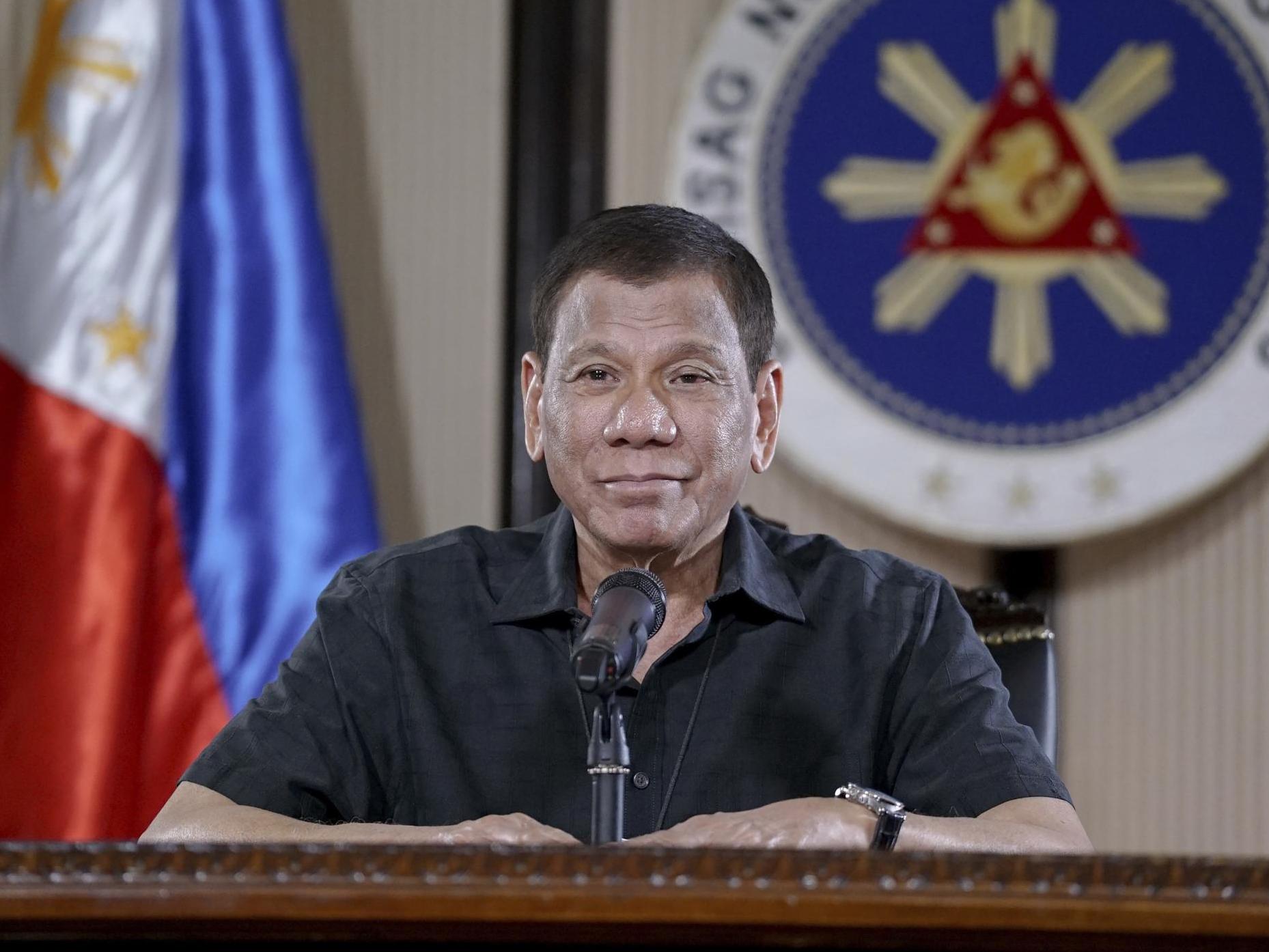 The president of the Philippines, Rodrigo Duterte, has warned anyone who violates the country's coronavirus lockdown measures could be shot.
In a televised address, Mr Duterte said it was vital everyone cooperates and follows home quarantine measures.
He also said the abuse of medical workers was a serious crime that would not be tolerated.
Authorities are fighting to slow the spread of Covid-19 and spare the country's fragile health system from being overwhelmed.
The Philippines has recorded 96 coronavirus deaths and 2,311 confirmed cases, with infections now being reported in the hundreds each day.
"It is getting worse. So once again I'm telling you the seriousness of the problem and that you must listen," Mr Duterte said on Wednesday.
"My orders to the police and military ... if there is trouble and there's an occasion that they fight back and your lives are in danger, shoot them dead."
"Is that understood? Dead. Instead of causing trouble, I will bury you."
His comments came after media reports of a disturbance and several arrests on Wednesday of residents in a poor area of Manila who were protesting about insufficient government food aid.
They also follow outrage among the medical community about social stigma and instances of hospital workers suffering physical abuse and discrimination, which Mr Duterte said must be stopped.
Butch Olano, Amnesty International's Philippines director, said: "It is deeply alarming that President Duterte has extended a policy of shoot to kill, a devastating hallmark of his presidency, to law enforcement agencies in the community quarantine.
"Deadly, unchecked force should never be referred to as a method to respond to an emergency such as the Covid-19 pandemic.
"The abusive methods used to punish those accused of breaching quarantine, and the vast number of mass arrests that have been carried out to date against mainly poor people, are further examples of the oppressive approach the government is taking against many who are struggling with basic needs.
"We call on the president to immediately cease his dangerous incitement to violence against those who may be critical of the government during the Covid-19 pandemic.
"The lives of those most at risk must be considered a priority in the effort to minimise the threat of the virus."
Mr Duterte's office typically calls his remarks hyperbole to underline his point.
On Thursday, the national police chief said police understood Mr Duterte was demonstrating his seriousness about public order, and no one would be shot.
Join our commenting forum
Join thought-provoking conversations, follow other Independent readers and see their replies