Gunmen drag elderly British man and wife from beach resort in Philippines kidnap
At least four gunmen abduct couple on holiday before speeding away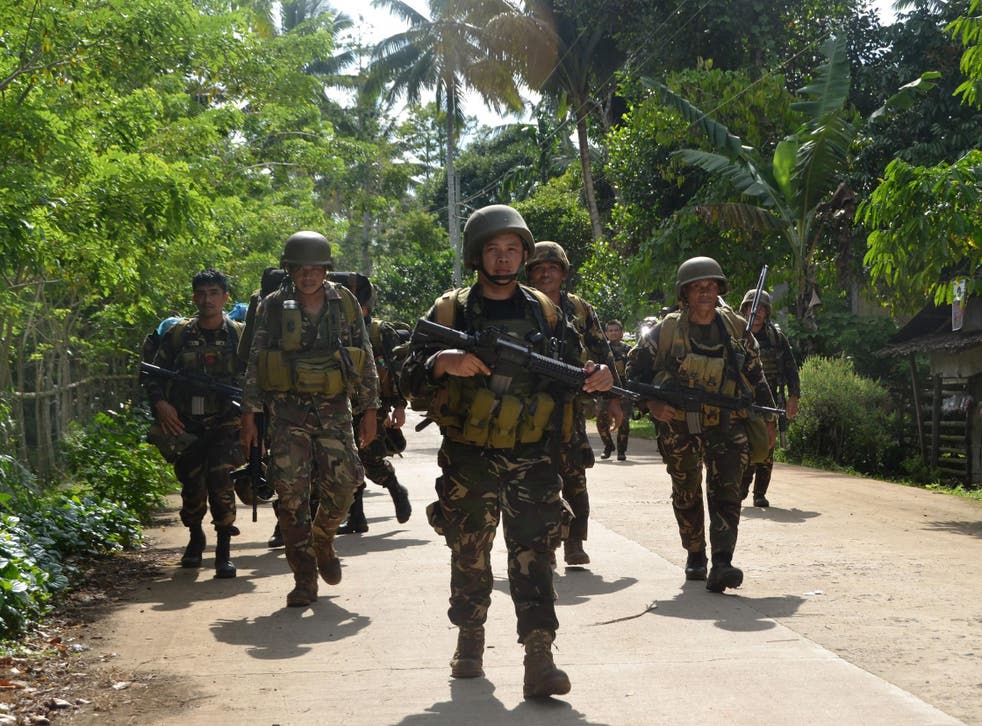 An elderly British man and his Filipino wife have been abducted from a beach resort in the southern Philippines by at least four gunmen.
The man, who is understood to be in his seventies, and his spouse were taken from a hut in their resort at nightfall and dragged to a motorboat in Tukuran town in Zamboanga del Sur province, police corporal Jairus delos Reyes said.
Cpl Reyes said police were searching for the unidentified gunmen, who were armed with pistols, and the couple.
He said several young men in a nearby bar witnessed the abduction.
While the couple had previously been identified, the UK Foreign Office has asked that they not be named and no photographs of them are published.
World news in pictures

Show all 50
Two of the suspects checked in to the hotel a day before the abduction, police spokesperson Major Helen Galvez told the New York Times.
"They were seized at gunpoint and dragged across the beach where they were taken on two motorised boats that immediately sped off into the high seas in opposite directions," Major Galvez added.
No group has claimed responsibility for the abduction, but kidnappings for ransom by Muslim militants and other armed groups have long been an issue in the south of the country.
Kidnappings have discouraged tourism, trade and investment, especially in remote and poorly guarded rural areas.
Military offensives against ransom-seeking militant groups such as Abu Sayyaf have reduced abductions in recent years, but they continue to occur.
The UK Foreign Office advises against all travel to western and central Mindanao and the Sulu archipelago due to terrorist activity and clashes between the military and insurgent groups.
"Kidnapping could occur anywhere," it warns. "Foreign nationals have been targeted by both criminal and terrorist groups.
"This threat extends throughout the Philippines, both on land and at sea, and extends to coastal resorts and dive sites.
"Foreigners have been targeted in rural, urban and coastal areas, on private boats, marinas and resorts. The threat of kidnapping isn't confined to terrorist strongholds and kidnaps may be opportunistic.
Support free-thinking journalism and attend Independent events
"The threat is particularly acute in Mindanao and the Sulu archipelago and offshore areas in the nearby waters of the Sulu Sea and Celebes Sea.
"Some hostages, including foreign nationals, have been murdered."
Philippine authorities said they were also trying to verify the reported abductions of three Indonesian fishermen last week off Malaysia's Sabah state on northern Borneo island, near the sea border with the southern Philippines.
Abu Sayyaf gunmen have staged kidnappings there in the past, sparking a regional security alarm.
Register for free to continue reading
Registration is a free and easy way to support our truly independent journalism
By registering, you will also enjoy limited access to Premium articles, exclusive newsletters, commenting, and virtual events with our leading journalists
Already have an account? sign in
Register for free to continue reading
Registration is a free and easy way to support our truly independent journalism
By registering, you will also enjoy limited access to Premium articles, exclusive newsletters, commenting, and virtual events with our leading journalists
Already have an account? sign in
Join our new commenting forum
Join thought-provoking conversations, follow other Independent readers and see their replies