Philippines landslide death toll rises to 85 as rescue workers search for 20 missing people
Operations hampered due to 'lack of equipment, bad weather and blackout'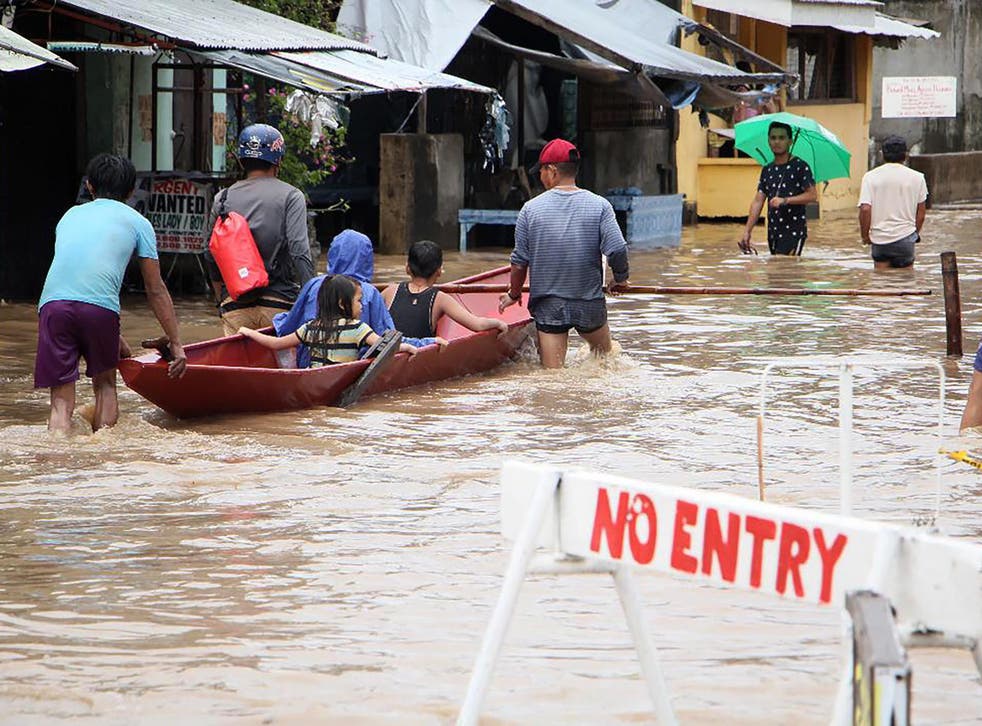 The death toll across the Philippines is rising following the impact of Storm Usman, triggering landslides and floods which left 85 people dead and 20 still missing.
New Year's celebrations were disrupted on Monday night when landslides struck after days of heavy rain in several provinces in the centre of the country.
The devastation came less than two weeks after the​ Anak Krakatau volcano in the Sunda Strait erupted and partially collapsed into the sea, causing a tsunami which killed 437 people on the Java and Sumatra islands.
Children, some aged as young as three, were among the dead following the landslide, national disaster agency spokesman Edgar Posada said.
Ricardo Jalad, also from the agency, said it was likely people were killed when their homes collapsed in landslides caused by torrential rain.
"If we don't recover the missing or we recover them dead, that is 105 deaths, which we hope not," he said.
Late on Monday, tons of mud rolled from the surrounding hills and buried 30 houses in the village of Sirnaresmi in West Java's Sukabumi district, where nine people were killed and sixty displaced villagers fled to a temporary shelter, agency spokesperson Sutopo Purwo Nugroho said.
An intense operation involving around 500 rescue workers retrieved eight bodies from mounds of mud and pulled out four injured people, including an infant who later died in hospital.
The tropical depression, which weakened into a low pressure system before leaving the Philippines on Sunday, brought heavy rain, triggering the landslides and flooding in the Bicol and eastern Visayas regions.
Bicol, an area producing rice and corn located southeast of the capital Manila, was worst affected with 57 people dead as well as widespread damage to crops and farmland.
Indonesia landslide

Show all 3
Thousands of passengers were also stranded at seaports, airports and bus terminals as dozens of inter-island trips were cancelled.
Officials put three provinces under a "state of calamity" to give them access to emergency funds.
Rescuers, including the police and military, used heavy-lifting equipment to clear roads leading to landslide sites and entered flooded communities using rubber boats.
But agency personnel said rescue operations were hampered due to a "lack of equipment, bad weather and blackout".
Ronna Monzon, a member of the operations team at the disaster agency in Bicol, said: "The sun is already out, with occasional light rains. We hope floods will subside."
Elsewhere in the region, seasonal rains and high tides in recent days have caused dozens of landslides and widespread flooding across much of Indonesia – a chain of 17,000 islands where millions live in mountainous areas or near fertile flood plains near rivers.
Additional reporting by agencies
Register for free to continue reading
Registration is a free and easy way to support our truly independent journalism
By registering, you will also enjoy limited access to Premium articles, exclusive newsletters, commenting, and virtual events with our leading journalists
Already have an account? sign in
Register for free to continue reading
Registration is a free and easy way to support our truly independent journalism
By registering, you will also enjoy limited access to Premium articles, exclusive newsletters, commenting, and virtual events with our leading journalists
Already have an account? sign in
Join our new commenting forum
Join thought-provoking conversations, follow other Independent readers and see their replies