Philippines president Rodrigo Duterte suggests asking Russia for weapons after US block rifle sale
'[America] won't sell weapons? We have lots of explosives here already'
Gabriel Samuels
Thursday 03 November 2016 19:37 Comments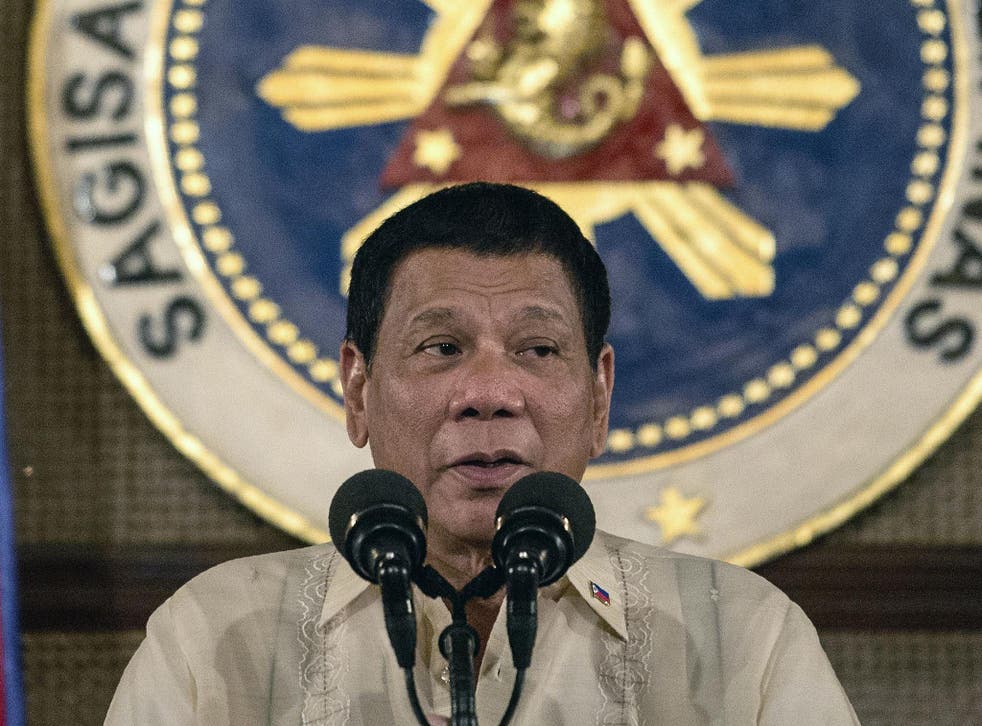 Filipino President Rodrigo Duterte has suggested he may turn to Russia to provide his country with weapons, after the US government reportedly blocked the sale of assault rifles to police in the Philippines.
Thelle US state department recently halted the sale of 26,000 rifles due to concerns over Mr Duterte's violent war on drugs in which thousands have been kid without trial, according to Reuters.
"They are blackmailing me, saying that they won't sell weapons? We have lots of explosives here already," Mr Duterte told CNN Philippines.
"I remember what the Russian diplomat said: Come to Russia, we have anything you need here."
US state department spokesman John Kirby said he could not comment on the arms sale due to federal regulations, while Philippines police chief Ronald dela Rosa told a press conference he had not received official notice the sale had been blocked.
In October, Russia's ambassador to the Philippines said Moscow was ready to discuss a partnership with the Philippines, after Mr Duterte announced his country was "separating" from the United States.
"Formulate your wish list," Igor Khovaev told Mr Duterte according to GMA news agency. "Think of what kind of assistance you expect from Russia and we will be ready to sit down with you and discuss what can and should be done."
Speaking during a state visit to Beijing last month, Mr Duterte said: "I announce my separation from the United States. Both in military, not maybe social, but economics also. America has lost."
The most controversial quotes from Rodrigo Duterte

Show all 9
The organisation Human Rights Watch estimates as many as 5,000 people have been killed by police in the war on drugs since Mr Duterte was elected president on June 30 this year.
Mr Duterte's approach has been repeatedly criticised by the US as tensions continue to grow between the two countries, with the Filipino president responding by telling Barack Obama to "go to hell" and claiming he "doesn't give a s*** about human rights".
During his China visit, Mr Duterte announced he believed "America has lost" and said he would "go to Russia to talk to Putin and tell him that there are three of us against the world - China, Philippines and Russia".
In early October, Mr Duterte effectively severed 65 years of military ties between the US and the Philippines by ordering US troops out of the country.
Register for free to continue reading
Registration is a free and easy way to support our truly independent journalism
By registering, you will also enjoy limited access to Premium articles, exclusive newsletters, commenting, and virtual events with our leading journalists
Already have an account? sign in
Join our new commenting forum
Join thought-provoking conversations, follow other Independent readers and see their replies