Philippines President Rodrigo Duterte on Obama insult: I never called him a 'son of a whore'
'I said I never made the statement. Check it out,' says the Filipino premier
Matt Payton
Friday 09 September 2016 16:04 Comments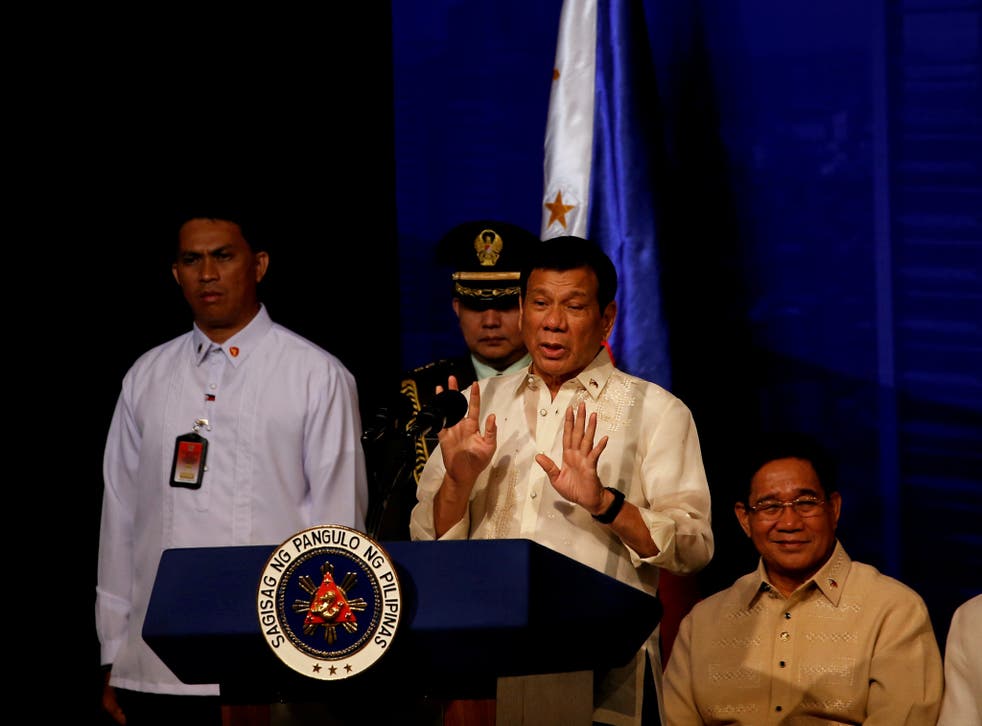 Philippines President Rodrigo Duterte has told reporters he informed Barack Obama he did not call him a "son of a whore" in a short meeting.
Mr Duterte caused outrage earlier in the week for saying the slur against the US President after Mr Obama pledged to ask about alleged extrajudicial killings by Filipino government forces in their war on drugs.
As a result of the Filipino President's comments, the United States cancelled a formal meeting between the leaders ahead of Association of Southeast Asian Nations (ASEAN) in Laos.
Rodrigo Duterte calls Barack Obama 'son of a bitch'
Despite the cancellation, the pair did meet before a dinner at the ASEAN summit - of which Mr Duterte was reported by the Star Online: "I was ready (for Obama). I was waiting for Obama to respond. Lawyer to lawyer, we are both lawyers anyway...I said I never made the statement. Check it out.
"I said that, but not in relation to Obama, I'm not fighting with America."
Mr Obama shrugged off the comments, saying he didn't take it personally and confirmed he shook Mr Duterte's hands.
He declined to say whether Mr Duterte apologised to him in the brief meeting.
Philippines ambassador to the United States, Marciano Paynor, said the tiff with the United States was part of a learning curve for Duterte, who needed a chance to make the transition from being a city mayor to a head of state.
Mr Paynor said: "He has to experience it, if you don't experience it, you don't know how it's done, you'll be grappling."
Since gaining power in June, Mr Duterte has engaged in a bloody war on drugs, which has seen around 2,400 people killed by hit squads, drawing international criticism.
Register for free to continue reading
Registration is a free and easy way to support our truly independent journalism
By registering, you will also enjoy limited access to Premium articles, exclusive newsletters, commenting, and virtual events with our leading journalists
Already have an account? sign in
Join our new commenting forum
Join thought-provoking conversations, follow other Independent readers and see their replies