Philippines president Rodrigo Duterte claims he threw a kidnapper out of a helicopter while mayor of Davao
Latest in a series of startling pronouncements
Jon Sharman
Thursday 29 December 2016 08:01 Comments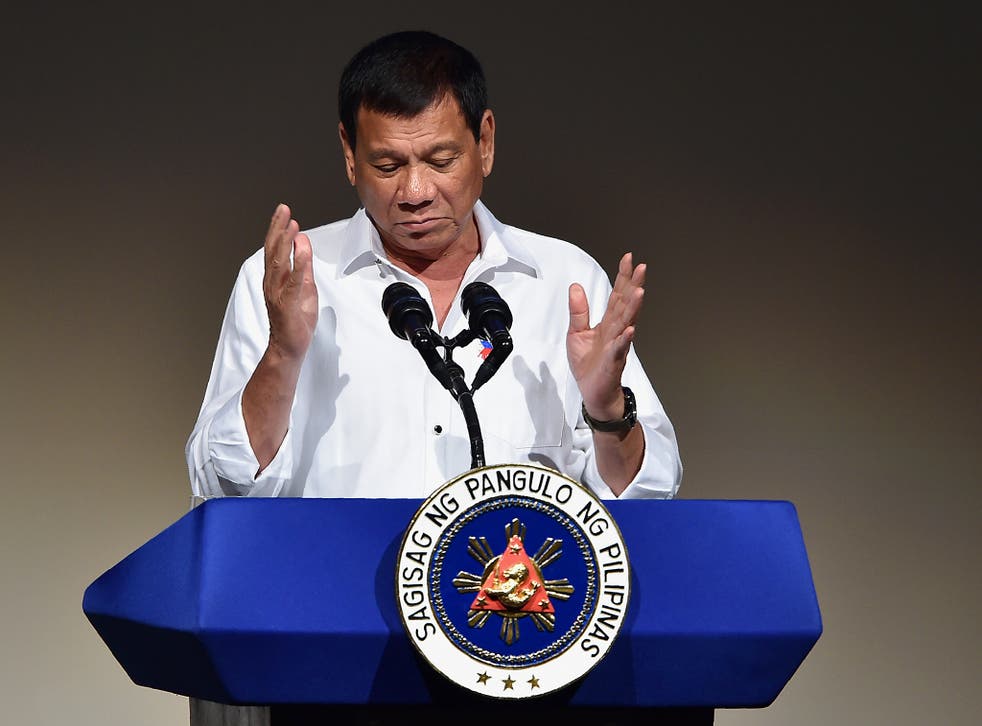 Philippines president Rodrigo Duterte has claimed he once threw a kidnapper from a helicopter in flight - and said he would do the same to corrupt government officials as part of his anti-graft drive.
The outspoken leader, whose anti-drugs crackdown has seen thousands killed and who has boasted of personally killing three people while mayor of Davao city, made the claim after announcing up to £1.64m-worth of aid to areas affected by Typhoon Nina earlier this week, the Philippine Star reported.
When he was elected after promising to fix what he called a broken country, Mr Duterte pledged to bring back the death penalty and shoot-to-kill powers to the Philippines.
The most controversial quotes from Rodrigo Duterte

Show all 9
Mr Duterte said in a speech on Tuesday: "If you are corrupt I will fetch you with a helicopter and I will throw you out on the way to Manila.
"I have done that before, why should I not do it again?"
Mr Duterte said the killing happened when he was on the trail of kidnappers who abused their Chinese victim even after the ransom was paid.
UN human rights experts have been asking the Philippine government to address extrajudicial killings of drug users in the country since August.
In response, Mr Duterte has said he is considering taking the Philippines out of the UN, withdrawing from the International Criminal Court, and ending a major pact with the US.
Last week he called the UN human rights chief Zeid Ra'ad al-Hussein an "idiot", in response to a suggestion by the diplomat that Mr Duterte be investigated for murder after the president said he personally gunned down at least three people when he was a city mayor.
He added he would "burn down the United Nations if you want".
Since he took office in June, about 6,000 people have been killed by police, vigilantes, and mercenaries in the south-east Asian country on Mr Duterte's instructions.
Register for free to continue reading
Registration is a free and easy way to support our truly independent journalism
By registering, you will also enjoy limited access to Premium articles, exclusive newsletters, commenting, and virtual events with our leading journalists
Already have an account? sign in
Join our new commenting forum
Join thought-provoking conversations, follow other Independent readers and see their replies