Philippines President Rodrigo Duterte vows to kill mayors and officials involved in drug trade
'Look for your name in the narco-list. Son of a whore, if your name is there, you have a problem'
Adam Withnall
Tuesday 10 January 2017 10:44 Comments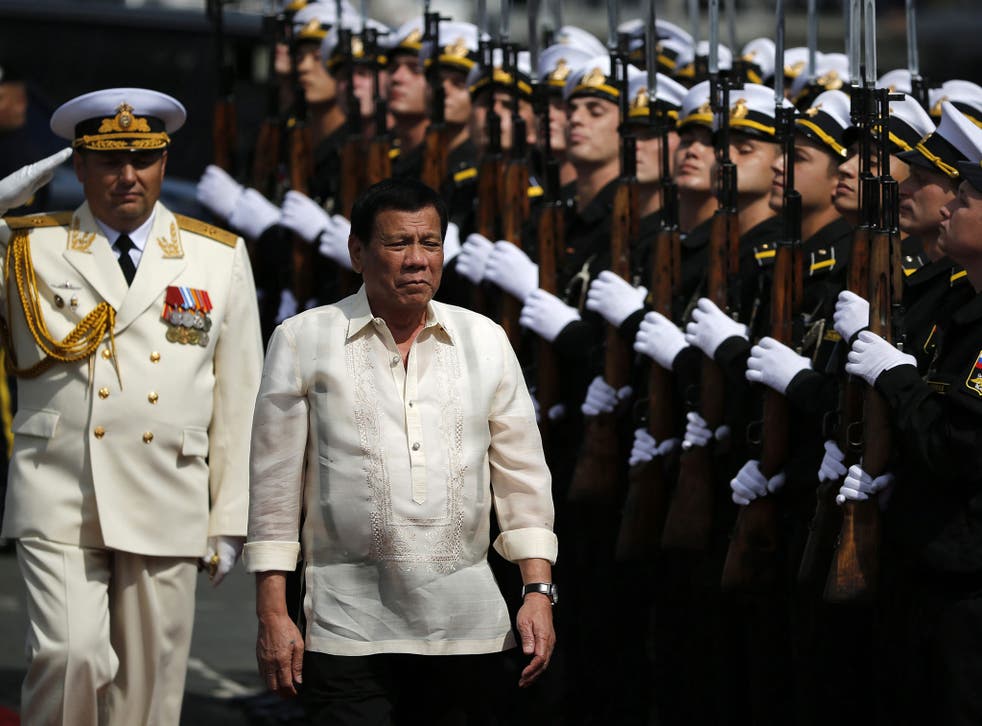 The Philippines President Rodrigo Duterte has vowed to confront and if necessary kill any local officials who are involved in the country's illegal drug trade, it has been reported.
The outspoken leader has compiled a so-called "narco-list" containing an estimated 5,000 to 10,000 names of mayors, governors, police officers and other public officials, and says he will now begin to act on it.
"I would call for the mayors and we would speak privately. I will really tell them: 'Look for your name in the narco-list. Son of a whore, if your name is there, you have a problem. I will really kill you,'" Mr Duterte said on Monday, according to a translation by CNN Philippines.
One person on the list has already been killed in an apparent shootout with police. Mayor Samsudin Dimaukom from a town in Maguindanao province was killed during an anti-drug operation in October.
The President said in November that he would hand the list in full to the Supreme Court, Senate and House of Representatives in a bid to win its support for his anti-drugs drive.
But according to CNN, three people who have been publicly named by Mr Duterte as being on the list have denied involvement in the drug trade.
Former Iligan City Mayor Lawrence Cruz, former Iligan City Rep. Vicente Belmonte and former Lugait, Misamis Oriental Mayor Wellie Lim called into question the accuracy of the list and requested meetings with the President.
Mr Duterte has previously apologised to three other officials who he said were included in the first draft of the list erroneously. The Supreme Court separately cleared three judges named on the list, following its own investigation.
The President continues to spark controversy with his outspoken statements and public stunts.
He has thrown the future of US-Philippine relations into question with angry outbursts directed at the US President Barack Obama, while scaling back military ties with the former colonial power.
In October, Mr Duterte told his outgoing US counterpart to "go to hell" and said America had refused to sell some weapons to his country.
Instead, the Philippines has turned to Russia and China for growing military collaboration. On Monday, a minister said Moscow and Manila were finalising a security deal that would allow their leaders to exchange visits and observe military drills.
Last week, Mr Duterte toured a Russian anti-submarine warship as it made port in the Philippine capital, and said he hoped Russia would become his country's ally and protector.
Register for free to continue reading
Registration is a free and easy way to support our truly independent journalism
By registering, you will also enjoy limited access to Premium articles, exclusive newsletters, commenting, and virtual events with our leading journalists
Already have an account? sign in
Join our new commenting forum
Join thought-provoking conversations, follow other Independent readers and see their replies