Philippines President Rodrigo Duterte 'ordered death squads to kill Muslims, political rivals and criminals'
Former vigilante tells Senate his gang killed 1,000 people while Mr Duterte was mayor of Davao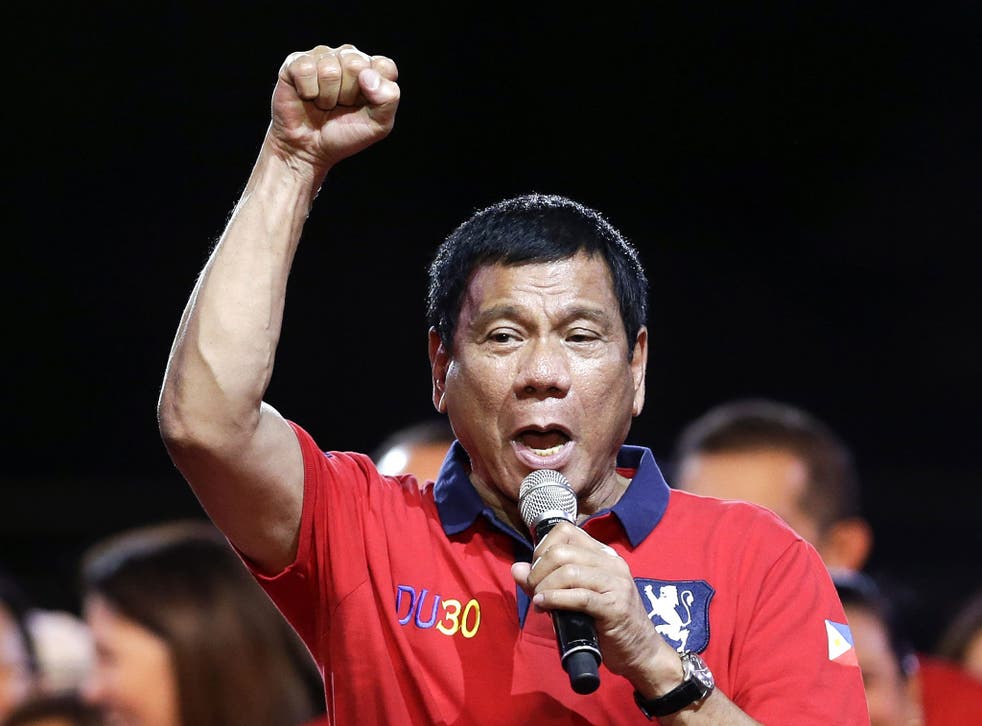 A former death squad member has claimed the President of the Philippines ordered his group to murder criminals, Muslims and political opponents during his time as mayor of Davao city.
Rodrigo Duterte was nicknamed "The Punisher" because of his violent rhetoric and alleged links to vigilante gangs but has denied any role in extra-judicial killings.
Since he took office in June, more than 3,000 suspected drug users and dealers have been killed by security forces and vigilantes, raising international alarm over judicial process.
Death toll rises as Philippines intensifies war on drugs
In a televised committee heading at the Philippines Senate on Thursday, former militia member Edgar Matobato was called to give evidence.
The 57-year-old admitted involvement in around 50 abductions and murders, including of a suspected kidnapper he claimed his gang fed to a crocodile in 2007.
"Our job was to kill criminals like drug pushers, rapists, snatchers," Mr Matobato told MPs under oath said under oath, adding some of the targets were not criminals but opponents of Mr Duterte and one of his sons in Davao city.
He claims to have been recruited when the future President became mayor in 1988 and that his involvement ended in 2013 when he left the "Lambada Boys" gang, who allegedly killed at least 1,000 people.
Recounting a series of gory incidents to the Senate, Mr Matobato claimed Mr Duterte personally "issued the order to massacre Muslims in the mosques" in 1993 in revenge for the bombing of Davao's Catholic cathedral.
He said he threw a grenade into the Bangkerohan Mosque but no one was killed, adding that the Davao Death Squad abducted and murdered other Muslim men and buried them in a quarry.
Martin Andanar, a spokesperson for Mr Duterte, denied the allegation. "I don't think he is capable of giving those orders," he told reporters.
He said the Philippines' Commission on Human Rights had found no evidence of a link between Mr Duterte and the death squad, adding that there were no charges filed during his time as mayor.
The President's office said it would wait for the Senate hearing to conclude before issuing an official statement.
Mr Matobato said his gang's victims ranged from petty criminals to high-profile figures associated with Mr Duterte's opponents, including a wealthy businessman from central Cebu province who was shot dead in his office in 2014, allegedly because of a feud with the mayor's son over a woman.
Four bodyguards working for one of Mr Duterte's political rivals were also abducted and taken to the island of Samalin in 2010, Mr Matobato, where they were put in sand and strangled to death.
Others named included a suspected foreign terrorist, who Mr Matobato said he strangled then chopped into pieces, in 2002, and radio commentator Jun Pala, who was killed by motorcycle-riding gunmen while walking home in 2003 after criticising Mr Duterte on air.
Some of the bodies were dumped on Davao streets or buried in unmarked graves, Mr Matobato claimed, adding some were thrown into the sea with their stomachs cut open and their bodies tied to concrete blocks so they would not float.
"They were killed like chickens," said the killer, adding that his gang operated under the guise of a "civil security unit" in Davao city.
He entered a government witness protection programme after quitting the group but left it after Mr Duterte became President.
He left the protection program when Mr Duterte became president, fearing he would be killed. Mr Matobato said he decided to surface now because "I wanted the people to know so the killings will stop."
He was called to testify by senator Leila de Lima, a critic of Mr Duterte and former chair of the national Commission on Human Rights.
She and Philippine human rights advocates have previously said that potential witnesses refused to testify against the President when he was mayor because they were afraid they would be killed.
Senator Alan Peter Cayetano, who ran unsuccessfully for vice president in May's elections, accused Mr Matobato of being part of a plot to unseat Mr Duterte in a heated exchange.
Ms De Lima eventually declared Cayetano, who was not a member of the committee, "out of order" and ordered Senate security personnel to restrain him.
Another senator, former national police chief Panfilo Lacson, warned Mr Matobato that his admissions that he was involved in killings could land him in jail.
In 2012 the Philippines' Commission on Human Rights confirmed earlier reports of targeted and systematic killings in Davao, on the southern tip of Mindanao island.
But Human Rights Watch said little had come of efforts to see death squad members and their masters prosecuted, while bodies continue to pile up.
The most controversial quotes from Rodrigo Duterte

Show all 9
Phelim Kine, deputy director of the group's Asia division, said Mr Duterte's apparent endorsement of extrajudicial killings must be challenged.
"Duterte's boastful brand of violent impunity should be a path to prosecution, not a platform for political office," he added.
"Until the government adopts a zero tolerance attitude toward public officials who publicly endorse extrajudicial killings as an acceptable approach to governance, Duterte and others like him will pose a grave danger to the safety of the citizens they are elected to protect."
"We're the ninth safest city - how do you think I did it?" Mr Duterte said in May 2015. "How did I reach that title among the world's safest cities? Kill them all [criminals]."
The President has hit out at US, the United Nations and other groups raising concerns over human rights and international law, calling Barack Obama a "son of a whore" earlier this month.
The UN has repeatedly condemned his policies, as has the Roman Catholic church, the dominant religion in the Philippines, but he has continued to champion a bloody crackdown on drugs.
In his final campaign rally before being elected President, Mr Duterte vowed that 100,000 criminals would be killed.
"Forget the laws on human rights," he said. "If I make it to the presidential palace, I will do just what I did as mayor. You drug pushers, hold-up men and do-nothings, you better go out. Because I'd kill you.
"I'll dump all of you into Manila Bay, and fatten all the fish there."
Additional reporting by AP
Register for free to continue reading
Registration is a free and easy way to support our truly independent journalism
By registering, you will also enjoy limited access to Premium articles, exclusive newsletters, commenting, and virtual events with our leading journalists
Already have an account? sign in