Philippines President Duterte says US can forget about a defence deal for as long as he is in power
Filipino President says the US cannot treat his country as a 'dog on a leash'
Caroline Mortimer
Tuesday 25 October 2016 12:31 Comments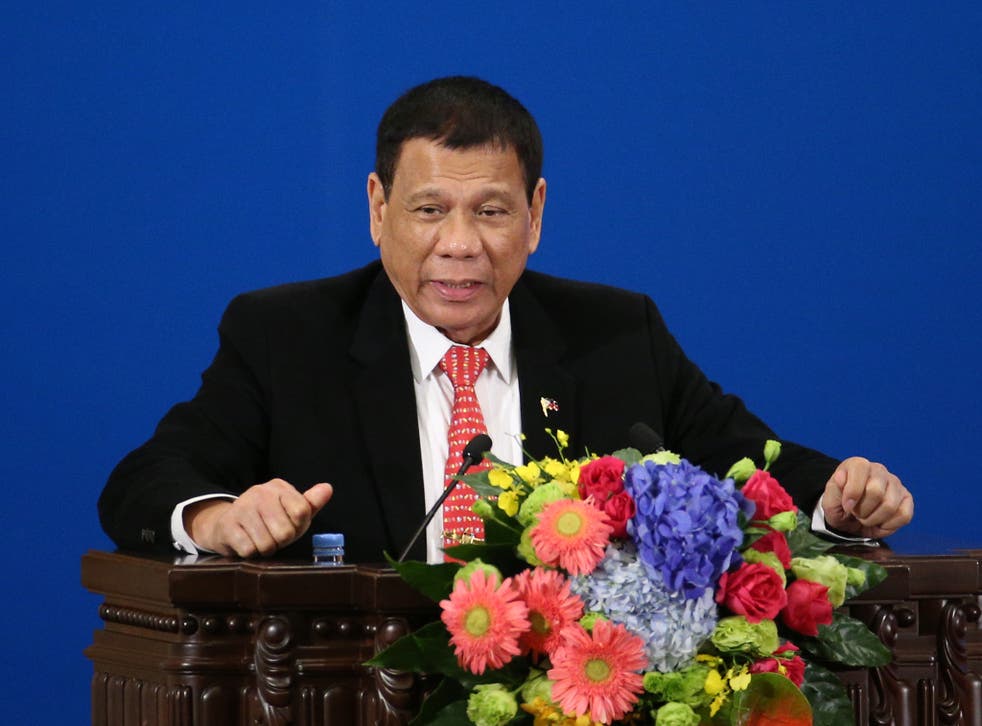 Filipino President Rodrigo Duterte has claimed the US can "forget" signing a mutual defence deal as long as he remains in office.
The controversial politician, who has presided over the extrajudicial killing of thousands of people, said he will not honour the Enhanced Defense Cooperation Agreement which allows the US to post its troops on Filipino soil.
Early this month he ordered 28 military exercises which were being carried out at the time to be called to a halt and said the 107 American troops must leave the country – ending 65 years of military cooperation.
Mr Duterte said the US should not treat the Philippines "like a dog with a leash" amid further heightening of tensions between the two allies.
Since Mr Duterte assumed office at the end of June, Manila's relations with the Washington have been strained over his harsh policies aimed at cracking down on the drug trade.
The US has condemned the policies which have seen police hunting down and killing suspected members of the drugs trade, as well as groups of suspected vigilantes.
The most controversial quotes from Rodrigo Duterte

Show all 9
According to official estimates, 2,300 people have been killed since the start of the "Drug War" with a further 700,000 people officially "surrendering" to authorities as "drug pushers" to avoid execution.
Last week, Mr Duterte met with Chinese President Xi Jinping to renew relations between their countries after years of tensions over the disputed Spratly Islands in the South China Sea.
In a departure from the policy of his predecessors - and despite Beijing rejecting a decision by the Permanent Court of Arbitration recognising the Manila's superior claim to the islands in July - Mr Duterte said a close economic partnership with China was the country's "only hope" for the future.
In the speech he announced his "separation" from Barack Obama - who called a "son of a bitch" in September.
In a previous speech he had threatened to "humiliate" Mr Obama, the European Union and the United Nations.
He said he was open to an investigation by the UN Commission on Human Rights into the extrajudicial killings but only if he was allowed to have his opinion heard.
"I'll play with you. I'm very sure they cannot be brighter than me. I will ask five questions that will humiliate you" he warned,"Watch out for that, it will be a spectacle".
Additional reporting by Reuters
Register for free to continue reading
Registration is a free and easy way to support our truly independent journalism
By registering, you will also enjoy limited access to Premium articles, exclusive newsletters, commenting, and virtual events with our leading journalists
Already have an account? sign in
Join our new commenting forum
Join thought-provoking conversations, follow other Independent readers and see their replies