Philippines police boss tells officers: Talk to me, not media about war on drugs – if you dare
'Tell our men, the officers who had said this, if they had balls, they should talk to me'
Karen Lema
Manila
Wednesday 26 October 2016 00:44 Comments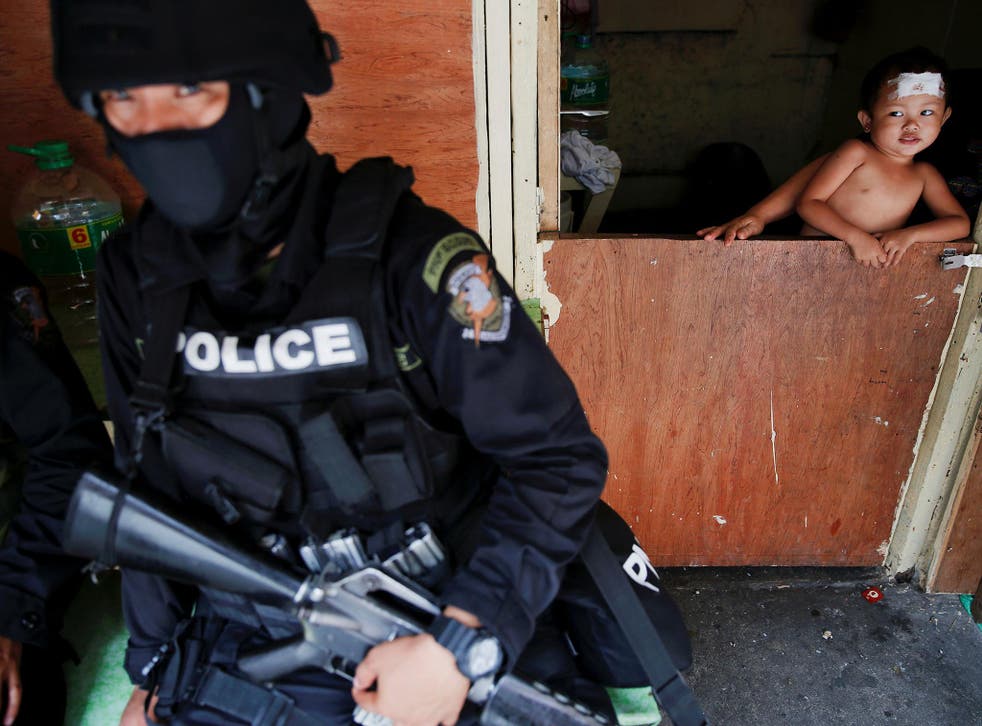 The Philippines' police chief has reprimanded officers and some senior generals for raising concerns with journalists about the country's war on drugs, telling subordinates to talk to him instead – if they were brave enough.
Asked to comment on a report published on Monday that highlighted widespread discrepancies in statistics related to President Rodrigo Duterte's drugs crackdown, Ronald "Bato" dela Rosa appeared irked at police and took a swipe at journalists for what he called "unfair" reporting.
"Talk to me, but don't go to the media to talk about those things," Mr dela Rosa told reporters.
"Tell our men, the officers who had said this, if they had balls, they should talk to me."
Dela Rosa, whose nickname means "rock", said officers with grievances should tell their commanders or go to a panel dedicated to hearing internal complaints.
"They're undermining the efforts of the president," he said, warning of possible charges of insubordination for not using approved channels.
The Reuters report reviewed official government data and compiled interviews with Duterte's top anti-drug officials, who said numbers on police deaths, total drug users, those needing treatment, the types of drugs consumed and the prevalence of drug-related crime were exaggerated, flawed or non-existent.
The same officials noted, however, that problematic statistics were not an issue, because the campaign focused attention on a long-neglected crisis in the Philippines.
Dela Rosa also lashed out at the media for using anonymous sources in stories. "That's the problem with you, you don't want to say who the source is," he said.
"It's unfair if you work that way."
Police commanders met today to evaluate the country's war on drugs, the president's spokesman said, thrashing out what law enforcement sources have described as a shift in strategy to increase arrests and cut down on bloodshed.
Spokesman Ernesto Abella said a "command conference" was being held to evaluate "Project Double Barrel", as the narcotics crackdown is called, to assess whether there was a need to make adjustments to what he described as a successful campaign.
Reuters reported exclusively on Monday that police chiefs around the country would be briefed on the new plan. Two sources with knowledge of the matter said under the plan, dubbed Project Double Barrel Alpha, more resources would go into arresting prominent people tied to the drugs trade, such as police, politicians and celebrities.
Intense discussions had previously taken place among law enforcement officials about the killings of drug suspects under President Rodrigo Duterte's anti-drugs crusade, one source said.
Mr Abella confirmed the meeting was taking place and said the drugs war had raised awareness of the "deadly extent" of the problem.
"The purpose of the conference is to assess and if necessary to recalibrate the campaign," Mr Abella said.
He did not elaborate on how the approach might be recalibrated and said the war on drugs had "always adhered to police action carried out with caution and regularity, but with single minded determination".
Since his inauguration in June, almost 2,300 people have been slain in Mr Duterte's crackdown, according to police, lower than an earlier estimate of 3,600. That was revised down after many deaths were found to be homicides unrelated to drugs.
It is not immediately clear what triggered discussion of a change in tack, but it follows concerns by Western governments and rights groups about the high death toll and the circumstances behind many of the killings.
One source who earlier spoke to Reuters under the condition of anonymity said the rethink was because of "implications of the EJK issue", referring to extrajudicial killings.
Police officials from across the country were in talks at Camp Crame, the police headquarters north of Manila, and the meeting was still going on after four hours. Attempts to reach law enforcement officials attending the meeting were unsuccessful.
Mr Duterte initially gave police six months to suppress drugs and crime, warning the country was on the verge of becoming a "narco state". He extended the crackdown to make it a year.
He pegged most of his election campaigning to the drugs and crime problem, tapping into concerns among Filipinos that methamphetamine usage was tearing apart families and causing crime rates to balloon.
"This is a problem hidden all these years. Until I became president and squeezed it all out," Mr Duterte said in a speech in Manila on Tuesday.
Earlier this month, a prosecutor at the Hague-based International Criminal Court said the tribunal may have jurisdiction to prosecute perpetrators of thousands of alleged extrajudicial killings in the Philippines.
Most deaths – more than 1,600 – were during police operations, drawing sharp international criticism and in turn, inflammatory rebukes by Mr Duterte of US President Barack Obama, the United Nations and the European Union, among others.
The most controversial quotes from Rodrigo Duterte

Show all 9
Speaking to the Filipino community upon arrival in Japan on Tuesday, Mr Duterte took a swipe at his foreign critics and invited anyone who could prove his wrongdoing to take him on. He said he was willing to "rot in jail" for the Filipino people.
"If you have the evidence go ahead and file the case," he said. "I am not a Filipino for nothing. You do not f*** with our dignity."
Reuters
Register for free to continue reading
Registration is a free and easy way to support our truly independent journalism
By registering, you will also enjoy limited access to Premium articles, exclusive newsletters, commenting, and virtual events with our leading journalists
Already have an account? sign in
Join our new commenting forum
Join thought-provoking conversations, follow other Independent readers and see their replies