Phnom Penh's White Building is dilapidated, riven with crime ... and facing demolition
Behind the crumbling façade of the notorious White Building in Phnom Penh, alongside the prostitutes and drug addicts, lives a thriving community of 2,500 Cambodians. But its prime location in the rapidly developing city means many residents now fear for the future…
Kate Wills
Saturday 29 August 2015 02:14 Comments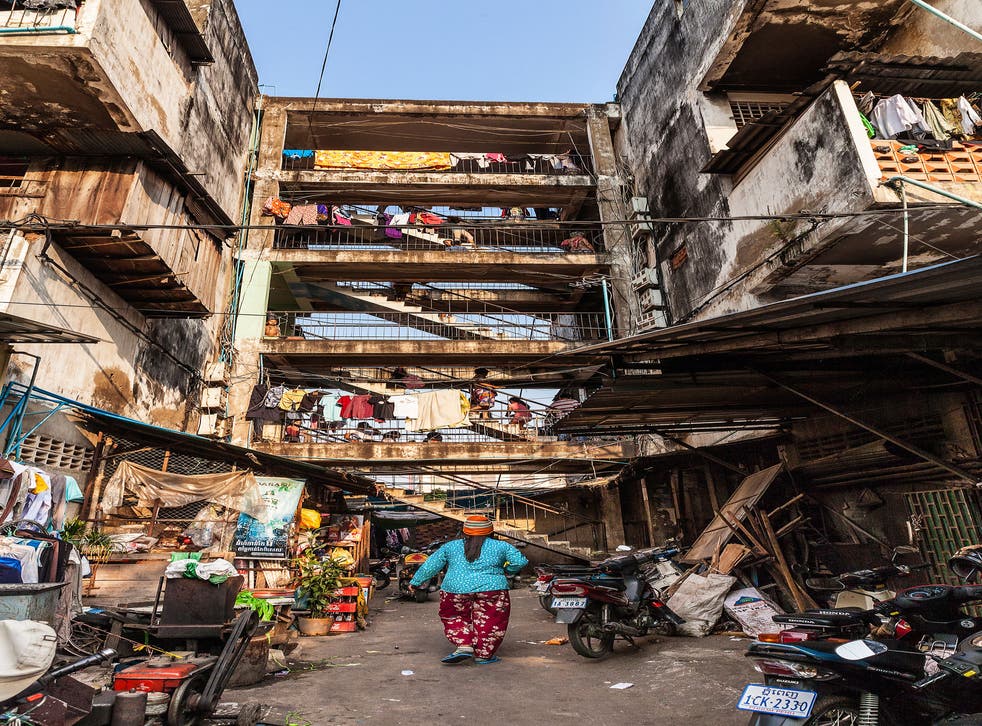 A classically trained dancer stretches in a corridor; next door, a young mother gets her four children ready for bed. Teenagers stretch out in orange hammocks draped across a concrete stairwell; a few blocks down, "ladyboys" get their hair done beside a bride-to-be at the beauty parlour. It's Friday night in the extraordinary White Building in the Cambodian capital Phnom Penh, where drug addicts and sex workers live side by side with nuns and monks. With poor sanitation, a decaying structure and no ventilation, this once-historic building is facing demolition – yet grocery shops, hair salons, cafés and even a school have sprung up to cater for the thousands of residents in this sprawling community.
"The first time I saw the White Building, it completely magnetised me," says the photographer Tariq Zaidi, who was visiting Cambodia as part of his project to document dignity and creativity in urban slums. "It was October 2014; I was on a trip to Cambodia with a student and I spent the day walking around, looking at the architecture. I met someone from an NGO who took me inside the building and introduced me to some of the people living there. I've since visited it nearly 40 times and I've been so struck by the sheer variety of the characters in and around every corner. It feels like a microcosm of the whole city."
Squatting slap-bang in the centre of Phnom Penh, the structure – known to locals simply as "The Building" – was designed as public housing for artists in 1963 as part of Cambodia's architectural renaissance, following independence. It was overseen by state architect Vann Molyvann and inspired by Le Corbusier's utopian project Ville Radieuse. Although the apartment block was forcibly evacuated by the Khmer Rouge, artists who survived the regime returned there after the guerrilla organisation was expelled from Phnom Penh in 1979. The site is now home to around 2,500 to 3,000 people in a mixture of resident-owned and rented flats.
Phnom Penh's White Building

Show all 6
With its mouldy walls and dilapidated balconies, the White Building now appears to be more dystopia than utopia. Many in the city consider it an eyesore, a place of drugs, prostitution and violence. But Zaidi found it completely safe. "The building is 450m long and it's only the first block that's slightly menacing at night – prostitutes, heroin addicts, ladyboys, the things you'd expect to see in a slum," he says. "But as you walk through the building, you see children playing, you see older people, you see families. I met seamstresses, piano teachers, civil engineers. For thousands of people, this is their home. I'm not trying to show the seedy side – that is obvious to see; I'm trying to show the dignity of these people in amazingly challenging circumstances."
Beneath the apparent chaos, he says, there is a sense of harmony and balance. "I believe we can learn so much from these communities – how to be joyous with very little, how to share, how to protect. In a city such as London, you don't talk to people in the street, you don't know your neighbours. Why do we consider places such as the White Building to be filthy, disrespectable, uncivilised, when we can learn from them about how to be better human beings?"
Although the building may look messy from a Western point of view, Zaidi was struck by how spotless many apartments were inside. "These people have lived here for years and they take pride in making their homes feel nice. Some flats have three generations living in them."
One issue for these families, however, is that they're sitting on prime real estate. Cambodia recently got its first skyscraper – the half-empty Vattanac Capital Tower – and developers have big plans for Phnom Penh. In September 2014, the municipal governor issued a demolition order and, although the decision was quickly reversed, there are rumours that a luxury hotel has bought the land, and the White Building will be razed to the ground. On 20 July this year, a final eviction order was issued.
"If this building disappears, everyone living there will be displaced and this community will be lost," says Zaidi. "Every tuk-tuk driver, every taxi driver – everyone knows the White Building. It's a part of the city. I just don't know for how much longer."
Several NGOs are working in The White Building. To donate or for more information, visit Empowering Youth in Cambodia (eycambodia.org), Sa Sa Art Projects (sasaart.info) and Sahmakum Teang Tnaut (teangtnaut.org). For more from the photographer: tariqzaidi.com
Register for free to continue reading
Registration is a free and easy way to support our truly independent journalism
By registering, you will also enjoy limited access to Premium articles, exclusive newsletters, commenting, and virtual events with our leading journalists
Already have an account? sign in
Join our new commenting forum
Join thought-provoking conversations, follow other Independent readers and see their replies