Thailand ferry disaster: At least 27 dead and dozens missing after tourist boat capsizes in storm off Phuket
Authorities say around 50 passengers were rescued from the boat but another 29 remain unaccounted for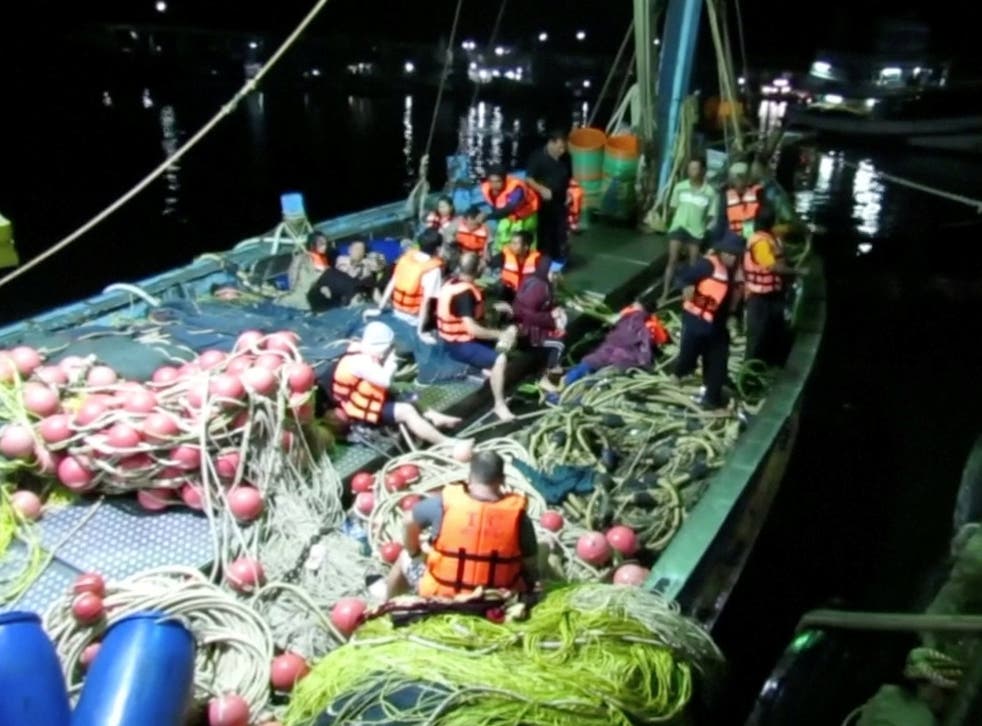 The death toll from the sinking of a tourist boat off Thailand's Phuket island rose to 27 on Friday as rescue efforts continued to locate 29 people still missing.
The Phoenix capsized and sank in rough seas on Thursday with 105 passengers on board, including 93 Chinese tourists and 12 Thai crew and tourist guides.
The Royal Thai Navy said "quite a few bodies" had been found inside the sunken vessel.
The police are investigating the incident, the Phuket Marine Police said, adding the boat was properly registered and was not overloaded at the time of the accident.
It went down about 7-kms (5 miles) from the shore and had sunk to a depth of about 38-40 metres (yards), the Royal Thai Marine Corps said in a statement earlier.
Thailand is in the midst of its monsoon season, which begins in May and usually ends in October and often generates high winds and flash storms in coastal areas.
World news in pictures

Show all 50
The Chinese embassy in Bangkok said in a statement that it had requested the Thai government make all-out rescue efforts, and that it had sent a team to Phuket to help.
It added that the Chinese consulate in southern Thailand already had staffers on the scene helping its citizens.
Another boat that was sailing in the same area had also capsized but all 35 tourists, five crew and a guide on board were rescued, the Water Safety Department of the Harbour Department said.
Thailand has poor road and boat safety records. Many tour operators have complained about lax enforcement when it comes to basic safety measures, including seatbelts in cars and lifejackets on boats.
More than 20 people were killed when a tourist boat carrying 150 people capsized in Thailand's ancient city of Ayutthaya in 2016. Officials blamed the accident on overcrowding and reckless piloting.
Chinese tourists make up the biggest number of foreign visitors to Thailand. Their numbers have surged in recent years due to the increasing popularity of Thailand's islands and cosmopolitan.
Reuters
Register for free to continue reading
Registration is a free and easy way to support our truly independent journalism
By registering, you will also enjoy limited access to Premium articles, exclusive newsletters, commenting, and virtual events with our leading journalists
Already have an account? sign in
Register for free to continue reading
Registration is a free and easy way to support our truly independent journalism
By registering, you will also enjoy limited access to Premium articles, exclusive newsletters, commenting, and virtual events with our leading journalists
Already have an account? sign in
Join our new commenting forum
Join thought-provoking conversations, follow other Independent readers and see their replies