Poison pen is mightier than the sword for North Korea's assassins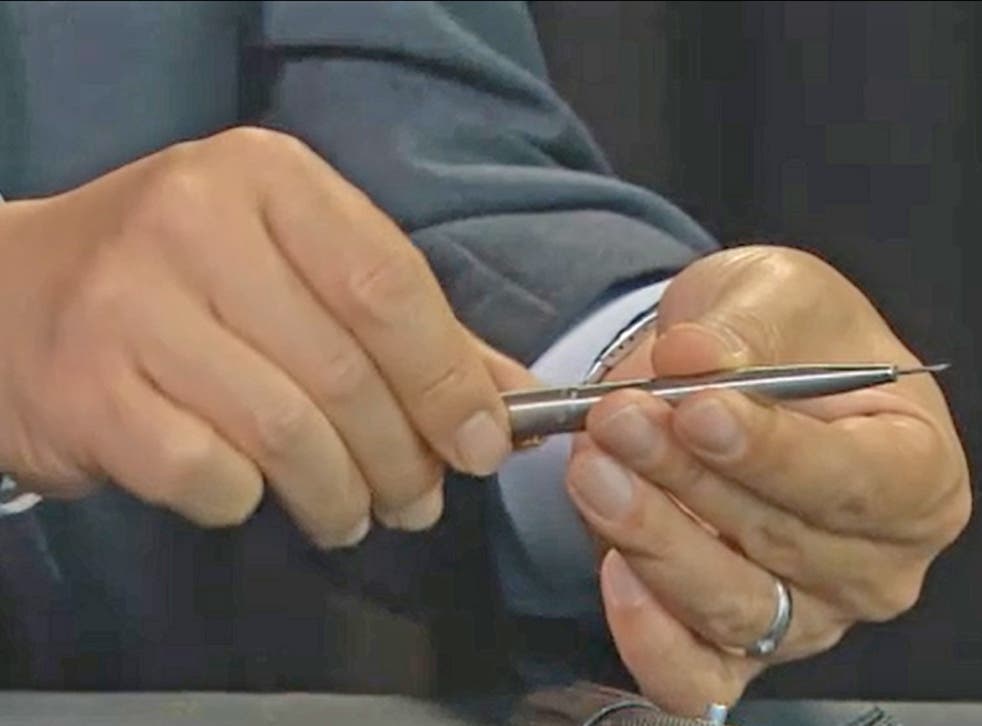 The first weapon looks like an innocuous electric torch, except it is able to fire three bullets. The second is a ballpoint pen with a poisoned needle. The third is another "poison pen", containing a bullet that both punctures the skin and releases a deadly toxin.
Investigators in Seoul have revealed some of the gadgets they claim are used by their bitter rivals from North Korea to assassinate political enemies in the South. The murderous catalogue of secret weapons reads like something from James Bond's collection.
"This flashlight is new," a man identified simply as "an investigator" told CNN. "If you look at the front, there are three holes, there was a bullet in each hole and here is the trigger. This is currently loaded and dangerous."
The weapons were found on a failed Pyongyang assassin last year, whose target was Park Sang-hak, an activist who has angered Pyongyang by sending helium-filled balloons containing propaganda leaflets into North Korea.
Pyongyang sent the former commando, known as "Ahn" and disguised as a defector, to Seoul to kill Mr Park. He pretended to be keen to join Mr Park's activist movement, but was foiled by intelligence services and jailed for four years in April. Ahn had been in South Korea for 17 years before the assassination attempt, having worked with numerous groups opposing the government in North Korea.
Other alleged assassination attempts have been spectacular, particularly at the height of the Cold War tensions between North and South Korea, not long after the 1950-1953 conflict that divided the peninsula.
On 21 January, 1968, a group of 31 North Korean commandos infiltrated the Blue House, the official residence of the president of South Korea, Park Chung-hee, to "slit his throat" as the only commando captured alive described his mission. In response to the attempt on the dictator's life, Seoul set up an assassination squad, Unit 684, which was disbanded in 1971.
Seoul is currently trying to finalise nominations for its 19 December presidential election. One of the candidates is the conservative Park Geun-hye, daughter of Park Chung-hee. Her mother Yuk Young-soo was killed by North Korean assassins, who tried for a second time to kill her father as he delivered a speech in 1974. Park Chung-hee was shot dead by his intelligence chief in 1979.
In 1983, North Korean assassins struck again, this time in Burma, when they exploded a bomb during a ceremony. President Chun Doo-hwan, who was on an official visit to Rangoon, escaped but 21 people were killed.
In 2010, two North Korean army officers tried to assassinate Hwang Jang-yop, an official from North Korea who was one of the architects of the idea of "Juche", the guiding political philosophy of the North Korean state based on self-reliance. His defection was said to have seriously angered the late leader of the North, Kim Jong-il. Mr Hwang subsequently died of a heart attack, although there are question marks over what might have caused it.
Register for free to continue reading
Registration is a free and easy way to support our truly independent journalism
By registering, you will also enjoy limited access to Premium articles, exclusive newsletters, commenting, and virtual events with our leading journalists
Already have an account? sign in
Register for free to continue reading
Registration is a free and easy way to support our truly independent journalism
By registering, you will also enjoy limited access to Premium articles, exclusive newsletters, commenting, and virtual events with our leading journalists
Already have an account? sign in
Join our new commenting forum
Join thought-provoking conversations, follow other Independent readers and see their replies