Rajinikanth fans flock to cinemas in their hundreds of thousands to see pre-dawn showing of 'Kabali'
Crowds waited outside cinemas all night before the first showing, and in Chennai, Rajinikanth enthusiasts burst firecrackers and distributed sweets outside cinemas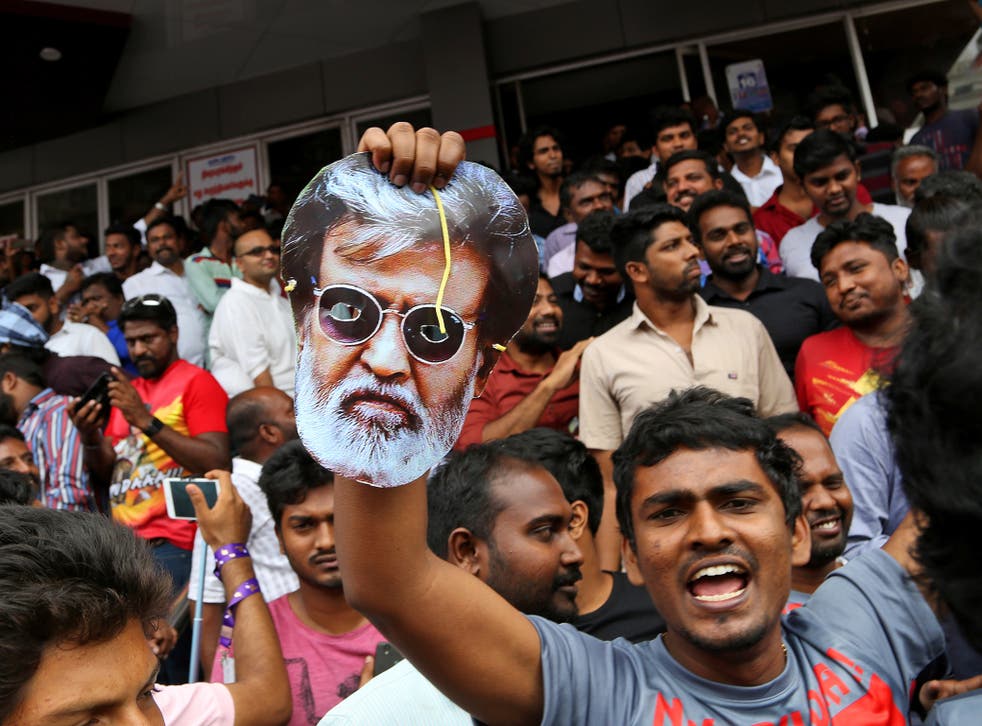 Companies declared a holiday and parents kept children out of school as an air of celebration swept southern India on Friday for the premiere of Indian superstar Rajinikanth's latest film.
Hundreds of thousands of Rajinikanth fans thronged cinemas across Tamil-language India and Malaysia to catch the pre-dawn showing of gangster movie Kabali.
Crowds waited outside cinemas all night before the first showing, and in Chennai, the capital of Tamil Nadu state, Rajinikanth enthusiasts burst firecrackers and distributed sweets outside cinemas.
Sixty-five-year-old Rajinikanth is one of India's most popular stars. The film, also starring Taiwanese actor Winston Chao, was shot in Malaysia and southern India.
Kabali is being released in more than 12,000 screens across India, as well as in the UK and Malaysia, which has a sizeable Tamil-speaking population. It also premiered in 400 US cinemas. Rajinikanth attended a special screening in San Francisco.
The action star has a huge following in Japan too, where his subtitled films are big box office earners.
Born Shivaji Rao Gaekwad, the megastar worked as a bus conductor for three years in Bangalore, before attending acting school in Chennai. Starting out with small roles as a villain in Tamil cinema, he worked his way up, landing roles in Bollywood, India's Hindi language film industry based in the country's entertainment hub of Bombay. Since his debut in 1975, Rajanikanth has acted in more than 150 films, many of which have broken box office records.
Shubhra Gupta, one of India's leading film critics The Indian Express, said the Rajinikanth phenomenon was not easy to explain.
"There is no logic to how and why Rajinikanth has become the superstar of superstars," Ms Gupta said. But she referred to his humble background as appealing to the masses.
"People see themselves in Rajinikanth and the fact that he has made it so big. There's an aspirational connect that people make with him," she said.
Fyndus, a Chennai-based data-processing company, gave away free tickets to employees and said it decided to declare a holiday on Friday to "avoid piled-up leave requests to its human resources department."
The Malaysia-based AirAsia budget carrier organised a special round-trip flight from the southern city of Bangalore to Chennai for the film premiere. An AirAsia plane dedicated to Rajinikanth and painted with his picture was flying to 10 destinations in India.
The opening scenes from the film show a grey-bearded Rajinikanth being released from a prison, swearing to avenge his enemies. In his search for revenge, he is reunited with his family and rains destruction on his foes.
Associated Press
Register for free to continue reading
Registration is a free and easy way to support our truly independent journalism
By registering, you will also enjoy limited access to Premium articles, exclusive newsletters, commenting, and virtual events with our leading journalists
Already have an account? sign in
Register for free to continue reading
Registration is a free and easy way to support our truly independent journalism
By registering, you will also enjoy limited access to Premium articles, exclusive newsletters, commenting, and virtual events with our leading journalists
Already have an account? sign in
Join our new commenting forum
Join thought-provoking conversations, follow other Independent readers and see their replies