Ramadan 2016: Elderly Hindu man beaten up in Pakistan for eating during Muslim holy month
A social media campaign has begun demanding justice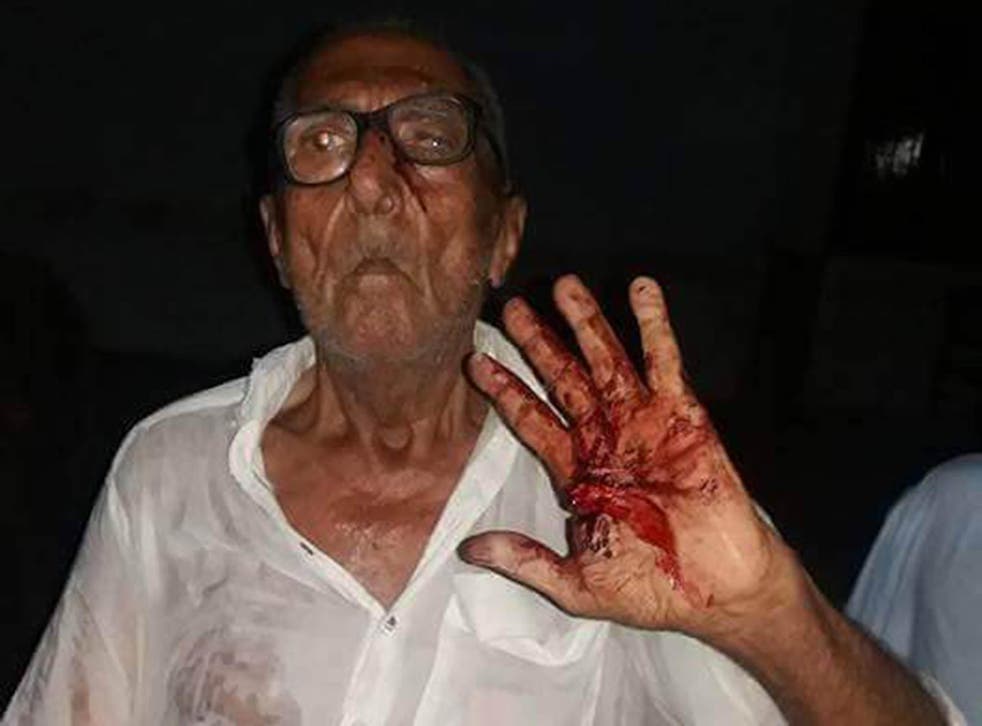 An elderly Hindu man has been beaten by a constable in Pakistan for reportedly eating and selling food during Ramadan, the month considered holy by Muslims.
The victim, identified as Gokal Das, was reportedly eating biryani in public at around 6pm local time. The food was given to him as charity, reports the Express Tribune.
Conflicting reports say he is thought to be aged between 82 and 90.
Pictures of the blood-soaked man have circulated on social media, resulting in a campaign demanding justice.
Ali Hassan, the policeman accused of attacking Mr Das was taken into custody on Sunday on charges of torturing and injuring the man, according to Pakistan newspaper Dawn.
Hassan's brother, Mir Hassan, is also accused of attacking Mr Das.
Police official Bacahl Qazi confirmed a case had been registered against both Hassans. " We will seek remand of the two accused on Monday for further investigation," he said.
Ramadan 2016 - All you need to know
He added the brothers had left Mr Das bleeding and he was driven to a hospital in Mirpur Mathelo where he was treated for his wounds.
The attack took place on Thursday in Pakistan's rural district of Sindh in the south east of the country. Mr Das is a resident of Hayat Pitafi in a remote village, according to Indian news website DNA.
Register for free to continue reading
Registration is a free and easy way to support our truly independent journalism
By registering, you will also enjoy limited access to Premium articles, exclusive newsletters, commenting, and virtual events with our leading journalists
Already have an account? sign in
Register for free to continue reading
Registration is a free and easy way to support our truly independent journalism
By registering, you will also enjoy limited access to Premium articles, exclusive newsletters, commenting, and virtual events with our leading journalists
Already have an account? sign in
Join our new commenting forum
Join thought-provoking conversations, follow other Independent readers and see their replies