Rangoon's piano-tuners recall the vital part they played in Suu Kyi's struggle
Pro-democracy leader's years under house arrest were eased by her passion for music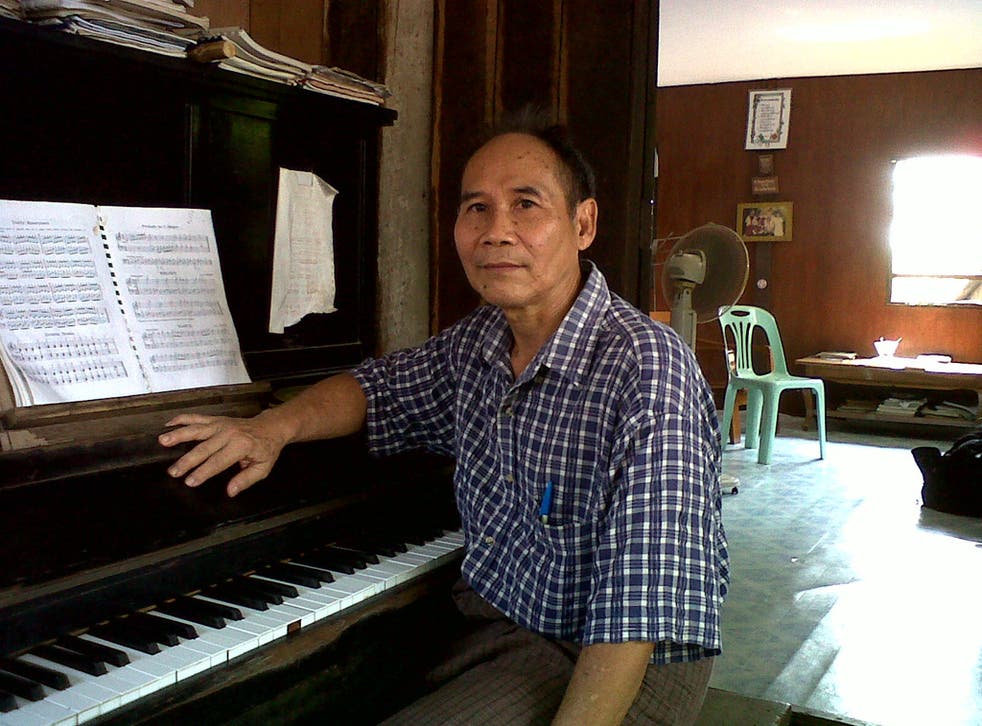 The piano that stands in Aung San Suu Kyi's home is an instrument like no other. An enduring source of solace to the Nobel peace laureate, the simple Yamaha upright has come to symbolise Burma's struggle for democracy.
During her long incarceration, people would slip past police roadblocks near her home simply to hear its sound and be reassured she was still alive, while in a moment of despair she once slammed the keys so hard she caused a string to break.
But while the instrument has inspired both paintings and songs, among them Damien Rice's "Unplayed Piano", what has until now gone undocumented is the role of a close-knit group of men, members not just of the same profession but from the same ethnic group and Rangoon neighbourhood, that over the years stepped in and repaired the piano after the ravages of tropical heat and human frustration, ensuring that it and its owner persevered. "During my years of house arrest I've often wished I were a composer because then I could have spent my time composing," Ms Suu Kyi, 66, said last year. "Music is much more universal than words."
Despite her love of music – the pro-democracy leader recently expressed affection for the works of Clementi, Telemann and Mozart – Ms Suu Kyi was not always gentle with her instrument. In 1997, she told the journalist John Pilger she had damaged the piano in a moment of frustration. "I told you, I have a hot temper," she said. The first piano-repairer contacted to address the situation was Li Saw Sheperd, a member of the Karen ethnic group who lives in Rangoon's Insein neighbourhood. Mr Sheperd, 70, a graduate of the Moscow conservatory during the Cold War now teaches music to children. He was contacted by the late Leo Nichols, an Anglo-Burmese businessman and supporter of Ms Suu Kyi, who would later die in jail as a political prisoner. Taken to Mr Nichols's house, where the piano was temporarily located, Mr Sheperd was initially not aware who it belonged to. "The strings were very old. I had to take them all out and repair them," Mr Sheperd told The Independent. "We needed to repair everything. It took two weeks."
In early 2006, another repairer from Insein, Saw Simon, was contacted by a supporter of Ms Suu Kyi, who at that point had been under house arrest for three years. He was taken to her house on University Avenue and set to work under the gaze of guards. "She was there but I did not see her – just the guards watching me. They were watching the whole time," he said. Mr Simon spent two hours repairing the badly out-of-tune piano and then, to check it was completed, he sat and played the opening bars of "Love Me Tender".
Six months before Ms Suu Kyi was released from house arrest in 2010, her spokesman, Nyan Win, got in touch with another piano repairman from Insein, which is home to many Karen who learned music at church. "She said to me she played only as an amateur," said Nyan Win, who is one of a handful of people who have heard her play. "[But] it helps her to relax."
Ironically, though Ms Suu Kyi is now free and her piano repaired, her work reorganising the National League for Democracy and campaigning for by-elections this Sunday, has left her with little spare time. Last year, she told a London-based photographer, James MacKay, that she had no time to play.
The men who represent a footnote to Burma's battle for democracy are modest about their contribution. Saw Simon said simply: "If I had the chance, I would like to talk to the Lady and hear her play."
Register for free to continue reading
Registration is a free and easy way to support our truly independent journalism
By registering, you will also enjoy limited access to Premium articles, exclusive newsletters, commenting, and virtual events with our leading journalists
Already have an account? sign in
Register for free to continue reading
Registration is a free and easy way to support our truly independent journalism
By registering, you will also enjoy limited access to Premium articles, exclusive newsletters, commenting, and virtual events with our leading journalists
Already have an account? sign in
Join our new commenting forum
Join thought-provoking conversations, follow other Independent readers and see their replies