Refugee crisis: After accepting 11 asylum seekers in 2014 Japan could restrict system even more
Fleeing conflict is not routinely recognised as a reason to grant asylum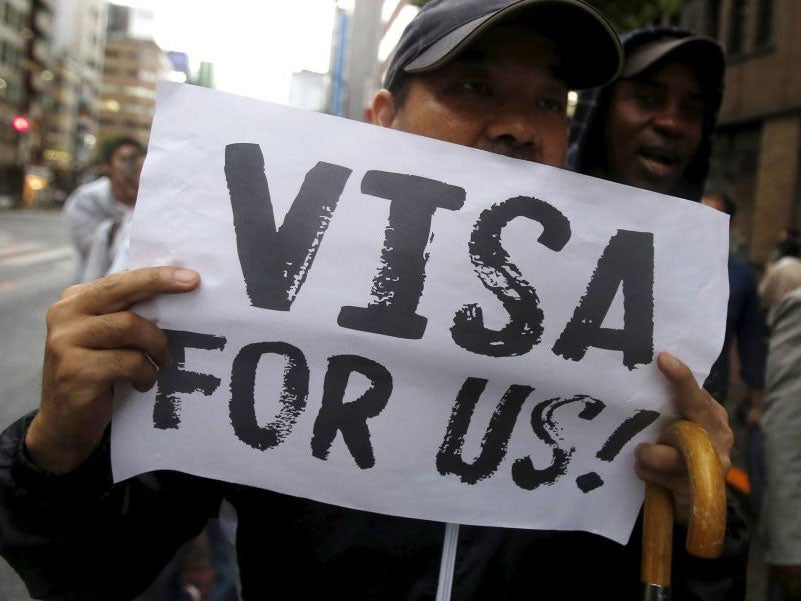 As hundreds of thousands of refugees continue to pour into Europe in the worst crisis since the Second World War, the fourth-richest country in the world could be restricting its asylum system even more.
Japan accepted just 11 refugee applications last year, despite more than 5,000 people applying for protection after fleeing war and persecution.
The process could be made even more difficult by new measures being considered by the government.
They include bringing in new rules to deport failed applicants, curb repeat applications and pre-screen new asylum seekers.
Hiroaki Sato, a Ministry of Justice official overseeing the proposals, could not say when the changes would be finalised.
"We're not looking to increase or decrease the number of refugees coming to Japan, but to ensure real refugees are assessed quickly," he added.
Around 100 protesters marched through the streets of Tokyo's government district on Wednesday demanding refugee visas.
Many of those joining the demonstration were asylum seekers on "provisional release" from immigration detention centres.
"The system is so difficult already - to make it tighter is just cruel." Ali Jafari, an 54-year-old Iranian who said he came to Japan as a political refugee, told Reuters.
Japan is a signatory of the UN's 1951 Refugees Convention, which is intended to guarantee protection for anyone who has fled their homeland because of a "well-founded fear of being persecuted for reasons of race, religion, nationality, membership of a particular social group or political opinion" and is unable to return.
But the government does not class escaping war as a legitimate reason for claiming asylum, and has no plans to widen its criteria to include flight from conflict, Mr Sato said.
In graphics: Refugees in the EU
Show all 3
That distinction would exclude the bulk of men, women and children currently fleeing to Europe, mainly to escape brutal conflicts in Syria, Iraq and several other nations.
Although the distance from the Middle East makes Japan an unlikely destination for Syrians, a group of asylum seekers from the country were reportedly attempting to sue the government earlier this year after their applications were refused.
They were granted temporary residence permits to stay on humanitarian grounds.
Only 63 Syrian nationals have applied for asylum in Japan since 2011, according to government data.
Politicians emphasised the millions of pounds it donates to the UN's refugee agency (UNHCR), including $167 million (£110 million) in the first half of this year, making Japan the world's second largest government donor.
But humanitarian groups and activists say that leaving the responsibility of re-homing refugees to other countries is unacceptable.
"As a developed country, there's a responsibility to protect these people," Mitsuru Miyasako, head of rights group Provisional Release Association in Japan, said at the demonstration in Tokyo.
Many of the asylum seekers applying for refuge in Japan last year were from Nepal, Vietnam and Thailand.
Brian Barbour, from the Japan Association for Refugees, said earlier this year that "no other developed refugee jurisdiction has such as consistently low rate" of acceptances.
Mieko Ishikawa, director of Forum for Refugees Japan, claimed a lack of planning for the protection and resettlement of refugees, as well as dysfunction in the processing system, was to blame for the low intake.
"There's no comprehensive policy on the part of the government, and there are gaps in the system's transparency, efficiency and independence," she added.
Additional reporting by Reuters
Join our commenting forum
Join thought-provoking conversations, follow other Independent readers and see their replies