Remarkable escape: A sinking boat, a three mile swim – and then they land on an erupting volcano
Kathy Marks tells the story of a group of tourists who survived a stricken Indonesian ferry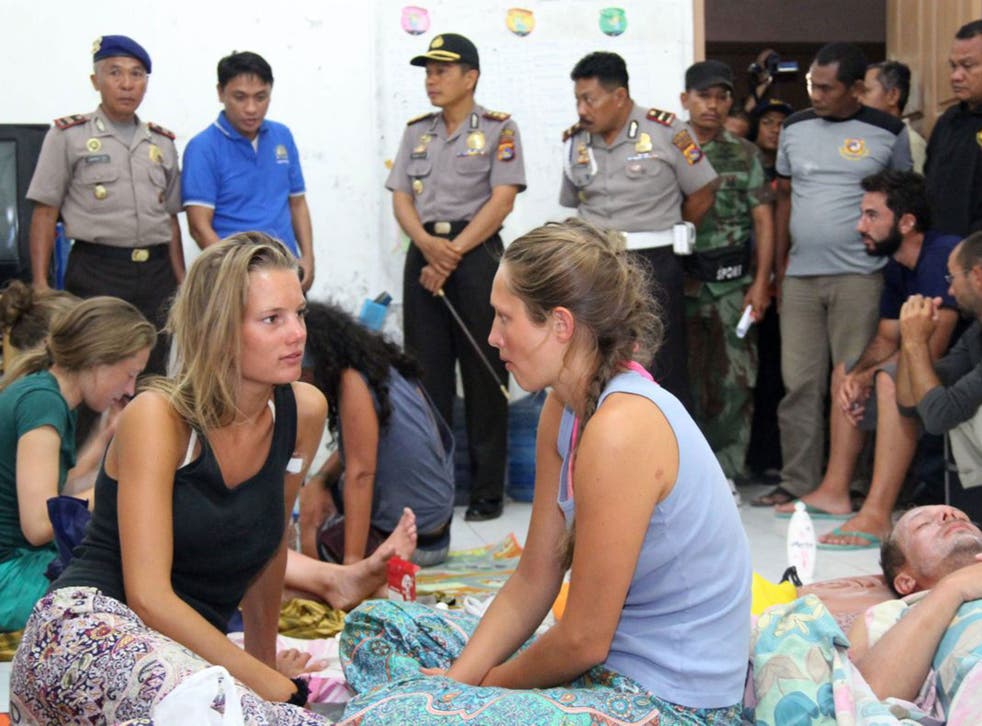 They had travelled half-way across the world to visit the enchanting islands of eastern Indonesia. But, for one group of tourists – including two British women – what should have been a dream holiday turned into a horrific ordeal when their boat sank in a storm, forcing them to swim for hours in storm-lashed waters and drink their own urine.
Two unidentified passengers were still missing on Monday night, as foul weather hampered a search by Indonesian authorities. The remaining 18 tourists, together with four Indonesian crew members and one local tour guide, were rescued on Sunday and on Monday, after their wooden boat hit a reef on Saturday and broke into pieces in the Indian Ocean.
The party was on a three-day voyage from Lombok – a popular resort island next to Bali – to the island of Komodo, famous for its giant monitor lizards. When disaster struck on day two, and with only a small lifeboat, 10 of the tourists – including the two Britons – decided to swim to an island on the horizon, about 5km (three miles) away.
But when they reached the tiny island of Sangeang six or seven hours later, they found that it was not only deserted but home to an active volcano which was in the process of erupting, according to Bertrand Homassel, a French survivor.
Dehydrated and sunburnt after lengthy exposure to the harsh tropical weather, they resorted to drinking their own urine and eating leaves, Mr Homassel told Agence France-Presse. Five of them were rescued that night by fishermen, and the other five were picked up by a passing boat on Sunday and taken to nearby Sumbawa island.
The Foreign Office said it was providing consular assistance to the two British women, who have not been named. A spokeswoman declined to comment on their injuries.
Another 13 people were rescued by fishermen yesterday after they had spent about 40 hours in the water, taking turns to shelter in the lifeboat – which could only accommodate about half a dozen of them – and to float alongside wearing life jackets.
Jan van Ommen, a Dutch tourist among the second batch of survivors, said: "We had this system, and in the beginning it was not easy… but later on the system went on, and we changed and changed." They were also taken to Sumbawa, where they received medical treatment.
Mr van Ommen related how the crew began to panic when the boat's hull was damaged in the storm and started taking in water, on Friday night. As water gushed in, they "came out, shouting 'very dangerous situation!'", he said. They were unable to radio for help, as the vessel was not carrying any communications equipment.
As it slowly broke up and sank, some of the passengers and crew – unable to cram into the lifeboat – perched on the boat's roof for hours, waiting vainly for help.
"The others climbed on to the roof of the boat, which had not completely sunk," said Mr Homassel. "We waited until midday on Saturday. We were 5km from the coast – there were many big waves separating us from the coast. People started to panic … [We] took the decision to swim to the closest island, 5km away, where there was an erupting volcano."
That group comprised 10 people of various nationalities, including Germans and Italians. After their gruelling swim through turbulent waters, they reached the inhospitable island as the sun was setting. There they found no food, no water, just a volcano which was, ominously, emitting smoke. Fortunately, late on Saturday, and then again on Sunday, they managed to attract the attention of passing boats by waving their lifejackets.
One woman, who was identified only as Maria, told Indonesia's Metro TV: "It was a terrible experience. We swam in choppy waters for seven hours before being found by a fisherman."
The second group was picked up early on Monday, floating about 43km east of Sangeang, according to Lalu Wahyu Efendi, operational chief of the regional search and rescue agency. An immigration official on Sumbawa said they were "quite weak, as they didn't eat or drink for several days in the sea".
Sutopo Purwo Nugroho, a spokesman for Indonesia's disaster management agency, said conditions had turned against rescuers searching for the two tourists who were still missing. "We have deployed speedboats and a helicopter… but we are encountering bad weather and high waves," he told Reuters.
The search – which also involved Indonesia's military and police – was abandoned as light faded yesterday, but was expected to resume today.
Local TV showed footage of the survivors, who appeared exhausted and sunburnt, receiving treatment in hospital on Sumbawa. Some were put on drips to rehydrate them.
By yesterday afternoon, the first group of travellers had been discharged from hospital and had left the island, taking flights back to Bali or to the capital Jakarta, according to local officials.
The tourists had set off last Thursday on a tour which took them from Bali to Komodo, with a stop on Lombok. The lengthy trip from Lombok to Komodo – one of several islands which make up Komodo National Park, a protected area – can take up to 15 hours.
Suryaman, another Indonesian search and rescue official, said the tourist boat had run into trouble at about 1.15am on Saturday, about 14 hours after setting off from Lombok. Attempts to fix it had been unsuccessful, and it was eventually blown on to a reef by strong winds and waves of up to three-metres high.
Mr Homassel reflected that "I was really very lucky" – a sentiment that applied equally to his fellow survivors. Most had only minor injuries, said Budiawan, the head of search and rescue operations on Lombok.
Tony Lawton, one of two New Zealanders who were rescued after swimming to Sangeang, said: "We think the boat hit a reef on the day we left Port Lombok… and floated off at high tide, so maybe that was a cause for the boat to sink."
Indonesia, which relies heavily on boats to connect its more than 17,000 islands, has a poor maritime safety record. Safety standards are low and accidents are common on the thousands of ferries which criss-cross the sprawling archipelago. Two ships sank last month during Eid, killing 36 people.
There have also been fatal boat sinkings in recent years involving asylum-seekers undertaking the treacherous voyage from Indonesia to Australia. However, accidents at sea involving foreign tourists are rare.
Register for free to continue reading
Registration is a free and easy way to support our truly independent journalism
By registering, you will also enjoy limited access to Premium articles, exclusive newsletters, commenting, and virtual events with our leading journalists
Already have an account? sign in
Register for free to continue reading
Registration is a free and easy way to support our truly independent journalism
By registering, you will also enjoy limited access to Premium articles, exclusive newsletters, commenting, and virtual events with our leading journalists
Already have an account? sign in
Join our new commenting forum
Join thought-provoking conversations, follow other Independent readers and see their replies