Body believed to be Canadian hostage Robert Hall found decapitated in remote Filipino province
Mr Hall was kidnapped along with several others by an Islamist militant group last year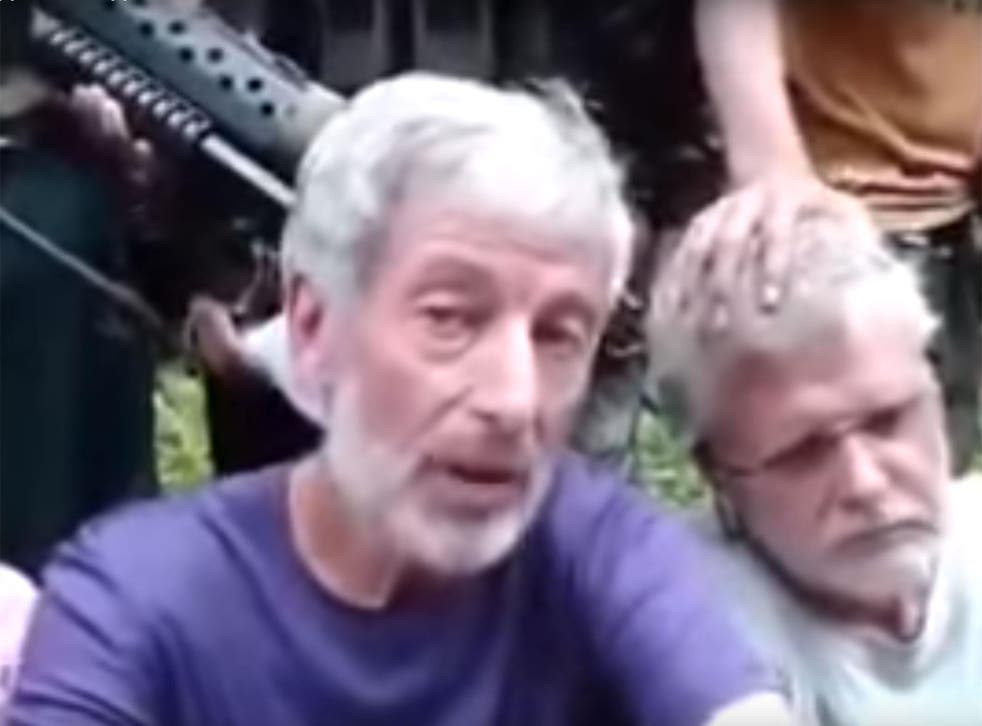 Soldiers in the Philippines have recovered a body believed to belong to Canadian hostage Robert Hall.
Mr Hall was executed in June by the extremist group Abu Sayyaf, who have pledged allegiance to Isis.
Locals led government troops to a hinterland near Kamuntayan village in Sulu province's Talipao town where the militants apparently buried Mr Hall's body after executing him on 13 June. Mr Hall's head was found separately from his body outside a Roman Catholic cathedral, regional military spokesman Major Filemon Tan said.
Though forensic experts are yet to confirm the finding, Major Tan said it was very likely the body was that of Mr Hall, and cited intelligence reports and help from villagers.
World news in pictures

Show all 50
Mr Hall was kidnapped along with fellow Canadian John Ridsdel, Norwegian Kjartan Sikkengstad and Filipina Marites Flor in September 2015 in a yacht-berthing resort on Samal Island, also in the south of the country. The group were taken by boat to Sulu, a predominantly Muslim and impoverished province 590 miles south of Manila.
Mr Ridsdel was beheaded in April, Mr Sikkengstad remains a hostage and Ms Flor has been freed.
A deadline for ransom - that was not met by the Canadian government - expired two weeks ago.
Canadian Prime Minister Justin Trudeau condemned the killings and called on other nations not to pay ransoms if their citizens are abducted, to discourage the militants from carrying out more ransom kidnappings.
The Abu Sayyaf group, which has more than 400 armed fighters and aims to create an independent Islamic territory in the Philippines, is blacklisted by the Filipino government and the United States as a terrorist group.
There have been a number of kidnappings perpetrated by Abu Sayyaf and victims have included Western tourists, journalists, NGO employees and Malaysian and Indonesian workers. The group has also committed a number of bombing attacks, including one that caused the sinking of SuperFerry 14 in 2004, killing 116 people. It remains the worst ever terrorist attack at sea.
Philippine troops have also been killed fighting the group, but a recent offensive has killed dozens of militants in Sulu. The group has been weakened by years of military setbacks, but they remain a national security threat.
Associated Press contributed to this report
Join our new commenting forum
Join thought-provoking conversations, follow other Independent readers and see their replies