Rodrigo Duterte urged to stop drug war after schoolboy's brutal killing
CCTV footage shows Kian Loyd delos Santos being dragged by plain clothes police to a location where he was later found shot dead in the back of the head and ears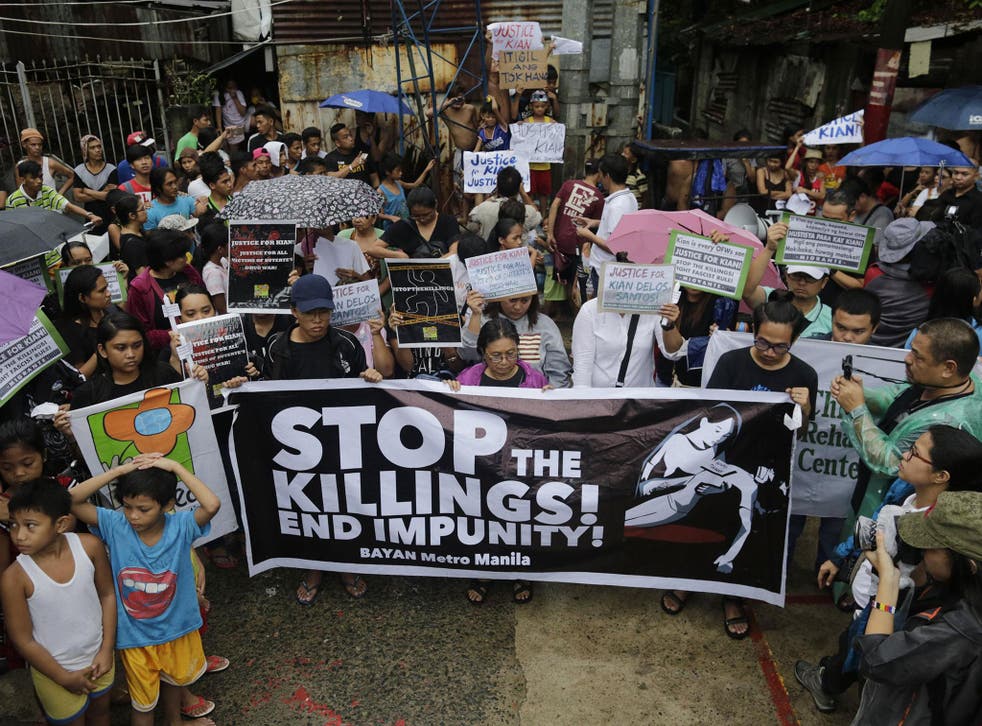 Philippine leader Rodrigo Duterte has been urged to end his war on drugs amid widespread anger at police over a schoolboy's brutal killing.
Allegations of a cover-up in the death of Kian Loyd delos Santos has caused rare outrage among the public in the Philippines, which largely supports Mr Duterte's campaign, which has seen more than 90 people killed in three nights of intensified police operations last week.
The 17-year-old student was killed in a rundown area of Manila and according to a forensic expert who conducted an autopsy, Mr Delos Santos was shot in the back of the head and ears while on the floor, suggesting there was no gunfight, contrary to an official police report.
The victim's family reject police allegations he was a drug courier.
Rodrigo Duterte says he 'doesn't give a s*** about human rights' as 3,500 killed in war on drugs
Mr Duterte has resolutely defended police on the front lines of his war on drugs, but he said the three officers involved in the teenager's killing should be punished if found to have broken the law.
The President said he had seen the CCTV footage acquired by media which showed plain clothes police dragging Mr Delos Santos to a location where he was later found dead.
Opposition Senator Leila de Lima, a detained critic of Mr Duterte, challenged the President to order the police to stop killing.
"I dare you, Mr President, to issue a clear and categorical order to the entire police force to stop the killings now," De Lima said in a handwritten note from a detention facility, where she is being held on charges of involvement in drugs trade inside jails, which she denies.
"Just say it. Do it now, please."
The most controversial quotes from Rodrigo Duterte

Show all 9
Another senator, Risa Hontiveros, told the house Mr Duterte had blood on his hands and "reveled in the deaths of drug addicts", inspiring a culture of impunity and killing.
Filipinos tired of crime and drugs and supportive of the president had woken up to what was happening, she said.
"You had no choice but to confront his death because his narrative was compelling," she said of Mr Delos Santos.
"You felt stirred into action because you could no longer ignore the growing outrage ... there were thousands of deaths before him and that you allowed it to happen.
Social media users, politicians of all sides and Catholic bishops have called for an impartial investigation into the surge in killings by police, which stopped when news of the teenager's death surfaced.
The Senate will on hold an inquiry into last week's bloodshed later this week.
Since Mr Duterte took office, more than 12,500 people, many small-time drug users and dealers, have been killed.
Police said around 3,500 of those were killed in gunfights with drug suspects who had resisted arrest and were shot by officers in self defence.
But human rights monitors believe many of the remaining two thirds were killed by assassins operating with police backing or by police disguised as vigilantes - a charge the police deny.
Additional reporting by Reuters
Register for free to continue reading
Registration is a free and easy way to support our truly independent journalism
By registering, you will also enjoy limited access to Premium articles, exclusive newsletters, commenting, and virtual events with our leading journalists
Already have an account? sign in
Register for free to continue reading
Registration is a free and easy way to support our truly independent journalism
By registering, you will also enjoy limited access to Premium articles, exclusive newsletters, commenting, and virtual events with our leading journalists
Already have an account? sign in
Join our new commenting forum
Join thought-provoking conversations, follow other Independent readers and see their replies