Rodrigo Duterte instructs Philippines army to shoot him if he ever becomes dictator
Comments come as supportive politicians move to keep him in power after his term ends in 2022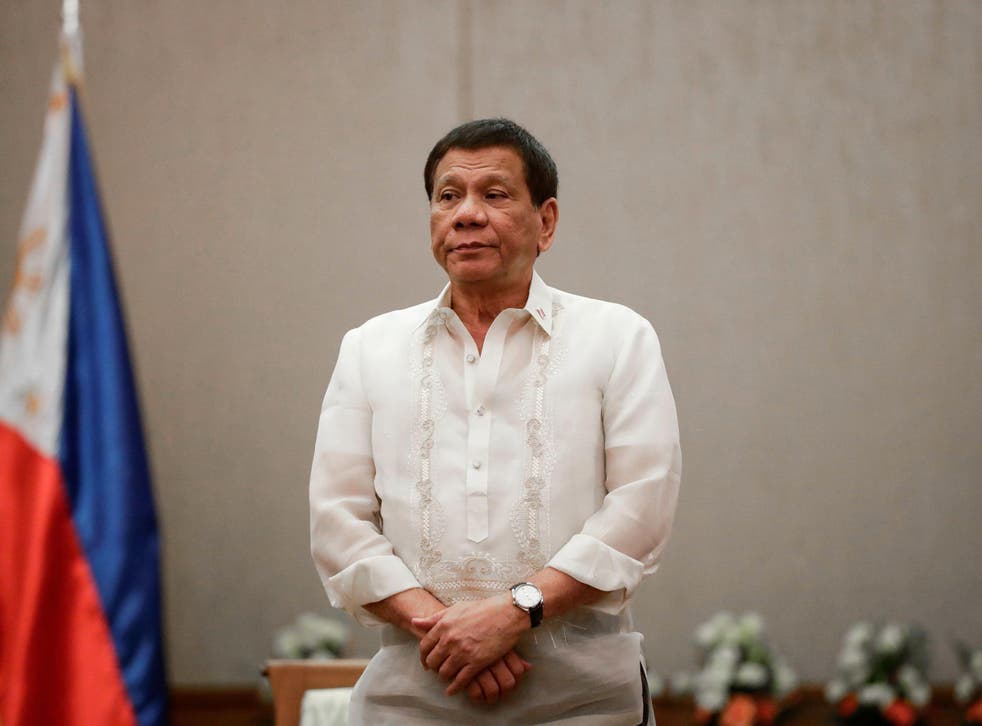 Filipino president Rodrigo Duterte has instructed his country's army and police force to shoot him if he ever becomes dictator and stays on beyond his term.
He made the comments after his critics accused him of ordering loyalist politicians in the country's Congress to change the constitution and introduce a federal system which would allow him to stay in power after 2022, when his single term ends.
Seeking to dispel speculation about the changes, the 72-year-old told soldiers during an army base visit: "If I overstay and wanted to become a dictator, shoot me, I am not joking."
Security forces should not allow anybody to mess with the constitution, he said, adding: "It is your job to protect the constitution and to protect the people. Remember, it is your solemn duty."
Mr Duterte has advocated federalism to tackle inequality, empower provinces and recognise the country's diverse makeup.
But controversial leader, who promised to kill every drug dealer and user and feed their corpses to the fish in Manila Bay, during his presidential election, has denied that he has ordered allies to introduce a federal system.
However, last week his political supporters voted to form a constituent assembly that could revise the charter by May, scrapping mid-term elections next year and extending the terms of all elected officials.
Constitutional reform remains a divisive issue in the country.
The most controversial quotes from Rodrigo Duterte

Show all 9
Critics have accused politicians of trying to prolong their stay in office, or of seeking a way for the hugely popular Mr Duterte to remain in power beyond the end of his term.
Opponents warn it could lead to a repeat of the oppressive rule of late dictator Ferdinand Marcos, saying they are troubled by Mr Duterte's admiration for Marcos and his similar authoritarian traits.
Mr Duterte's spokesperson, Harry Roque, has repeatedly said the President has no desire to stay longer than his term and, if anything, would prefer to retire earlier.
Additional reporting by Reuters
Join our new commenting forum
Join thought-provoking conversations, follow other Independent readers and see their replies