Rodrigo Duterte: Filipino President tells court he would rather face firing squad than be jailed if he is found guilty of crimes against humanity
Filipino leader stands accused of ordering thousands of extra-judicial killings during infamous war on drugs campaign
Tom Barnes
Saturday 10 February 2018 17:32 Comments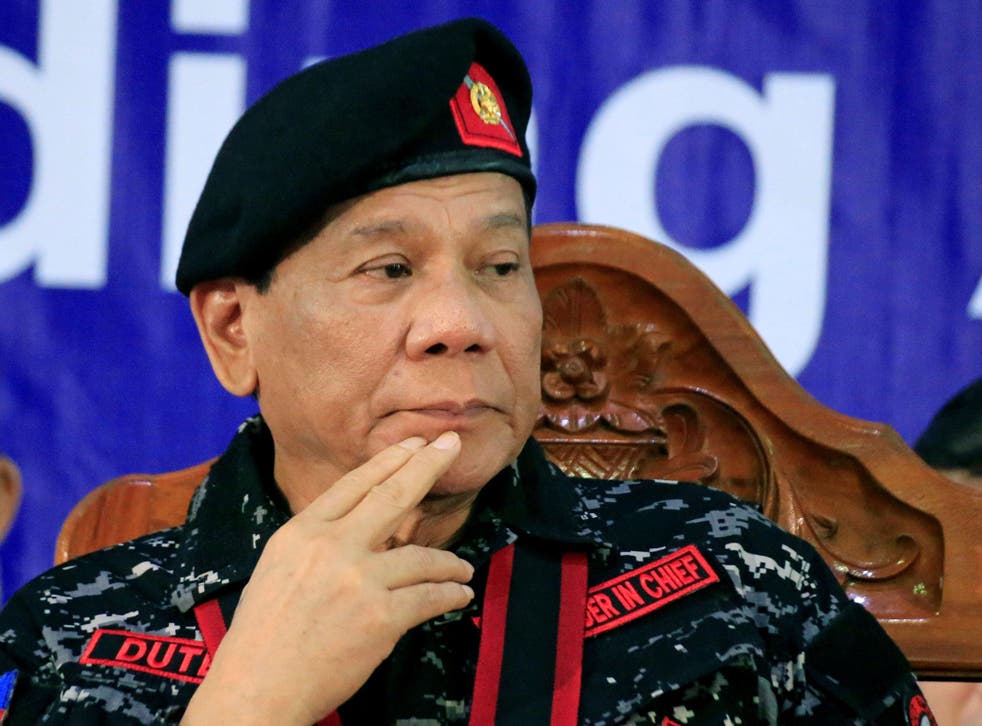 Philippine president Rodrigo Duterte has told the International Criminal Court that he would rather face a firing squad than be jailed if he is found guilty of crimes against humanity.
The ICC has launched a preliminary investigation into the controversial leader to determine whether it can charge him over the deaths of thousands of Filipinos in his infamous war on drugs.
Prosecutor Fatou Bensouda said there were allegations police carried out "extra-judicial" killings as part of a campaign to crack down on the sale and use of illegal drugs in the southeast Asian country.
Mr Duterte has since fired back at the court, encouraging it to investigate his actions and questioning if it had the jurisdiction to charge him.
"I would ask for the rare privilege of talking to you. Just the two of us in the room," Mr Duterte told a news conference, referring to Mrs Bensouda.
"I welcome you. If you want to find me guilty, go ahead. So be it. Find a country where they kill people with a firing squad and I'm ready. If you haul me into a rigmarole of trial and trial, no need. Go ahead and proceed in your investigation. Find me guilty, of course. You can do that."
Around 4,000 mostly urban poor Filipinos have been killed by police in Mr Duterte's signature campaign, which has drawn concern from the international community.
Activists have claimed the death toll is far higher than reported figures and have made accusations of a systematic cover-up, a claim the government and police forces deny.
The examination is the first formal step the ICC prosecutor takes when considering whether a situation in a member state could eventually lead to charges. The process may take years.
The complaints to the ICC came from a lawyer and two politicians. They include the accounts of two self-confessed hit men.
The most controversial quotes from Rodrigo Duterte

Show all 9
The men said they killed at Mr Duterte's behest when he was a city mayor, and public statements he made as president that they say amounted to "shoot-to-kill" orders.
However, Mr Duterte believes the ICC does not have jurisdiction in the Philippines because its accession to the Rome Statute was never announced in the country's official gazette, a legal requirement.
He also vented his anger at allegations of extrajudicial killings during his campaign, saying the term could not be defined.
"What is extrajudicial killing?" he said, "There is no provision for extrajudicial killing, it is not defined anywhere."
Additional reporting by Reuters
Register for free to continue reading
Registration is a free and easy way to support our truly independent journalism
By registering, you will also enjoy limited access to Premium articles, exclusive newsletters, commenting, and virtual events with our leading journalists
Already have an account? sign in
Join our new commenting forum
Join thought-provoking conversations, follow other Independent readers and see their replies