Philippine President Duterte unveils his Trump impression, complete with profanities
'And you're doing great... You are doing good. Go ahead'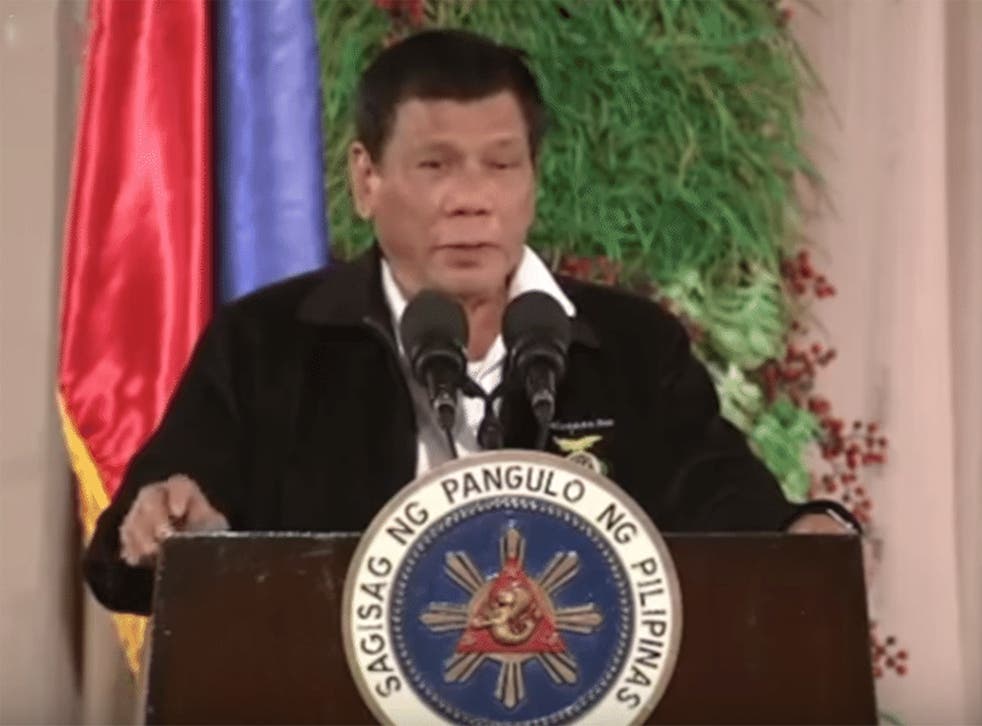 In the short time since the American presidential election, Philippine President Rodrigo Duterte and US President-elect Donald Trump appear to have formed a bond.
Now Duterte has taken the relationship further - with a public impression of the real estate tycoon's distinctive speaking style.
Duterte delivered the impression Wednesday evening during a conference of the UN Convention Against Corruption at the Malacañang presidential palace, where the Philippine leader was recalling his December 2 phone conversation with Trump.
Duterte's office has published a clip of the video, which you can see above.
"Oh, President Duterte," Duterte's Trump impersonation begins. "We should fix our bad relations. It needs a lot of, y'know, you just said something good here. And you're doing great. I know what's your worry about these Americans criticising you. You are doing good. Go ahead. I have this problem on the border of Mexico and America and these goddamn s*** guys are [unintelligible]."
Duterte later said Trump told him that "no media supported me, and I did it on my own." The Philippine president said he then told the US President-elect that he was impressed by his win.
"Oh yes, when you come to Washington D.C. or New York City, look me up and we'll have coffee," Duterte said Trump replied. "Maybe you can give me a suggestion, one or two, how to solve this goddamn bulls*** son of a bitch."
According to Rappler, Duterte's impression brought laughter from the audience. The Philippine president has become known for his impressions, as well as his use of colorful and at times undiplomatic language.
The warm description of Trump contrasts with the frosty relationship between Duterte and President Obama. After Duterte used a Tagalog phrase that translates to "son of a bitch" or "son of a whore" while criticising Obama in September, the White House canceled a planned bilateral meeting with the Philippine leader. The pair later shook hands at a summit of the Association of Southeast Asian Nations.
The Obama administration has expressed concern over Duterte's ongoing campaign against the country's illegal drug trade that has resulted in the killing of at least 4,500 Filipinos in about five months. Duterte previously said that during their December 2 phone call, Trump praised the controversial anti-drug campaign as the "right way."
The Washington Post
Join our new commenting forum
Join thought-provoking conversations, follow other Independent readers and see their replies