Rodrigo Duterte confesses to sexually assaulting family's maid
'Deeply disturbing' admission has brought shame not only himself but on the entire nation,' says rights group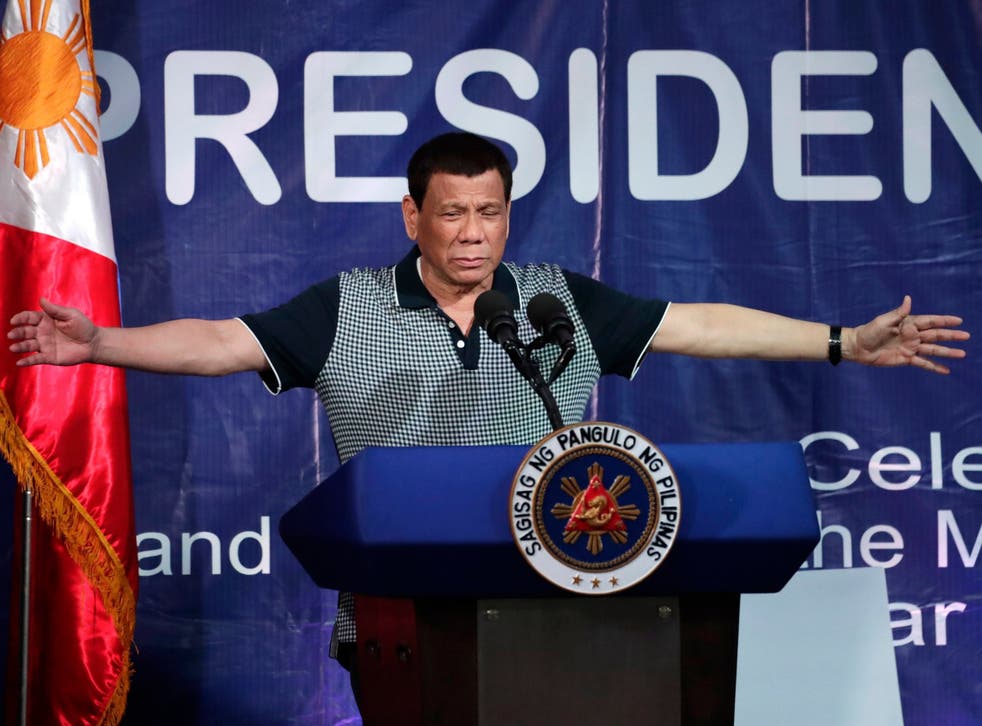 Philippines president Rodrigo Duterte has confessed to sexually assaulting his family's maid as a schoolboy.
The claim, which his spokesman later said was made up, came during a speech in which he described making the confession to a priest while he was a teenager.
Mr Duterte recalled lifting the blanket and touching the woman while she slept, according to a transcript provided by the president's office.
"I went to the room of the maid," he said. "I lifted the blanket. I tried to touch what was inside the panty. I was touching. She woke up. So I left the room."
He then described going to the toilet for "the usual" before returning to the room where the maid was sleeping to assault her for a second time.
His comments, in a speech on Saturday in the city of ​Cotabato, sparked outrage, with Philippines rights group Gabriela calling the remarks "deeply disturbing even for Duterte".
It added: "This latest confession has brought shame not only himself but on the entire nation. He has proven himself unworthy of his position and should resign."
Jean Enriquez, executive director of the Coalition Against Trafficking in Women – Asia Pacific, said his claims "could endanger Filipino domestic workers here and abroad".
Mr Duterte made the confession during a speech attacking the Catholic Church for its own sexual abuse scandal.
The president and religious leaders have clashed previously over the church's opposition to his violent crackdown against the illegal drugs trade.
The most controversial quotes from Rodrigo Duterte

Show all 9
"The Catholic [Church] ... has to correct itself before it can call [me out], if not, I'll really be their enemy, I will continue to attack them," he was quoted by the Manila Times as saying.
But Mr Duterte's spokesman Salvador Panelo told CNN Philippines the president made up the comments after coming under pressure from the priest to confess to something.
Mr Duterte has a long history of making inflammatory remarks about women while appearing to encourage or condone sexual assaults.
In September, he was condemned for saying: "As long as there are many beautiful women, there will be more rape cases."
According to Rappler, a Philippines-based news website, he then continued: "Who agrees to do it on the first request anyway? Will the woman allow it? No. 'Don't, no, ahhh.' Nobody agrees to do it on the first try.
"Nobody agrees to do it on the first try. That is rape."
Rape joke made by Philippines president Rodrigo Duterte defended by spokesperson
In another comment about sexual assault in 2017, he reportedly said he didn't like it when children were raped but "you can mess with, maybe, Miss Universe".
He added: "Maybe I will even congratulate you for having the balls to rape somebody when you know you are going to die."
And when his daughter said she was sexually assaulted, he reportedly called her a "drama queen".