Burma and Bangladesh sign deal to repatriate 'hundreds of thousands' of Rohingya Muslim refugees
'We are ready to take them back as soon as possible,' says Burmese permanent secretary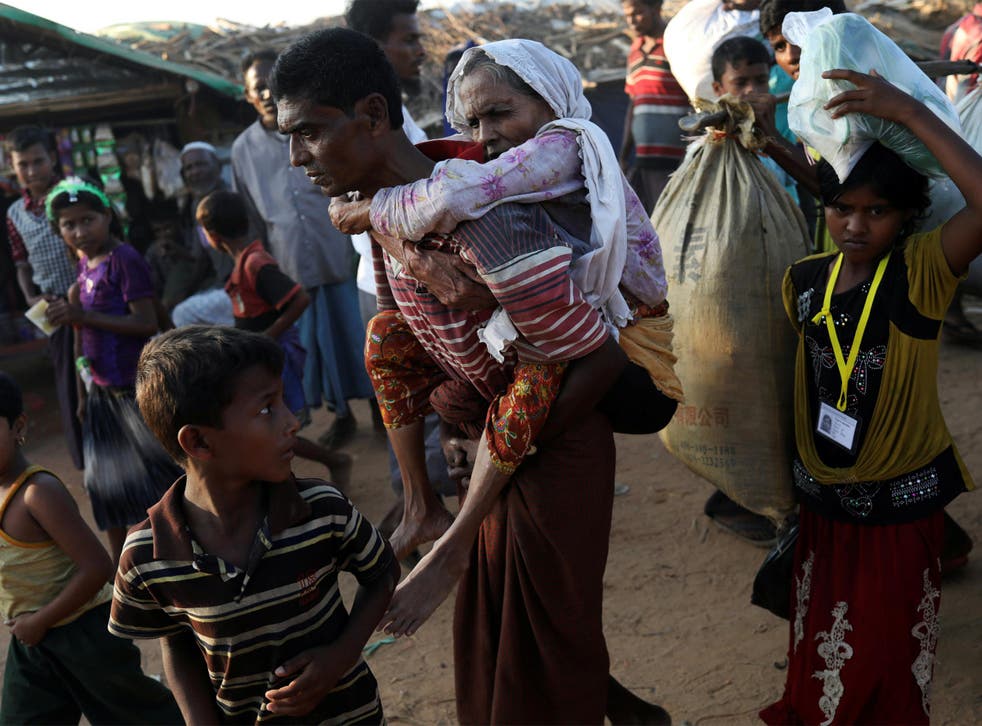 Burma and Bangladesh have signed an agreement to potentially repatriate hundreds of thousands of Rohingya refugees who have fled the country, a Burmese official has said.
"We are ready to take them back as soon as possible after Bangladesh sends the forms back to us," said Myint Kyaing, a permanent secretary at Burma's ministry of labour, immigration and population, referring to registration forms the Rohingya must complete before they are repatriated.
Burma provided no details on how many Rohingya refugees would be allowed to return home. Bangladesh said the repatriations are to begin within two months.
Burma's civilian leader Aung San Suu Kyi has previously promised repatriation would be "safe and voluntary", but humanitarian workers have expressed concerns the country's powerful generals could obstruct the process.
At least 620,000 Rohingya from Burma's Rakhine state have fled to neighbouring Bangladesh, seeking refuge from what Burma's military has called "clearance operations".
The crisis started in August, when Rohingya insurgents attacked Burmese security forces, triggering a brutal crackdown in which soldiers and Buddhist vigilante groups killed men, raped women and girls and burned homes to force the Rohingya to leave.
The Burma-Bangladesh agreement comes after the US on Wednesday described the ongoing violence against the Muslim minority as "ethnic cleansing" and threatened penalties for military officials.
"After a careful and thorough analysis of available facts, it is clear that the situation in northern Rakhine state constitutes ethnic cleansing against the Rohingya," US Secretary of State Rex Tillerson said in a statement.
The US embassy in Burma on Thursday suspended official travel to parts of Rakhine and warned citizens against visiting the areas, citing fears of a backlash against Mr Tillerson's comments.
Burma is seeking to ease international pressure with the new memorandum, while Bangladesh is keen to ensure refugee camps – which have sprung up in the Cox's Bazar region in recent months – do not become permanent.
Humanitarian workers have previously raised concerns that the repatriation efforts could be hindered by the military, over which Ms Suu Kyi has no control.
Senior General Min Aung Hlaing said in a statement last week: "The situation must be acceptable for both local Rakhine ethnic people and Bengalis, and emphasis must be placed on wish of local Rakhine ethnic people who are real Myanmar citizens."
His use of the term Bengali for the Rohingya Muslims implies they from Bangladesh, and Buddhists in the Rakhine region fiercely object to a Bangladeshi presence.
World news in pictures

Show all 50
The General also said the returnees will be "scrutinised and re-accepted under the 1982 Citizenship Law and the 1992 Myanmar-Bangladesh bilateral agreement".
The 1982 law ties Myanmar citizenship to an official list of ethnicities that excludes the Rohingya.
Register for free to continue reading
Registration is a free and easy way to support our truly independent journalism
By registering, you will also enjoy limited access to Premium articles, exclusive newsletters, commenting, and virtual events with our leading journalists
Already have an account? sign in
Register for free to continue reading
Registration is a free and easy way to support our truly independent journalism
By registering, you will also enjoy limited access to Premium articles, exclusive newsletters, commenting, and virtual events with our leading journalists
Already have an account? sign in
Join our new commenting forum
Join thought-provoking conversations, follow other Independent readers and see their replies