Rohingya Muslim militants armed with machetes 'ambush Burma police' killing up to 32
Fighting marks major escalation in simmering conflict
Shoon Naing
Yangon
Friday 25 August 2017 08:17 Comments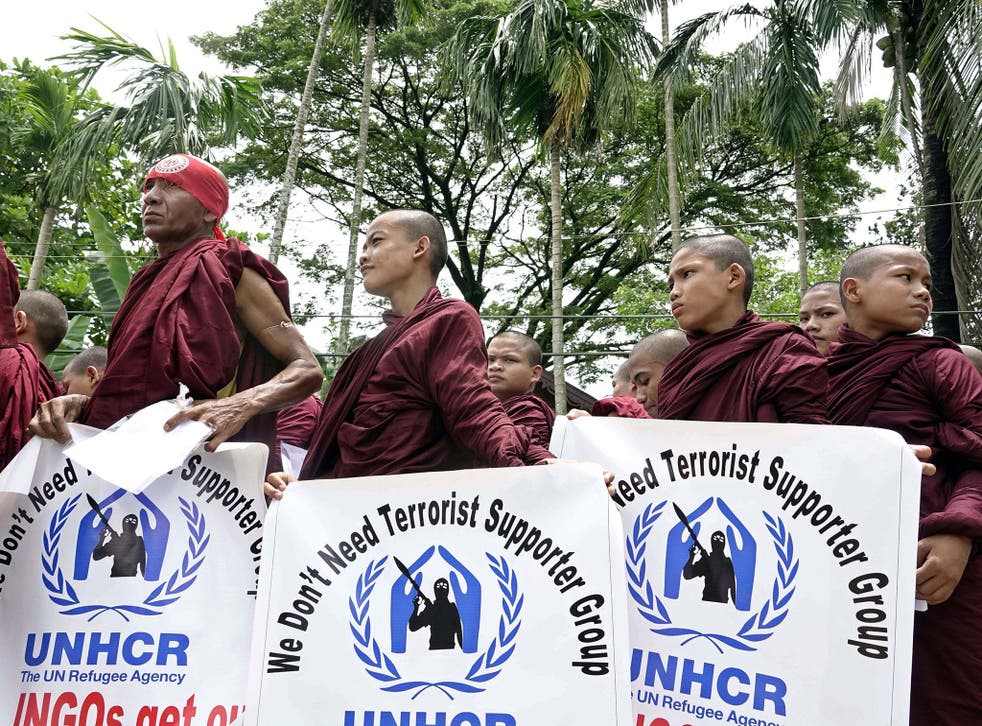 At least 21 insurgents and 11 members of the security forces were killed in Myanmar's Rakhine state on Friday when militants staged a major coordinated attack on 24 police posts and an army base, the military said.
The fighting - still going on in some areas - marked a major escalation in a simmering conflict in the northwestern state since last October, when similar attacks prompted a big military sweep beset by allegations of serious rights abuses.
The Arakan Rohingya Salvation Army (ARSA), a group previously known as Harakah al-Yaqin, or "Faith Movement", which instigated the October attacks, claimed responsibility for the early morning offensive, and warned of more attacks.
The treatment of approximately 1.1 million Muslim Rohingya has emerged as majority Buddhist Myanmar's most contentious human rights issue as it makes a transition from decades of harsh military rule.
It now appears to have spawned a potent insurgency.
The situation in the state deteriorated early this month when security forces began a new "clearance operation" in a remote mountain area.
The army said that one soldier, 10 policemen and 21 insurgents had been killed in the attacks. Two military sources contacted by Reuters said there may be more deaths.
"The extremist Bengali insurgents attacked a police station in Maungdaw region in northern Rakhine state with a handmade bomb explosive and held coordinated attacks on several police posts at 1 a.m.," a news team affiliated with the office of national leader Aung San Suu Kyi said in a statement, using the derogatory term "Bengali" to refer to Rohingya.
The Rohingya are denied citizenship and are seen by many in Myanmar as illegal immigrants from Bangladesh, despite claiming roots in the region that go back centuries, with communities marginalized and occasionally subjected to communal violence.
The military counter-offensive in October resulted in some 87,000 Rohingya fleeing to Bangladesh, where they joined many others who have fled from Myanmar over the past two decades or more.
The United Nations said Myanmar's security forces likely committed crimes against humanity in the offensive that began in October.
The government news team listed 24 police posts that had come under attack, adding police and the military were continuing to fight the insurgents.
It said about 150 Rohingya attackers had attempted to break into a military base, prompting the army to fight back.
"They were planning to attack because we have found their camps, the caves and the bombs and masks inside the caves," said Myanmar police headquarters spokesman Colonel Myo Thu Soe, referring to recent discoveries of what the government described as militant training camps.
Military sources in Rakhine State told Reuters they estimated the number of insurgents in the offensive was five-times the October attacks, with about 1,000 fighters likely to have taken part.
The ARSA group was formed by Rohingya living in Saudi Arabia after a bout of serious communal violence in 2012, according to the International Crisis Group.
Its leader, Ata Ullah, has said hundreds of young Rohingya men have joined the group, which claims to be waging a legitimate defence against the army and for human rights.
"We have been taking our defensive actions against the Burmese marauding forces in more than 25 different places across the region. More soon!," the group in a statement posted on a Twitter account believed to be linked to it.
The Friday attack encompassed both Maungdaw and Buthidaung townships in the remote northern part of the state - a much wider area compared with October.
The Myanmar military sources also said that while they were still trying to gather information from some areas, the fighting appeared to have subsided since dawn.
Over the last several months the government has accused the insurgents of instigating a campaign of terror against village chiefs and killing government informers, disrupting government information networks.
"The insurgents were able to organise such a huge attack because they were successful in organising the information blackout," said one of the military sources.
"It's an extremely serious situation which could lead to a major crisis. It's not easy to know what has happened, but it's clearly very worrying," said Yangon-based analyst and former U.N. diplomat inMyanmar Richard Horsey.
The attacks took place hours after a panel led by the former U.N. chief Kofi Annan advised the government on long-term solutions for the violence-riven state.
Annan's team said in a report Myanmar should respond to a crisis over its Muslim Rohingya community in a "calibrated" way without excessive force.
Reuters
Register for free to continue reading
Registration is a free and easy way to support our truly independent journalism
By registering, you will also enjoy limited access to Premium articles, exclusive newsletters, commenting, and virtual events with our leading journalists
Already have an account? sign in
Join our new commenting forum
Join thought-provoking conversations, follow other Independent readers and see their replies