Rohingya crisis: Death toll of Muslims killed by Burmese army 'may be extremely high', says UN
More than half-a-million Rohingya have fled to Bangladesh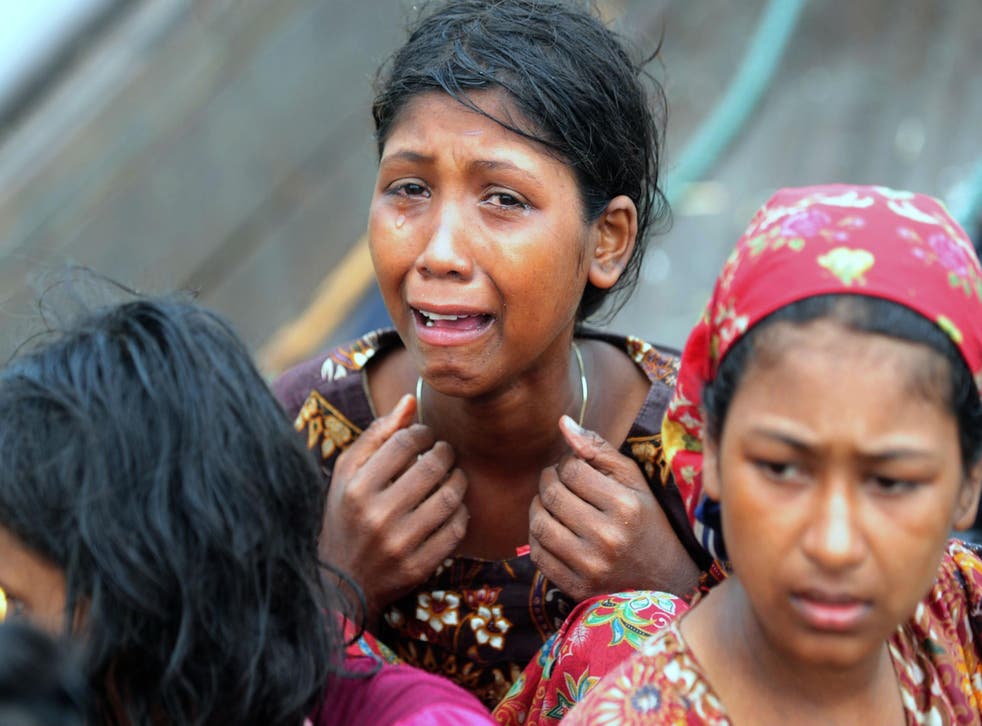 The death toll from a "clearance operation" launched by Burmese troops against Rohingya Muslims may be "extremely high", the UN has revealed.
UN human rights officials who visited refugee camps for the Rohingya established inside neighbouring Bangladesh and housing more than 500,000 people, said the military operation in Burma's western Rakhine state appeared to point to a "consistent, methodical, pattern of action resulting in gross human rights violations affecting hundreds of thousands of people".
The UN investigators said they had been told by refugees about "killings, torture, rape and arson", by Burmese troops, in an operation UN officials have denounced as a casebook study of ethnic cleansing.
Rohingya refugees – in pictures

Show all 15
The team, led by former Indonesian attorney-general Marzuki Darusman, said the death toll from military crackdown launched following attacks from small groups of Rohingya militants on August 25 was unknown, but "may turn out to be extremely high".
"We have heard many accounts from people from many different villages across northern Rakhine state," Mr Darusman said in a statement.
According to Reuters, he added: "They point to a consistent, methodical pattern of actions resulting in gross human rights violations affecting hundreds of thousands of people."
The statement from the UN investigators on the ground in the region, came as officials at UN headquarters in New York said they they were "baffled" by the stance of Burma's de facto leader, Aung San Suu Kyi. The Nobel Laureate, who holds the official position of State Counsellor, has been criticised for failing to vigorously condemn the violence or act to stop it.
Drone footage shows thousands of Rohingya Muslims fleeing Myanmar
Speaking to reporters at the United Nations on Thursday, UN investigator Yanghee Lee of South Korea, a leading child rights expert appointed to her United Nations human rights post in 2014, highlighted the growing frustration over what is happening in Burma.
"There is so much hatred and hostility against the Rohingya" in Burma, that few dare speak out against it, she said.
"It has really baffled everyone, and has really baffled me, about Daw Aung's non-position on this issue," Ms Lee said, using a Burmese honorific. "She has not ever recognised that there is such a people called Rohingya – that's a starting point. I'm very disappointed."
According to the New York Times, she said if the Burmese leader were to "reach out to the people and say, 'Hey, let's show some humanity,' I think people will follow her - she's adored by the public."
The Rohingya Muslims have faced discrimination in Burma for many years.
The Burmese authorities say the Rohingya are not among the country's 135 officially recognised ethnic groups and repeatedly refer to them as "Bengali". Ms Suu Kyi and other leaders refuse to use the word Rohingya.
In 1982, military ruler Ne Win introduced a law that effectively rendered them stateless and set controls on where they could live, the jobs they could do and who they could marry.
The country's transition towards democracy has done little to help them, indeed it may have worsened their plight; countless thousands have fled by boat, putting their lives in the hands of people smugglers and put out to sea in unsafe boats, trying to reach countries such as Malaysia or even Indonesia.
Bangladesh has been among those to call on Burma to take the refugees back, saying it does not have the resources to handle so many people.
Register for free to continue reading
Registration is a free and easy way to support our truly independent journalism
By registering, you will also enjoy limited access to Premium articles, exclusive newsletters, commenting, and virtual events with our leading journalists
Already have an account? sign in
Register for free to continue reading
Registration is a free and easy way to support our truly independent journalism
By registering, you will also enjoy limited access to Premium articles, exclusive newsletters, commenting, and virtual events with our leading journalists
Already have an account? sign in
Join our new commenting forum
Join thought-provoking conversations, follow other Independent readers and see their replies