Rohingya crisis: Pope Francis visits Burma in shadow of refugee exodus and genocide accusations
Pontiff's arrival follows days after US Secretary of State Rex Tillerson accused Aung San Suu Kyi government of carrying out 'ethnic cleansing' of persecuted minority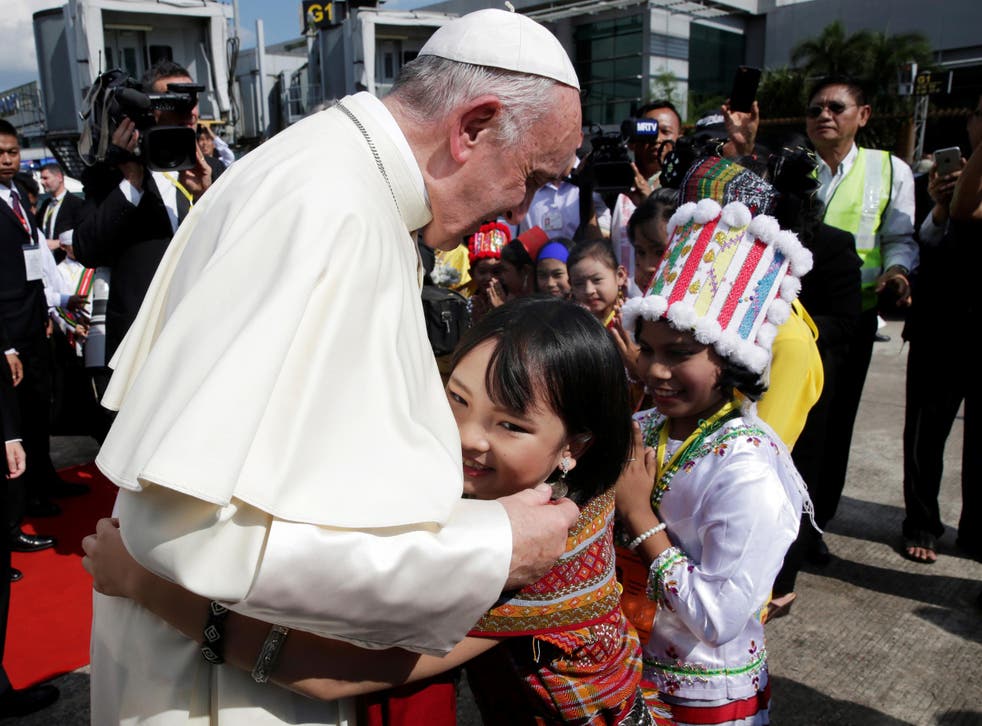 Pope Francis had landed in Yangon, the start of a delicate visit for the world's most prominent Christian to majority-Buddhist Burma, which the United States has accused of "ethnic cleansing" its Muslim Rohingya people.
The Pope will also visit Bangladesh, to where more than 620,000 Rohingya have fled from what Amnesty International has dubbed "crimes against humanity" by Burmese security forces, including murder, rape, torture and forcible displacement.
The Burmese army denies the accusations.
Rohingya refugees – in pictures

Show all 15
Only about 700,000 of Burma's 51 million people are Roman Catholic. Thousands of them have travelled by train and bus to Yangon, the country's main city, to catch a glimpse of the pope.
Reuters
Register for free to continue reading
Registration is a free and easy way to support our truly independent journalism
By registering, you will also enjoy limited access to Premium articles, exclusive newsletters, commenting, and virtual events with our leading journalists
Already have an account? sign in
Register for free to continue reading
Registration is a free and easy way to support our truly independent journalism
By registering, you will also enjoy limited access to Premium articles, exclusive newsletters, commenting, and virtual events with our leading journalists
Already have an account? sign in
Join our new commenting forum
Join thought-provoking conversations, follow other Independent readers and see their replies