Rohingya crisis: Red Cross truck crashes into ditch killing nine relief workers amid claims of mobs 'blocking' aid
Violence against persecuted minority continues after thousands flee Burma for Bangladesh
Esther Htusan
,
Julhas Alam
Thursday 21 September 2017 08:04 Comments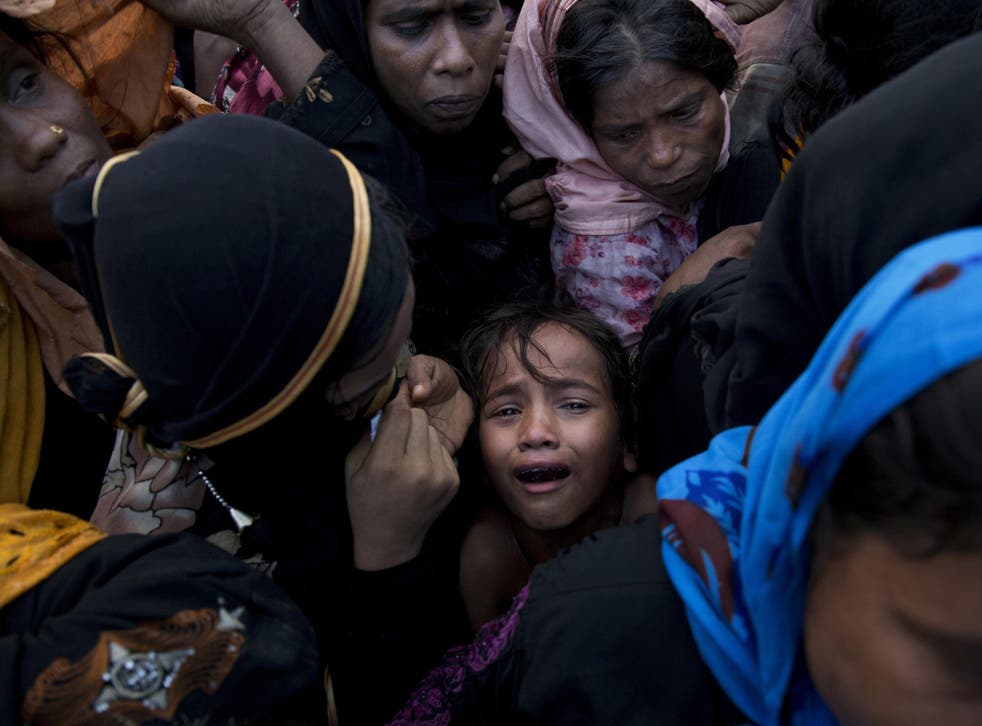 A truck filled with aid for Rohingya Muslim refugees in Bangladesh veered off a road and fell into a ditch on Thursday morning, killing at least nine aid workers, hours after another aid shipment in the refugees' violence-wracked home state in Burma was attacked by a Buddhist mob.
Both shipments were from the International Committee of the Red Cross (ICRC). Aid groups face different challenges on either side of the border: An influx of more than 420,000 refugees in less than a month in Bangladesh, and in Burma, government resistance and angry allegations from majority Buddhists that international organisations are favouring the long-persecuted Rohingya minority.
A Bangladeshi medical administrator, Aung Swi Prue, said six people died instantly in the truck crash near the border in southeastern Bandarban district. Three people died after reaching a hospital, and 10 others were injured and are receiving treatment.
ICRC spokeswoman Misada Saif said all of those killed were Bangladeshi workers hired to distribute food packages to 500 Rohingya families.
Saif said the truck belongs to the ICRC and Bangladesh Red Crescent Society and was operated by a supplier who has been working for the two agencies for last couple of weeks. She said agency officials are "very shocked and sad."
"Our thoughts are with the families of the dead. They were there to help the people who desperately need help," she said.
The Rohingya exodus began 25 August, after Rohingya insurgent attacks on police set off a military crackdown.
Hundreds of people have been killed and thousands of homes have been burned in what many Rohingya have described as a systematic effort by Burma's military to drive them out. The government has blamed the Rohingya, even saying they set fire to their own homes, but the UN and others accuse it of ethnic cleansing.
Most refugees have ended up in camps in the Bangladeshi district of Cox's Bazar, which already had hundreds of thousands of Rohingya refugees who had fled prior rounds of violence. Bandarban is a neighbouring district where thousands of Rohingya also have fled.
The violence in Burma occurred just across the border in Rakhine state, where police said a Buddhist mob threw rocks and Molotov cocktails at officers Wednesday night as they tried to block Red Cross supplies from being loaded onto a boat. The vessel was headed to an area where hundreds of thousands of Rohingya Muslims have chased from their homes. No injuries were reported and police detained eight of the attackers.
Dozens of people arrived at a jetty in the Rakhine state capital, Sittwe, as a boat was being loaded bottled water, blankets, mosquito nets, food and other supplies. As the crowd swelled to 300, they started throwing rocks and Molotov cocktails at the officers, who responded by firing into the air, said police officer Phyo Wai Kyaw.
The government of the predominantly Buddhist nation of 60 million said police and several monks showed up to try to defuse tensions. The shipment ultimately was loaded and sent to northern Rakhine state.
Though Burma's leader, Aung San Suu Kyi, told diplomats this week humanitarian assistance was being sent to those who remain in northern Rakhine, the government has blocked all UN assistance to the area, granting access to only the Red Cross.
Buddhists in Rakhine have accused international aid agencies of favouring Rohingya, a group who Burma and many of its people contend migrated illegally from Bangladesh.
"We are explaining to the community members who approached the boats about the activities of the Red Cross," said Maria Cecilia Goin, a communications officer at the ICRC in Yangon.
"It's important for them to understand that we are working in neutral and impartial way," she said, adding that the work is being done "with full transparency with the Burma authorities."
Suu Kyi's speech this week in Naypyitaw, the capital, defended her government's conduct in Rahkine state and avoided criticism of the military. The country's top general went a step further, travelling to northern Rakhine on Thursday to praise security forces for their "gallant" efforts to defend Burma.
At a meeting with military officials and their families in Buthiduang township, Commander-in-Chief of the Armed Forces Min Aung Hlaing said that more than a century ago when the area was a British colony, Rohingya — whom he referred to as "Bengalis" — were allowed to settle without restrictions.
Rohingya refugees – in pictures

Show all 15
"Later, the Bengali population exploded and the aliens tried to seize the land of local ethnics," Min Aung Hlaing said, according to his office's Facebook page. He described repeated army efforts since Burma independence in 1948 to "to crush the mujahedeen insurgents," including in 2012 and last fall.
"Race cannot be swallowed by the ground, but only by another race," he said. "All must be loyal to the state in serving their duties, so that such cases will never happen again."
AP
Register for free to continue reading
Registration is a free and easy way to support our truly independent journalism
By registering, you will also enjoy limited access to Premium articles, exclusive newsletters, commenting, and virtual events with our leading journalists
Already have an account? sign in
Join our new commenting forum
Join thought-provoking conversations, follow other Independent readers and see their replies