Rohingya crisis: Muslim villages in Burma's Rakhine state burned to the ground as hundreds of thousands flee
Tens of thousands of Rohingya refugees have fled to neighbouring Bangladesh since violence flared in August
Lydia Smith
Sunday 10 September 2017 10:45 Comments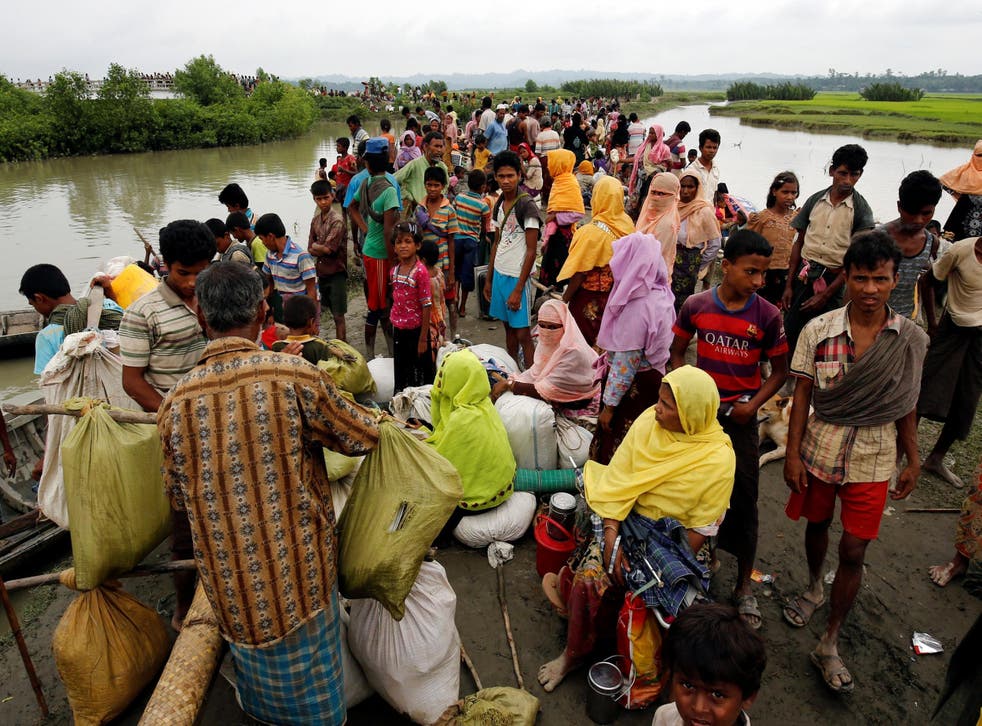 Rohingya villages are being burned to the ground in Burma's Rakhine state, eyewitnesses have said.
BBC journalists reported seeing buildings ablaze in a village near the town of Mungdaw, including homes and a religious school.
The fires had allegedly been lit by a group of Rakhine Buddhists.
A group of men carrying weapons were spotted leaving the village, one of whom admitted he had lit the fires with help from the police, the BBC reported.
The government claims members of the persecuted minority have been destroying their own homes, which has been disputed by Rohingya who have fled the country into neighbouring Bangladesh.
Rohingya refugees say the Burmese military and Rakhine Buddhists are setting their villages alight to drive them out, after attacks by Rohingya Muslim militants on police posts.
In August, Rohingya Muslim insurgents attacked several police posts and an army base, which led to a military crackdown that has resulted in the deaths of at least 400 people and forced tens of thousands to flee.
Rohingya refugees – in pictures

Show all 15
At least 164,000 Rohingya have crossed the border into Bangladesh over the past few weeks, the United Nation's refugee agency has said, leaving displacement camps at full capacity.
UN agencies believe the figure could rise to 300,000 in the coming days.
The violence has led to criticism of Burma's leader, Nobel Peace Prize winner Aung San Suu Kyi, for not speaking out for the minority, who are denied citizenship in the predominantly Buddhist country.
Last week, Human Rights Watch interviewed more than 50 displaced Rohingya in Bangladesh, who said Burmese security forces had attacked villagers, shooting them and burning down their homes.
Dozens of injured Rohingya Muslims have been admitted to the hospital in Chittagong, in southern Bangladesh, since violence flared in Rakhine state last month.
One boy, 10-year-old Mohammed Idrees, was admitted to the medical centre with part of his ear blown off, Reuters reported.
"I don't remember what happened to me, but I want to go see my mother," he said, as his father described how Burmese security forces entered their village with gunfire on 25 August.
Register for free to continue reading
Registration is a free and easy way to support our truly independent journalism
By registering, you will also enjoy limited access to Premium articles, exclusive newsletters, commenting, and virtual events with our leading journalists
Already have an account? sign in
Join our new commenting forum
Join thought-provoking conversations, follow other Independent readers and see their replies