Bangladesh agrees to let UN oversee repatriation of Rohingya refugees to Myanmar
Deal signed so country cannot be accused of returning anyone against their will, minister says
Samuel Osborne
Tuesday 13 February 2018 00:12 Comments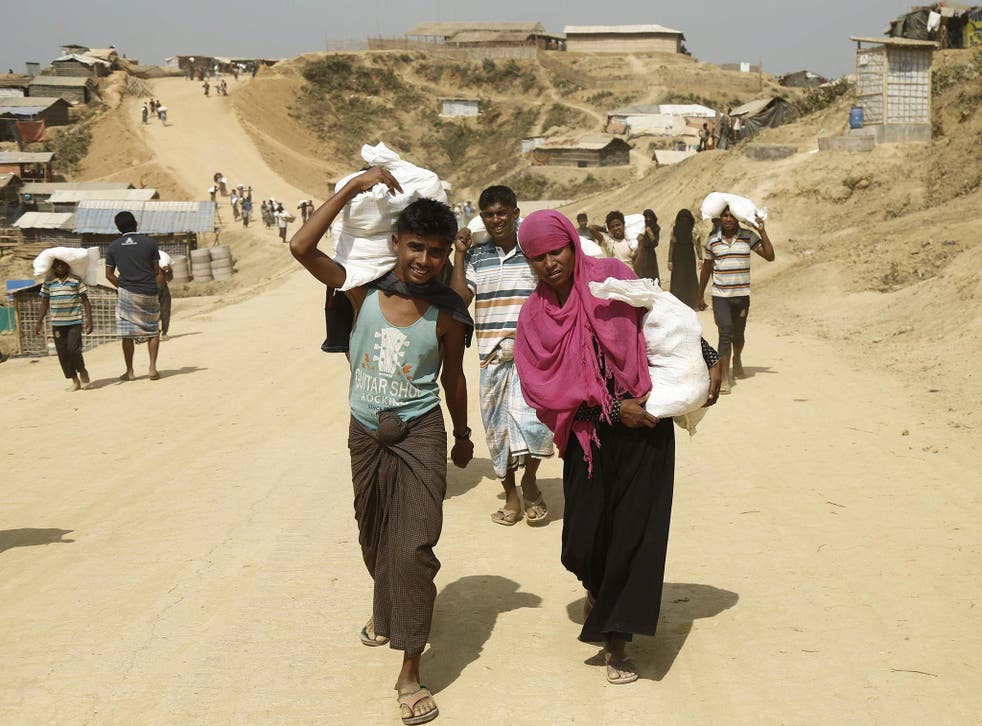 Bangladesh has agreed to allow the United Nations to oversee the controversial process of returning Rohingya refugees to Myanmar.
Shahriar Alam, a foreign affairs minister, said the government signed the deal so the country could not be accused of returning anyone from the Muslim minority against their will.
More than 600,000 men, women and children are estimated to have fled from Myanmar to neighbouring Bangladesh following persecution from the Burmese military in their native state of Rakhine, which began in August.
"We have repeatedly said this repatriation process is very complex," Mr Alam said, according to the AFP news agency. "We want to fill up the [repatriation] forms in their [UN] presence so that no one can say they been forced by someone or sent back against their will."
He said Bangladesh did not want to send back refugees only to have them return, and added: "Bangladesh wants to make sure the situation in Myanmar is safe and secure."
Boris Johnson on Rohingya crisis 'We need to find a political solution'
It comes after Boris Johnson held top level talks with Myanmar's de facto leader, Aung San Suu Kyi.
The foreign secretary spoke to Ms Suu Kyi about the Rohingya crisis during a visit to Myanmar.
Mr Johnson said: "I spoke to her about my own experience witnessing the terrible conditions of the Rohingya refugees in Bangladesh, and my deep concern about their future.
"I underlined the importance of the Burmese authorities carrying out a full and independent investigation into the violence in Rakhine, and to hold to account those responsible for human rights violations.
Rohingya refugees – in pictures

Show all 15
"I underlined the urgency of creating the conditions in Rakhine that could make it a safe place for the Rohingya refugees to return to, free from fear, and in the knowledge that their basic rights will be respected and upheld.
"The UK is already a major donor to the humanitarian crisis. We will continue to use all our diplomatic tools and influence on the global stage to find a way to provide a better future for the Rohingya community.
"I encouraged her efforts to broker a nationwide peace settlement to put to an end 70 years of conflict in her homeland."
Register for free to continue reading
Registration is a free and easy way to support our truly independent journalism
By registering, you will also enjoy limited access to Premium articles, exclusive newsletters, commenting, and virtual events with our leading journalists
Already have an account? sign in
Join our new commenting forum
Join thought-provoking conversations, follow other Independent readers and see their replies